22 October, 2018 Mac Vu
Referring to Halong, everyone immediately thinks that this is an extremely popular tourist destination of Vietnam. But, Ha Long tourism not only has beautiful scenery but also many special cuisines with the salty taste of the ocean. Here are some significant must-try dishes that you can't miss while touring the place.
1. Oysters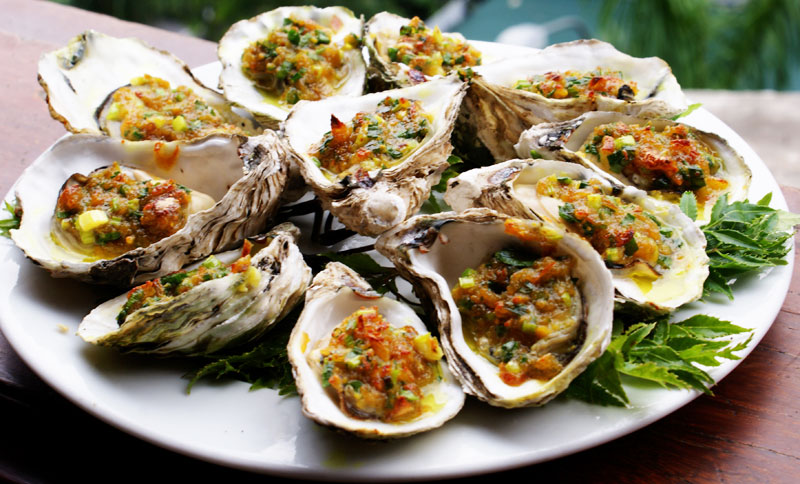 Oyster is a popular nutritious seafood in the sea of Halong. Having a natural and attractive taste, Halong oysters are processed quite simple but always make customer praising continuously.
2. Ha Long fried squid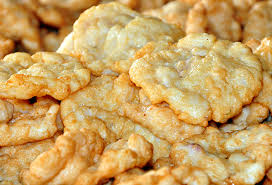 Ha Long fried squid is special cuisine, and you must taste the squid from Halong sea to actually feel the flavor of the dish. The squid used for frying must be directly fished from Halong Bay sea area. Fresh squid should be very fragrant. The best-fried squid is served with white steamed glutinous rice. The grain is dry but soft, with a fresh rice flavor mixed with squid taste, rich and sweet.
3. Clams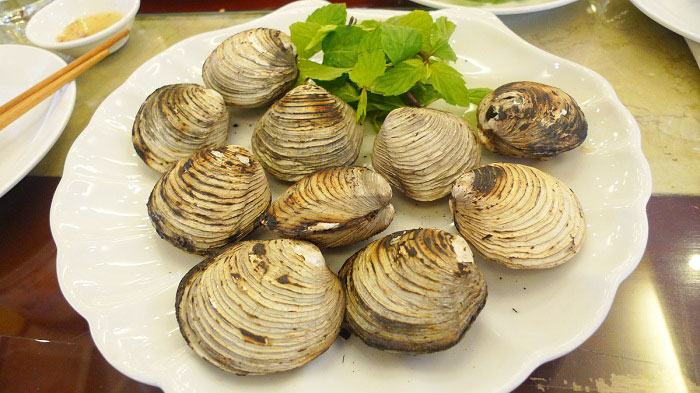 Clams can be processed into many dishes such as roasted, steamed, fried with noodles or kale. Male travelers usually enjoy clam wine. Clam wine has the signature smell of the ocean.
4. Nodding cake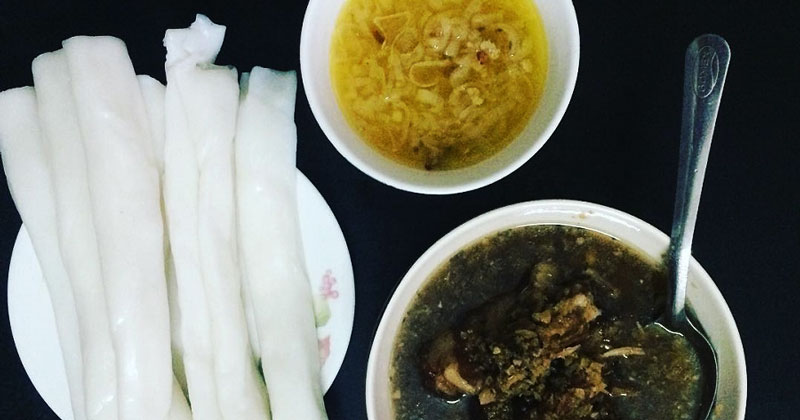 Making nodding cake is kind of similar to making the stuffed pancake. It's also made from flour ground from rice, soaked from before. The secret is that when the rice is cooked, the host will add some cool rice to the made cake tastes better. When we eat, dip a piece of cake into a special sauce with a piece of shredded meat ( caramelized pork) which is carefully marinated. You can find this delicious and unique gourmet cake throughout the region of Quang Ninh.
5. Horseshoe crab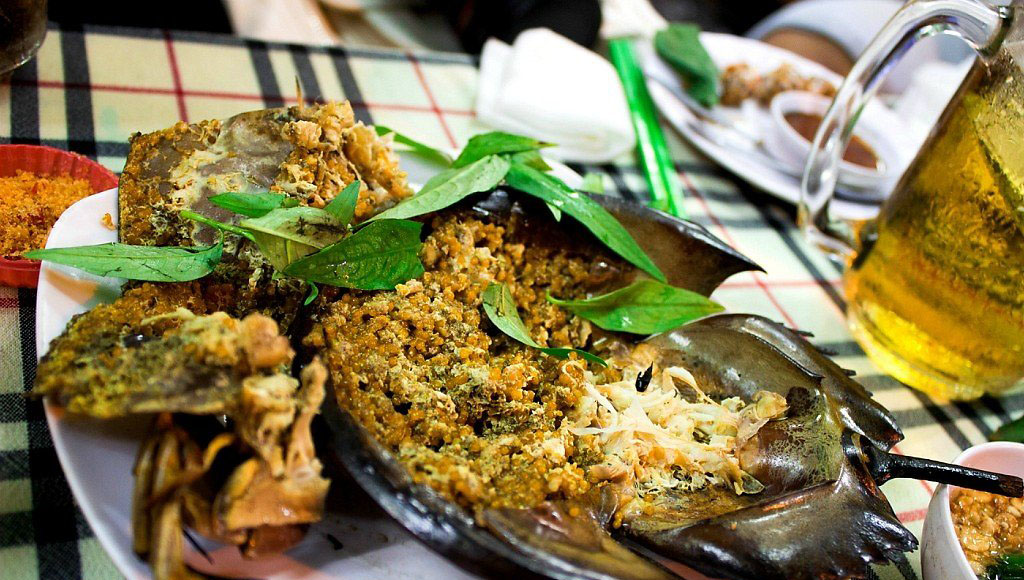 Another extremely attractive cuisine of Halong Bay is horseshoe crab - a species of crustaceans. From the horseshoe crab, you can prepare a variety of delicious and different dishes such as horseshoe crab soup, horseshoe crab salad, sweet and sour horseshoe crab fried, fried horseshoe crab with chilis, horseshoe crab egg crispy fried, steamed horseshoe crab,...
6. Tien Yen Ca Say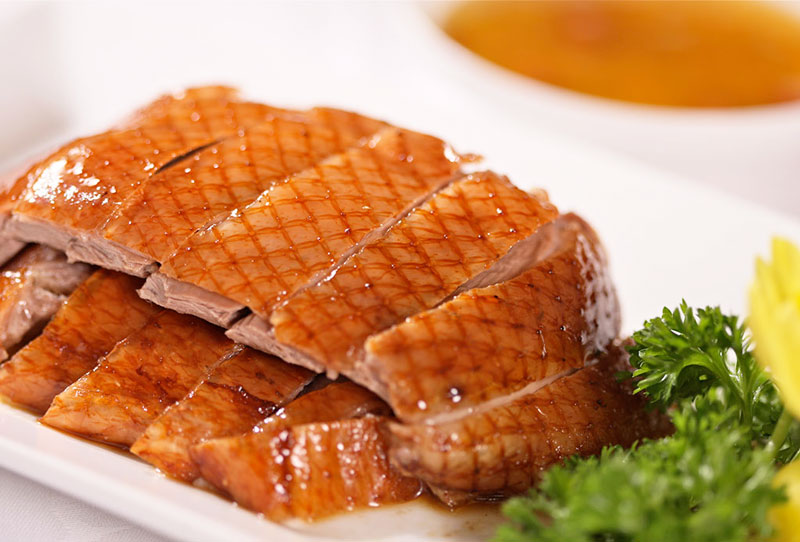 Ca Say is a hybrid of duck and goose, has both flavors of two poultries, through the hands of Tien Yen, it is processed into much more delicious dishes. Tien Yen people make such appetizing Ca Say with sauce. Every sauce has the tasty flavor of fish sauce of Cai Rong, Van Yen, Cat Hai, also has the sweet and rich flavor of Tien Yen root beer with the spicy flavor of Tien Yen Ginger.
7. Razor clam
---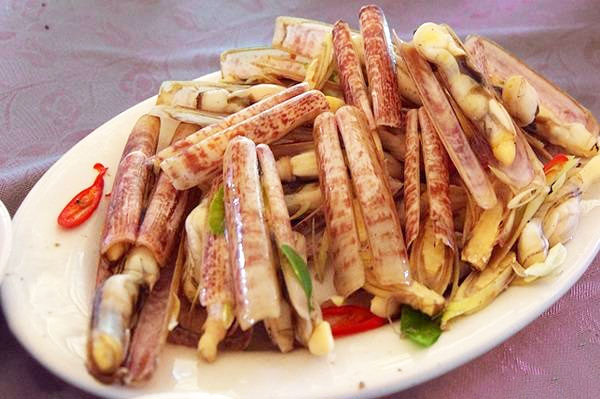 "Razor clam" is the type of snail found only in the sea, the name of this species is also derived from its shape. People catch razor clam rely on the rise and fall of the tide. This mollusk usually lives in the muddy sand in the estuaries, mostly eat plankton.
When the tide is up, it emerges from the cavity and quickly slams down deep into the sand whenever there is something dangerous by its strong foot. Razor clam fried with perilla is very delicious, besides, perilla can heal cases of flu and headache. Razor clam steamed with beer is also a simple dish but enjoyed by many people.
Read more
Top 5 Viet Nam Most Delicious Dishes
9 Rustic Cakes That You May Only Find In Vietnam
---
Address: 15 Hang Chao, Cat Linh, Dong Da, Hanoi, Vietnam
Email: sales@vietodyssey.com Telephone: +84 96 212 34 86
Hotline: +84 96 212 34 86