03 March, 2019 LJ
Vietnam tourism is not only famous for its numerous magnificent natural landscapes, delicious cuisine and hospitable local people, but also for the amazing and beautiful East sea, mesmerizing coastal and mountain trails. Vietodyssey's cycling tour will bring you to the most beautiful landscapes where holds an incredible number of sights to feast your eyes on, making the ride worth all the effort involved.
Vietnam Central Coast cycling tour leads you to the most beautiful destinations
Vietodyssey's cycling tour through the ocean of central Vietnam will take you to the most stunning and most famous wonders of the S-shaped country. In 10 days, you will be drowned in amazement with this most beautiful cycling route.
>>>Best Cycling Tour Routes In Vietnam – One-of-a-kind Travel Experience
First, you will stop at Hue – one of the popular tourists' destinations in Vietnam. Cycling along the Hue Imperial Citadel and onto the peaceful Thien Mu Pagoda will be a wonderful experience. Hue Imperial Citadel is located in the ancient capital of Hue, the capital of the Nguyen Dynasty for 143 years from 1802 until abdicating in 1945. The place had been recognized by UNESCO as a World Cultural Heritage. While Thien Mu Pagoda, also known as Linh Mu Pagoda is an ancient temple located on Ha Khe hill, on the left bank of Huong River, about 5 kilometers West of Hue city center. Both of them hold important historical value to the Vietnamese and are the most splendid relics for tourists to visit.
After leaving Hue, you will be taken to Lang Co beach – the first beach in this central Vietnam coast cycling tour. Located on the central coastal, Lang Co beach has a gentle environment, with white sand, clear blue seawater, and an average temperature of about 25 Celcius degree during the summer – which is very fresh, cool and suitable for relaxation.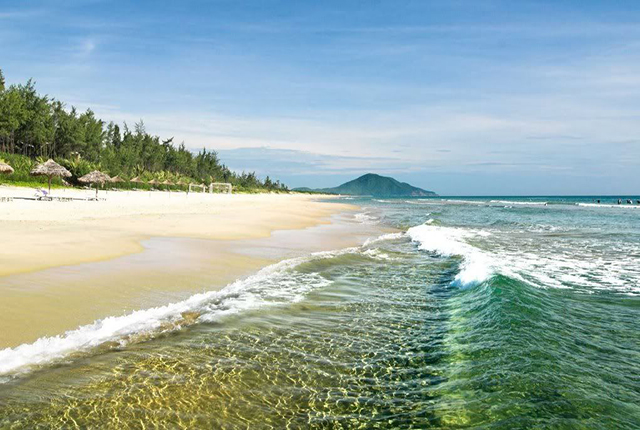 The poetic view of Lang Co beach
Hoi An is one of the most popular destinations in Vienam, and Vietodyssey's cycling tour won't let you leave without visiting it. This is where you will have the chance to see lantern-lit streets, vibrant markets, skilled tailors, artisan shops, ancient houses, colorful temples, over 844 structures of historical significance and more. It's such a wonderland in Vietnam that no one can resist. Leaving Hoi An to Cam Kim, small fishing villages, local farms and fields will welcome you. You'll get to see how wooden river boats are made, see and learn the secret of weaving the colorful straw "Hoi An" sleeping mats, visit local families, try the local wine, meet wonderful people, learn about their way of life. This will give you more chances to study Vietnamese culture, cuisine and daily life.
This Vietodyssey's cycling tour is called "central Vietnam coast tour", so of course, beautiful beaches can't be left from the itinerary. Quy Nhon will be your next stop. You will have a whole free day in Quy Nhon, where you can snorkeling, scuba diving, go for a bike ride, or just simply relax on the beach with beautiful sunrays, salted-smell winds, palm trees and the lovely ocean. This will definitely help you relax and forget all the tiredness from daily life.
After that, you will be led to Tuy Hoa – the place that doesn't exist on the radar, which make it become a destination that mystery enough to attract some curious travelers. This is one of the most rural regions in Vietnam.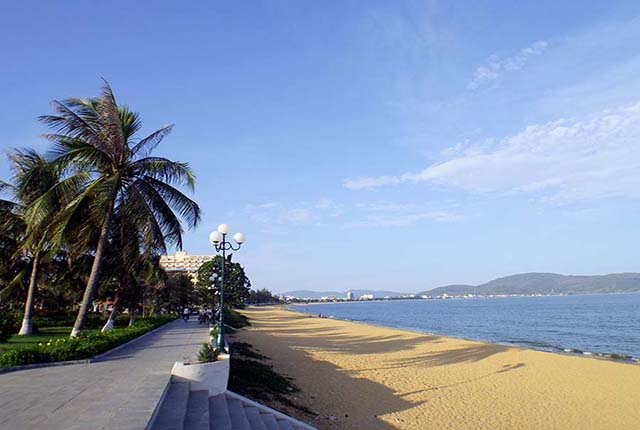 Quy Nhon has the most beautiful coastline
From then, you will be taken to Nha Trang – the city with the best ocean scenery in Vietnam. You will be led through most scenic coastline, featuring deserted blue lagoons and stone promontories overlooking the waters below. On your way, amazing wonders such as Dai Lanh beach, Hon Gom peninsula and Po Ngar Cham Towers will welcome you before you arrive at Nha Trang. Dai Lanh beach is a harmonious combination of white sandy beaches, green giant trees running around the coast and especially the sea is quite large, the water is so clear that you can even see the bottom of the ocean.
Hon Gom peninsula is a beautiful landscape that contains countless giant limestone, with the different, strange and unique shape created by the magnificent nature. The ocean here is also very beautiful, magnificent that you won't be able to forget. While Po Ngar Cham Towers, built between the 7th and 12th centuries, is a place where local people come to pray is still actively used for worship in recent times. These two destinations will be a highlight in your central Vietnam coast cycling tour.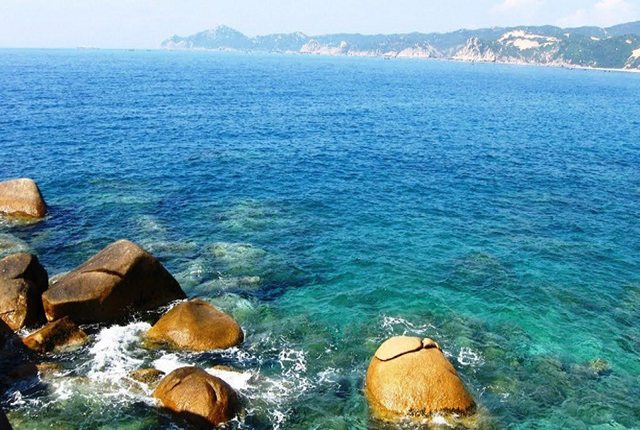 The wonderful beauty of blue seawater in Dai Lanh beach
Finally, the last place in your itinerary is Da Lat – where holds the splendid natural landscapes. Along the way, you will stop at Nui Ba National Park as well as rice fields, mango plantations, sugarcane plantations – all of them are such pretty places that you can't help being awed. Prepare your camera to take splendid photos of these amazing destinations.
In Da Lat, you will cycle through stunning destinations such as Nguyen Huu Hao Tomb, Cam Ly waterfall and Ta Nung pass for magnificent flowers, green vegetable farm, pine tree forests, jungle, Chill ethnic people village, coffee plantations,... All of them are the products of Vietnamese local people by hard-working, also their way of earning money and make a living. Next, Elephant waterfall, the widest waterfall of Lam Dong province will wait for you. While climbing up to the hill through the cement stairs, you will see a solemn pagoda – Linh An pagoda with two august dragons flanking two sides. What can a better experience than having lunch beside this giant stunning waterfall?
Besides the gorgeous destinations named above, Vietodyssey's Vietnam coast cycling tour will also take you to other wonderful places that you won't ever forget. You will be drowned in the beauty of Vietnamese nature, cuisine, culture and daily life. This 10 days cycling trip will absolutely become a memory that makes you smile every time you remember.
Why should you join the central Vietnam coast cycling tour?
First, it's for the health benefits. Cycling is an amazing activity that can help you improve your strength greatly. Usually, when going to school or work, you just sit on a table all day, doing paper works and using the computer, without much chances for exercises and keep fit. So by joining a cycling tour, not only you can witness the astonishing natural wonders, but also have a chance to be active and help your body become stronger. Besides, a little bit of nature, enjoying the sea, the wind, the rice fields... can also help you relieve the stress. Most of the customers who have joined a Vietnam cycling tour admit, the cycling routine makes them stronger, more relaxed, and improve both mental and physical health wonderfully.
Second, it's for bonding time. The tour is designed for 10 days and 9 nights, which makes it a perfect time for bonding with your family or friends. By going through numerous magnificent wonders, riding bicycles, eating and talking together, your relationship will become so much better. You will become closer to your partners and also make happy memories together.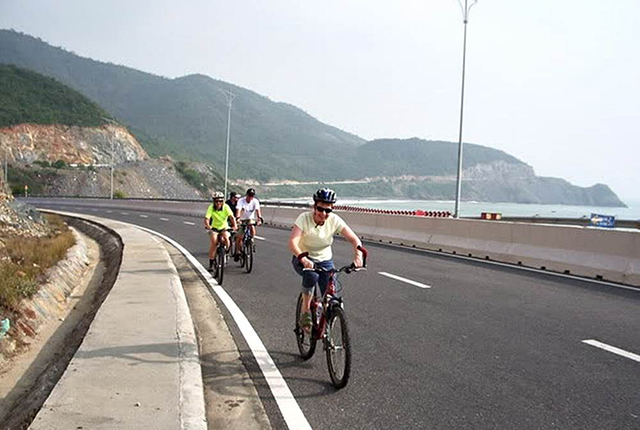 Cycling near the Quy Nhon beach is a great way to relax and improve your health
Third, it's for the 'style'. Traveling by luxury rides, staying in a 5-star hotel, eating high-class dishes and swimming in artificial pools seems to be so common, sometimes it can be suffocating too. While cycling tour is becoming a trend by its unique way of travel and amazing destinations. Cycling through wonder to wonder is such a one-of-a-kind travel experience that you won't have from any other traveling tours. There's a word say: "You only live once", so you have to try the most incredible and unique Vietnam tour while you still can, right?
Along with amazing reasons above, Vietodyssey's Vietnam coast cycling tour also consists of many other wonderful benefits, such as high-quality mountain bikes, fully supported van as well as support services, dedicated English-speaking staff who will guarantee for your safety. With such wonderful advantages, why don't you join right away?
The beautiful ocean of Vietnam is ready to give you the most relaxed, most wonderful and amazing vacation in your life. For more information about the tour's policy, detailed itinerary and the inclusions as well as exclusion of the tour, you can the central Vietnam coast cycling tour anytime. The hospitable workers of Vietodyssey are ready to answer your questions 24/7 and will help you with everything you need.
Vietodyssey is ready to give you the best holiday ever, are you ready?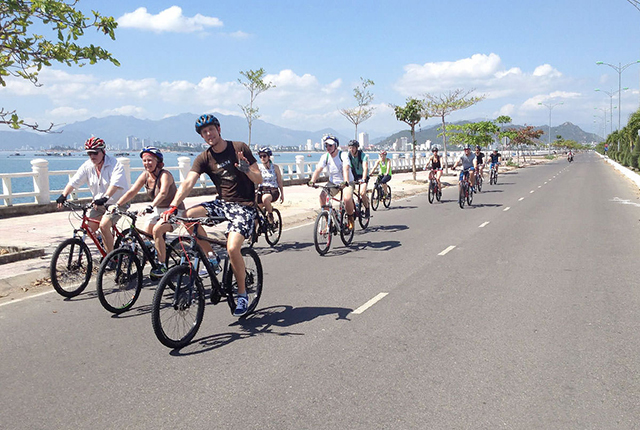 Vietnam central coast cycling tour will give you the best time of your life
vietodyssey.com