13 March, 2019 LJi
Located in the Northwest of Vietnam, Sapa and Mu Cang Chai are the most famous tourist destination of the beautiful S-shaped country. Its magnificent natural landscapes and refreshing atmosphere will help you improve both physical and mental health greatly. Vietodyssey's private tour to these wonders of Vietnam will give you the best vacation of your life.
Join a private tour to explore the splendid beauty of Sapa, Vietnam
Sapa is a small town located in the highlands of Sa Pa district, Lao Cai province, Vietnam. Lies in the Northwest of Vietnam, Sapa is one of the most famous destinations for domestic and international travelers. For the past year, Sapa has been attracting millions of tourists from everywhere in the world. In Sapa, there are numerous magnificent wonders for tourists to stop by, so you won't be disappointed visiting the place.
Vietodyssey's private tour will take you to the most outstanding wonders in Sapa. Starting with Muong Hoa valley, a prominent name is in the list of beautiful and romantic Sapa attractions. Muong Hoa valley features a pristine natural landscape and colorful culture of the ethnic groups living here. These are the reasons that the place can attract millions of domestic and foreign visitors to visit Sapa every year.
Located about 10 kilometers Southeast of Sapa, Muong Hoa valley is extremely poetic and peaceful. This is where the beautiful Muong Hoa stream runs along the valley, the terraced fields and the strange ancient stones scattered around. The scenery on the way to Muong Hoa valley is deeply charming. On every September and October, Muong Hoa valley is covered with the golden shade of rice. In front of charming scenery like in Muong Hoa valley, you will definitely not forget to use the camera to capture these beautiful terraces.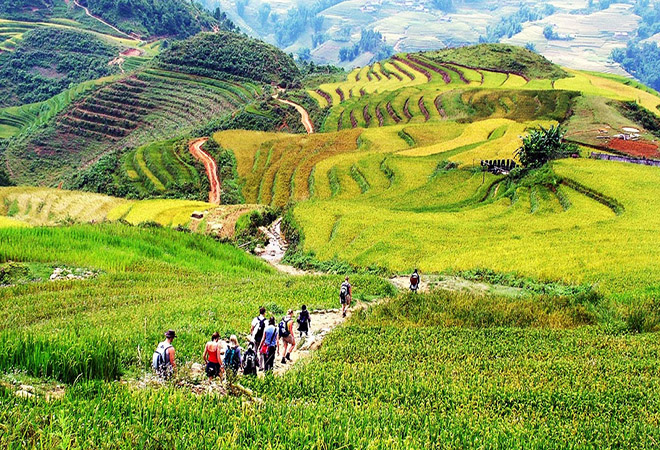 An astonishing rice field in Muong Hoa valley
After Muong Hoa valley, the Sapa private tour will take you to discover the stunning Y Linh Ho village. Y Linh Ho village is known by many tourists because of its wild and poetic beauty. The village is covered by the Hoang Lien Son mountain range. In addition to the mountain, the village also has streams, terraced fields, corn fields... and also houses made of primitive and simple bamboo.
Y Linh Ho village consists of many small population groups living scattered on the slopes, bamboo houses built by the Mong and Dao people near terraced fields, corn fields, sweet potatoes... Coming to this beautiful place, you will pay to visit some ethnic families, watching them doing their daily works and learning about their culture, cuisine as well as customs. It will be a great opportunity for you to widen your knowledge.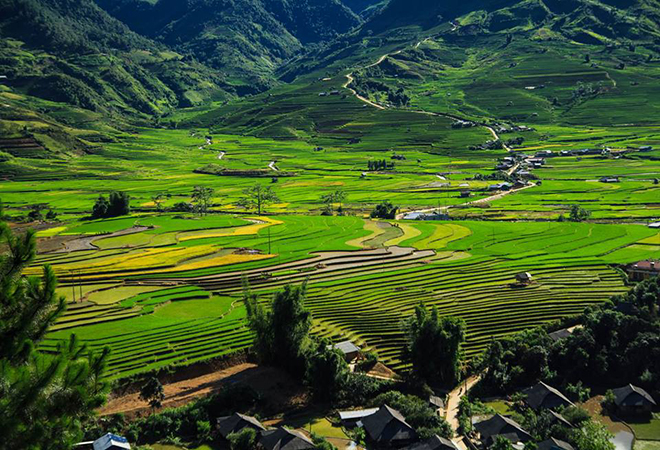 An incredible view of Y Linh Ho village from above
Besides these amazing places, you will also visit astonishing destinations such as the Sapa market and the old cathedral, where you can meet a lot of local ethnic minority peoples, or Lao Chai, a large village of the H'mong. Lastly, you will stop by Ta Van, the home of the Zay people. You will absolutely be overwhelmed by the lovely and breathtaking landscapes here.
Mu Cang Chai – a precious gem of Vietnamese tourism
Leaving Sapa, Vietodyssey's private tour will take you to Mu Cang Chai on a high-quality and air-conditioned car. Mu Cang Chai is a district of Yen Bai province, located nearly 300 kilometers from Hanoi to the Northwest. Mu Cang Chai is a favorite destination for nature lovers and enjoys drowning in the refreshing atmosphere.
In Mu Cang Chai, the best destinations to visit are the villages of ethnic minorities here. You will be taken to the two most spectacular ones, which are Kim Noi village - the village of Black Thai people, and Hua Khat Village – the home to Hmong Tribe. You will stay with the local people, learn about their culture, customs as well as cuisine. You also get the chance to take photos of such an amazing landscape that you can't see in anywhere in the world.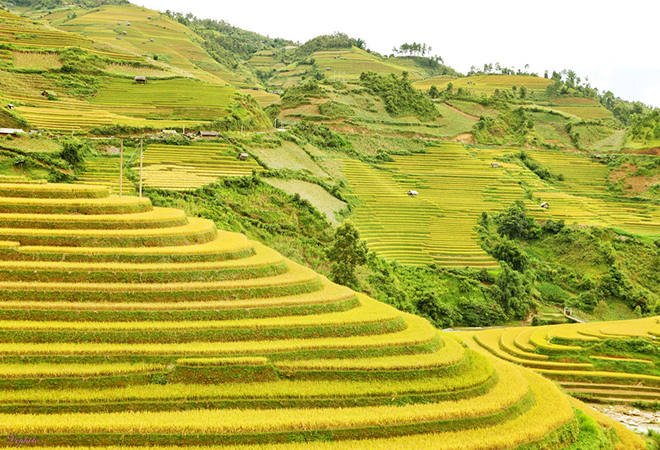 The beautiful golden rice field in Mu Cang Chai
If you are interested in the magnificent natural and maybe some exercises, the Cao Pha Pass will be a perfect choice. Located about 250 kilometers from Hanoi, Cao Pha Pass in the pouring season has a beauty that makes people flutter and can't help but stopping by. On your way to explore this beautiful wonder, you will go across bumpy roads and visiting the bee-growing farm and some minority groups.
Cao Pha Pass is famous for its immense space with undulating mountains, deep gaps, vast green forests spread out before your eyes. The terraced rice fields that are ripe with golden rice, especially when the afternoon sun shines down, it is like pouring gold into the ground, there is no word that can describe the beauty here. That's why international tourists have been coming to Cao Phan Pass more and more to be able to enjoy the lovely sceneries themselves, instead of having to see the place through pictures and videos online.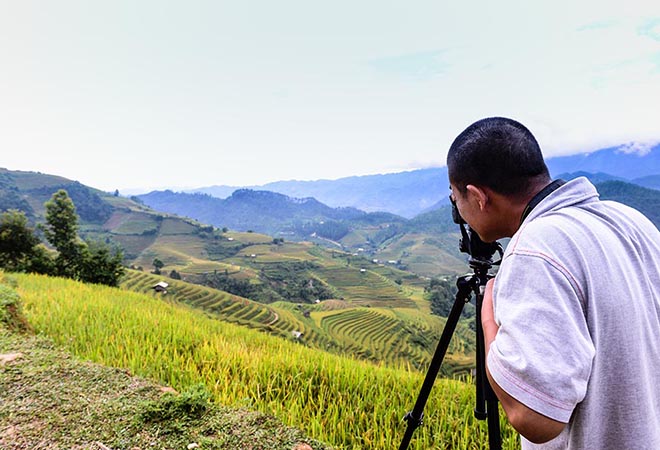 A tourist taking photos of the astonishing Cao Pha Pass
Of course, during your 4 days with our Sapa and Mu Cang Chai private tour, you will have to chance to visit and explore others stunning places too, such as Tram Ton pass - where you can enjoy fresh stand cool air and nice landscapes, or Muong Lo (Nghia Lo) – a rather unspoiled area where you can be overwhelmed by the most beautiful landscapes. Not only that, the Dzao and Thai minorities are also ready to welcome you along the way and invite you to have some traditional dishes with them. Not only the beautiful sceneries, but you can study a lot more about Vietnamese people and culture too. What can be a better vacation than that?
Joining the Sapa and Mu Cang Chai tour, Vietodyssey will provide you everything you need for a wonderful vacation. The meals you will have while exploring will be cooked deliciously, with fresh and clean traditional ingredients. These dishes can help you enjoy more the simple yet peaceful atmosphere in Vietnam.
What is special about our private tour is the reasonable price. The price for this tour have already included many convenient, such as one way train tickets Hanoi – Lao Cai, private car transfer along the trip, private pick-up & -off services by private car, English speaking guide with enthusiastic, responsible, warm service, meal as in itinerary, entrance fees... and so on. You will feel completely satisfied with the services of the tour.
Sapa and Mu Cang Chai are the two places that cannot be missed out when visiting Vietnam. Are you ready to have the most amazing holiday in your life?
vietodyssey.com