27 February, 2019 LJ
The Northen Vietnam has been attracting millions of tourist from both domestic and international because of its beautiful landscapes and interesting culture of ethnic minorities. Visiting Vietnam, you will need more than 1 day to truly enjoy the prettiness of nature. Vietodyssey's 6-day Northern tour will give you the best experience in this magnificent country.
1. Day 1 – start the Northern Vietnam tour with the beautiful capital Hanoi
If you're having a vacation in Northern Vietnam, Hanoi definitely can't be missed. There is no better place to research about Vietnamese culture and daily life. Besides, the suburban areas of the capital of the S-shaped country have the lovely sceneries that capture every single traveler who has come here.
You will be led to Tien Le vegetable village on the Northern tour's car, where you will have the opportunity to witness a Vietnamese market – where residents sell and buy fresh food, from meat to vegetables, all of them are freshly harvested. Vietnamese people usually buy fresh food every day to cook meals for their family, instead of buying packaged food from the supermarket like Western people, so this sight will surprise you.
Not only witnessing the market, but you will also be attending growing vegetables yourself to. In the Vietnamese countryside, growing crops is one of the main ways of making money. Local people will give you farming clothes and farming tools, and will instruct you some farm works such as plowing, watering and fertilizing... It's interesting to try growing food you eat every day on your own!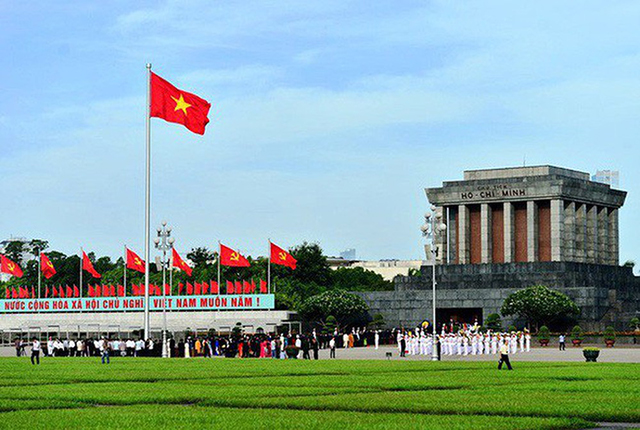 The majestic Ho Chi Minh Mausoleum Complex in Hanoi
After spending an active day on the farm, you will be introduced to water puppet – a traditional art form stems from Asian Wet Rice Culture. If you want, the dedicated staff crew of Vietodyssey's Northern Vietnam tour can book you a show, and you can also choose to visit other amazing history relics such as Ho Chi Minh Mausoleum Complex, the One Pillar Pagoda and the Women's Museum. You will have so many awesome memories from the beautiful capital of Vietnam!
2. Day 2 – Northern Vietnam tour take you to Ninh Binh Province
Only less than 100 km from Hanoi, Ninh Binh with many mesmerizing wonders both in terms of landscape and historical significance, has become a destination chosen by many tourists. The staff of Vietodyssey will take you from Hanoi to Ninh Binh Province, and there you will enjoy the stunning wonders that represent the magnanimous history of Vietnam.
You will stop at Hoa Lu, where there are temples dedicated to Emperor Dinh Tien Hoang of the Dinh Dynasty (968-80) and Emperor Le Dai Hanh of the Le Dynasty (980-1009). Hoa Lu ancient capital is a unique architectural complex in Ninh Binh province, has been recognized by UNESCO as a part of Trang An World Heritage Complex. It is also ranked by the Vietnamese government as an important national historical and architecturally complex, which should be preserved.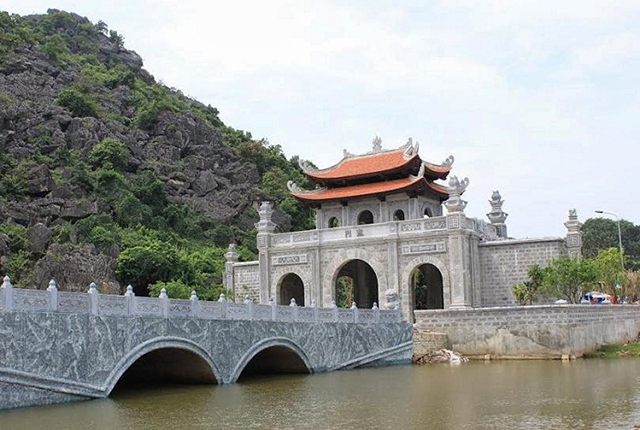 Hoa Lu ancient capital - the famous history relics located in Ninh Binh
If time's on your side, you will take a half-hour walk up one of the surrounding limestone karst hills; a difficult but highly rewarding climb with spectacular views. This activity will help you improve your strength as well as mental health, and the staff crew of the Northern tour will help you through the trip with water and other equipment so you won't feel tired.
Also, you will go to Tam Coc Town to enjoy a Vietnamese-style lunch, then visit Bich Dong Pagoda on nearby Ngu Nhac Mountain, comprising three amazing structures: Ha, Trung, and Thuong Pagodas that will blow your mind. You will understand more about the quintessence of Vietnamese history with these wonders.
3. Day 3 and 4 – Visiting the heaven of Northern Vietnam called Sapa
Located in the northwest of Vietnam, Sapa contains many miracles of natural and human landscapes. The town in the clouds attracts visitors with majestic mountain views and many unique experiences exploring the lives of ethnic minorities.
Sapa is mostly mountains and roads, so the Northern Vietnam tour will require your trekking. You will go to Y Linh Ho village settled down by the Muong Hoa River and from here to the Black H'mong village of Lao Chai – one of the biggest minority groups in Sapa. Their unique culture, daily life, clothing and food will amaze you. Ta Van village of Zay people is also not disappointing. Their villages with traditional houses and magnificent landscapes will awe you.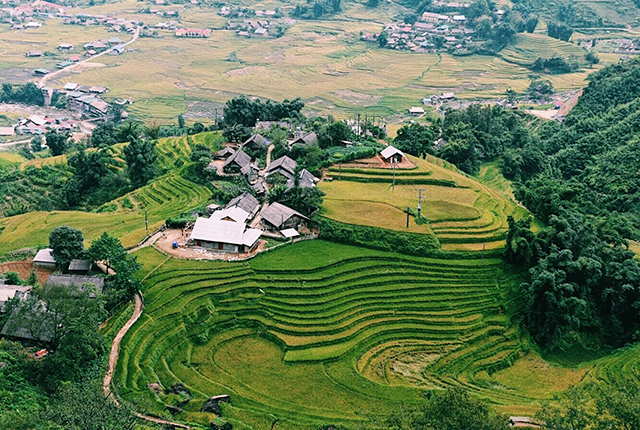 Ta Van village from above - the home of Zay people
Sapa is famous for numerous ethnic minorities villages, B H'mong and Ta Van villages are not the only one. This Northern Vietnam tour will take you to Suoi Ho village which located on the top of a low hill, where you can visit several local homes and understand local life. Ma Tra village where beautiful scenery of the valley and terraced paddies, as well as flower farm, is also on the itinerary.
2 days in Sapa will help you understand a lot more about Vietnamese ethnic minorities, and bring you unforgettable memories of the friendly, simple and wonderful local people.
4. Day 5 – enjoy the Halong Bay, the most beautiful watery landscape in Northern Vietnam
Halong Bay has been recognized as a World Nature Heritage by UNESCO, with magnificent ocean and giant majestic limestone scattered around the beautiful watery landscapes. To explore Halong Bay, Vietodyssey's Northern Vietnam tour will take you on a luxury cruise, where you spend a night on this magical wonder and drown in the salty atmosphere of the sea.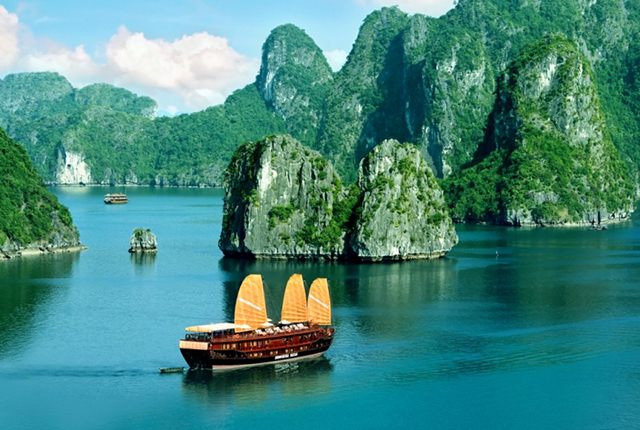 Joining a cruise in Halong Bay has become an amazing trend
Depends on the cruise's itinerary, you will be taken to numerous wonders in Halong Bay, such as the floating fishing villages, the magnificent islands, the splendid islets that make you gasp in awe... On the cruise, you can also attend to other activities like fishing, tai chi classes or just simply relax under the warm sunray.
5. Book yourself 6 days in gorgeous Northern Vietnam
Hanoi, Ninh Binh, Sapa and Halong Bay are the most famous, most lovely and amazing cities in Vietnam tourism. This Northern Vietnam tour will take you to all of them, and bring you to the most gorgeous wonders. This is a perfect opportunity to have a bonding time with your family, friends, or spend a romantic vacation with your significant other.
If you're interested in booking a tour for yourself, you can easily check for more detailed information, as well as the price and payment of Vietodyssey's Northern Vietnam tour. The quick process of booking and dedicated staff will satisfy you.
Vietodyssey hopes to serve you on your next trip to Vietnam, and wish you a happy vacation.
vietodyssey.com