06 March, 2019 LJ
Vietnamese countryside has always been a wonderful destination for those who want to relax and escape from tiring daily life. The best way to fully enjoy the peacefulness of this beautiful place is to go by bicycle because you will be able to feel the atmosphere, the air, the smell of fresh crops and many more. Joining Vietodyssey's countryside cycling tour, you won't regret visiting this lovely corner of Vietnam.
Why should you join Vietodyssey's Hanoi countryside cycling tour?
Throughout the years of operating, Vietodyssey has been providing numerous interesting cycling tours in Vietnam for many travelers from all over the world. Vietodyssey always tries our best to give customers the best cycling vacation, with amazing destinations, dedicated staff crew and quality types of equipment. With our thoughtfulness as well as experienced in arranging cycling tours in Vietnam, you won't be disappointed with our services.
>>>10 Days Befriend The Ocean With Vietnam Central Coast Cycling Tour
Joining a cycling tour, the first thing you get is the health benefit. Daily life with stressful work usually doesn't give you much time to work out. Every day, you only sit in an office, busying with your workloads and forget the beautiful nature around. A cycling tour is designed to fix just that! By cycling through the beautiful landscapes, enjoying the fresh air and sightseeing magnificent sceneries, both your physical and mental health will be improved greatly. You will forget the dullness, the stress built up from daily work, and will feel completely refreshed and healthy! This is a perfect choice to work out and going on holiday at the same time!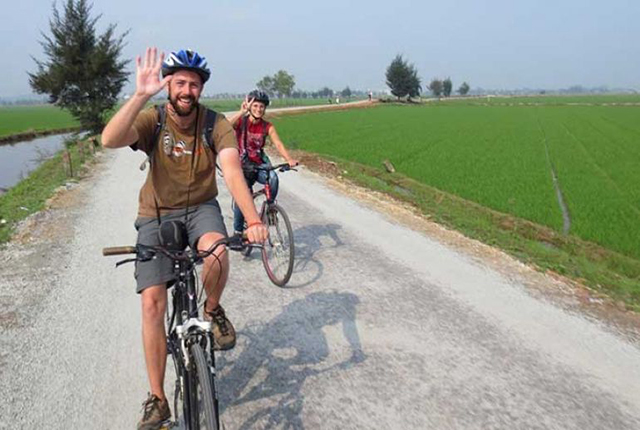 Cycling is the best way to relax and improve your health
Secondly, your cycling tour through the countryside of Hanoi will be accompanied by the dedicated staff crew, all of them are very friendly, hospitable and ready to help you with everything you need. The tour also provides you with a high quality of bicycle, with everything else needed to make a wonderful trip. Though only lasts for half a day, but this vacation of yours won't have a single boring moment. You will definitely love it.
Another reason why you should choose Vietodyssey's Vietnamese countryside biking tour is the convenient options. You can either choose a morning trip, from 7:30 AM to 12:00 PM if you love to enjoy the fresh morning air. If you are not a morning person, the afternoon trip from 13:00 PM to 17:30 PM is the perfect choice for you. Either way, you will be able to enjoy the most wonderful trip to the mesmerizing countryside of Hanoi, Vietnam.
Where will you bike in the countryside of Hanoi?
The countryside of Hanoi consists of magnificent wonders that will blow your mind. Vietodyssey's cycling tour will take you to the best ones out of them, and you won't be disappointed coming to this lovely place.
First, you will visit Huu Tiep lake – the river that was shot down during the Christmas bombing in 1972. During the 12-day war against American planes in December 1972, Vietnam had shot down 34 B52 aircraft, including one that fell into Huu Tiep Lake. Over 45 years, a part of the "flying fortress" is still in the heart of Huu Tiep lake between Hanoi's famous flower village. Witness lake, you will imagine a part of Vietnamese history, when Vietnam was in the war and had to fight to protect the country.
In recent times, Huu Tiep lake is also called B52 lake. It is recognized as a historical monument and became a destination for many international and domestic delegations. In some days, Huu Tiep lake has welcomed from 40 to 50 foreign tourists visiting. More and more international visitors come to Hanoi want to have the chance to stop by Huu Tiep lake at least once.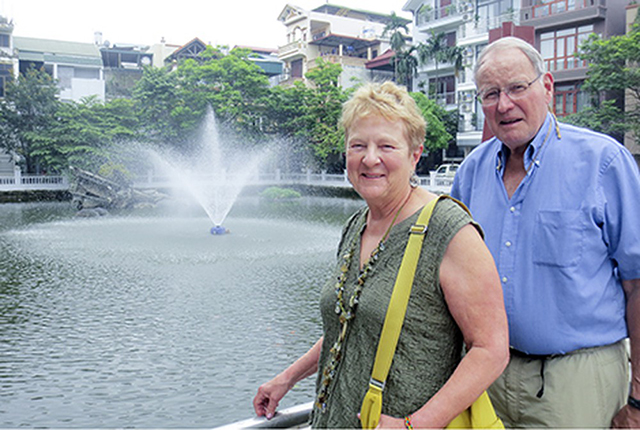 Tourists from all over the world love to visit the historical relic Huu Tiep lake
Next, you will be led to Long Bien bridge – another famous historical relic of Hanoi, also known as the symbol of architecture in Hanoi. Long Bien bridge is the first steel bridge across the Red River, connecting the two districts of Hanoi which are Long Bien and Hoan Kiem district. Besides, Long Bien bridge is also considered important historical evidence that witnessed the ups and downs of Hanoi through the resistance against France and the US.
Long Bien bridge was built in 1898 and inaugurated on February 28, 1902. The bridge is designed to have railways for trains running in the middle and roads on both sides for pedestrians as well as cars. Under the sunset, the bridge becomes more majestic and beautiful than ever.
Nowadays, Long Bien bridge has been attracting many tourists both domestic and international to visit and admire, as well as learn about its old historical stories. When you come here, you will have the opportunity to enjoy the view of the poetic Red River and ride a bike on the bridge.
The ancient beauty of Long Bien bridge under the sun
After that, you will ride on the path along the Red River banks, enjoy the wonderful beauty of the river, then arrive at Bai Giua island. This is the name of the mudflat located at the foot of the Long Bien bridge, only a few hundred meters from the beginning of the bridge. The Red River flowing through this section separates a small river branch and between the two sections is a large alluvial sandbank. This is the living place of the villagers along the Red River and also the home of many Vietnamese farmers.
Coming to Bai Giua island, you will stop by, enjoy some tea and fruits with local people while studying and exploring interesting facts about their way of living as well as their daily life. If you want to, you can also join them in doing some of the simple work too. This is a great chance for you to understand more about Vietnamese culture and people. And remember to bring your camera to take stunning pictures of green fields, local people life and farmers too, these sceneries here will absolutely mesmerize you.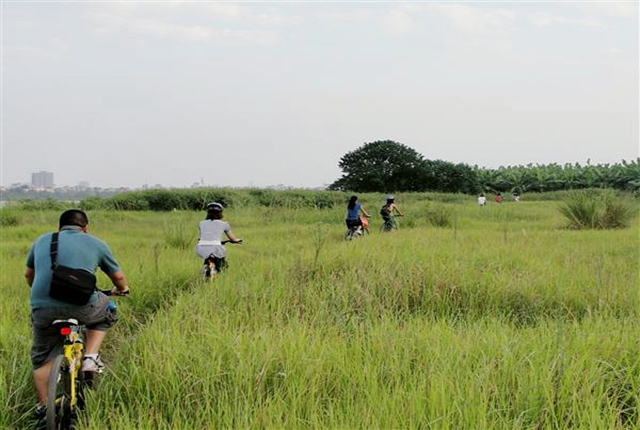 Biking through giant green fields to Bai Giua Island
Finally, the Vietnamese countryside cycling tour will lead you to Tay Tuu flower village. This is considered as the oldest flower village in the suburban Hanoi area. Tay Tuu flower village has a large area of growing flowers (about 300 hectares) and is increasingly developing the strength of flower growing over the years, creating the famous flower brand named Tay Tuu in the North of Vietnam.
Visiting this paradise, you will be able to admire the land of beautiful nature with dozens of flowers of different colors, shapes and sizes. In particular, Tay Tuu is famous for all kinds of chrysanthemum, rose, purple rosemary, dahlia flowers, gerberas, gladiolus and violets, lilies. This colorful, astonishing village will make you awe with magnificent plants. If you are a flower lover, you will definitely fall in love with this place.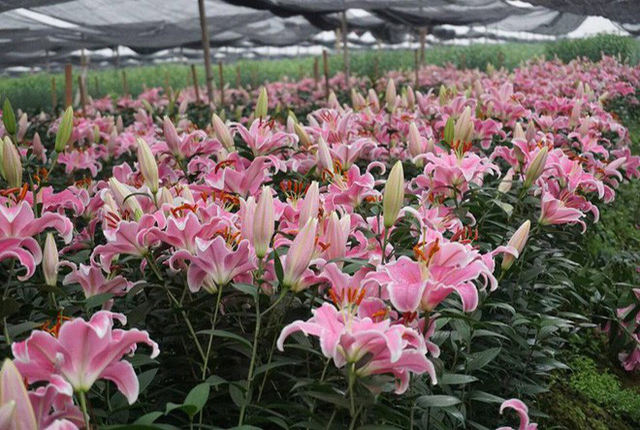 A beautiful ray of lilies in Tay Tuu flower village
In just half a day, you will be taken from wonders to wonders, from this beautiful historical destination to the magnificent natural landscapes. Have you excited about a cycling trip yet? If you have, then you can check for more information, detailed itinerary as well as the inclusions and exclusion of the tour right now!
The dedicated workers of Vietodyssey are always ready to answer your questions and will help you book a tour as fast as possible. This is a great opportunity for family bonding trip or a wonderful holiday with your friends, so why don't you join us right away?
Vietodyssey is ready to serve you!
vietodyssey.com