17 March, 2019 LJi
Ba Vi Jungle is a magnificent natural scenery with various species of plants and a refreshing environment. There's no better place to spend a day cycling because the peaceful atmosphere will help you improve both mental and physical health greatly. Vietodyssey is ready to serve you the best holiday ever in this lovely Ba Vi Jungle.
What is Ba Vi Jungle?
Ba Vi Jungle is Ba Vi National Park – an area preserves various biodiversity of nature.
Located less than 60 kilometers from Hanoi center, Ba Vi is famous as an ideal destination for tourists who love the cool fresh air and the wild and majestic scenery of the natural mountain and forest. Outstanding among the immense mountain forests and green spaces is the Ba Vi National Park, which appears with mysterious and magical beauty that no other sight can be compared.
Entering Ba Vi Jungle, you will have the opportunity to explore the fanciful natural forest immersed in the mist. The whole forest with thousands of trees create an ocean of green that covers the area of more than 7377 ha, you are free to take impressive pictures of virtual life. Coming to the jungle is nothing different from the Wonderland of Alice, because the landscapes here are so breathtaking and mesmerizing.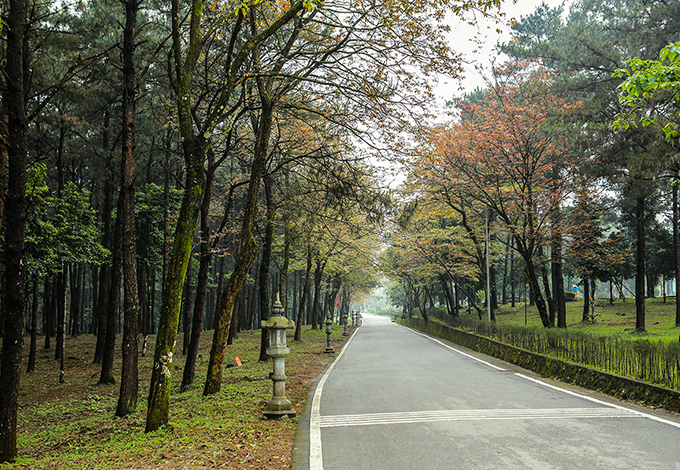 A poetic road in Ba Vi Jungle
Ba Vi Jungle has more than 1000 species of plants, including 21 rare and precious plant species, which are recorded in the Vietnam Red Book. The animal system has 63 mammal species, with many rare species. Once you set foot in the Ba Vi Jungle, you will be drowned in the world of nature, crowded with fantastic sights that the city and modern life nowadays can't have. This is a great chance for you to escape the tiring daily life and research lots of interesting facts about nature.
Ba Vi Jungle is a place not to be missed for tourists who like to explore and adventure. If you don't want to join the fancy travel tours, with destinations are the famous beaches or astonishing mountains, this cycling tour will be the perfect choice for you. Cycling is also a great outdoor activity for you and your loved ones to keep fit and work out. So why don't you contact Vietodyssey and book a tour right now?
Where will you cycle to in Ba Vi Jungle?
Wandering in Ba Vi Jungle, you will not only enjoy the magnificent natural sceneries here but also get a chance to visit a temple of Ba Vi, where local people worship the God of the jungle. The ancient structure of the temple will be an interesting factor that attracts you to its wonderful beauty.
The temple has a unique architectural style, leaning against the mountain to create a stable position. The main palace is the sacred Cavalry Cliffs from thousands of ancient times, where there are hundreds of years old ancient cypress trees. The branches and leaves are colored by a long history, over the times it has been reaching out to shield the temple from the weather and the raging storm. The temple is not wide, but mysterious, with profound spirituality that will absolutely make you overwhelmed.
From this temple you can take your eyes away to enjoy the scenery of nature in the extremely pure atmosphere of the mountains: the clouds are like white chiffon scarves flying on the green mountain, the silky green color on the cornfield curls along the Da river like a long white silk... with a lot more beautiful sights around the landscape. All of them combine and create a gorgeous view that no other wonder in the world can have.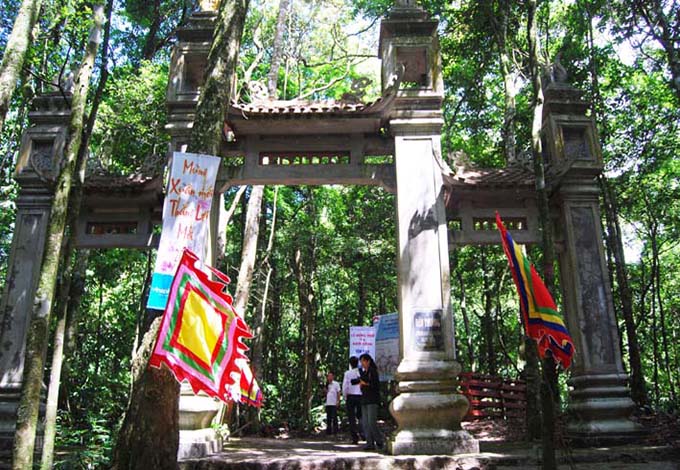 The entrance to the temple in Ba Vi Jungle
Leaving Ba Vi Jungle, Vietodyssey will lead you to cycle to Ba Trai Village – another highlight of this area that you definitely cannot miss. Located about 60 kilometers from the center of Hanoi, Ba Trai commune is a fuzzy mountainous area. Thanks to the soil and clean climate, the tea fields here are green all year round with a natural aroma, distinctly different flavor. It's no wonder that Ba Trai village is famous for tea plantation because the weather here is perfect for this kind of plant.
On arrival at the village, you will join with the locals to learn a full process of making raw tea leaf products. This one of a kind experience gives you the chance to learn more about the life of local people, how they make tea products and sell them to make money. The culture and customs of Vietnamese people are also showed clearly through this tea making process. There's no better time to learn lots of interesting facts about Vietnamese life.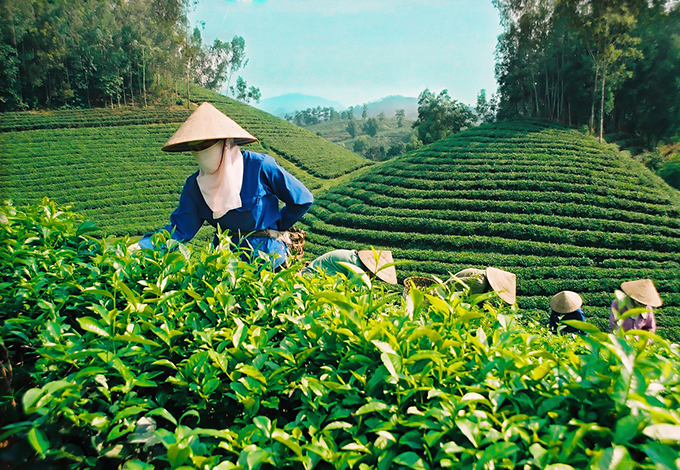 A farmer planting the tea in Ba Trai Village
You will be thrilled to know the tea here in this village is very famous. Tea is made and sold for people all over Vietnam. The significant flavor of the tea product from Ba Trai village is unmistakable, no other place can copy. Residents in Vietnam all love the Ba Trai tea, so by visiting this tea village, you are visiting a popular tea production points in the beautiful S-shaped country.
The advantages of joining Ba Vi Jungle cycling tour
Joining Vietodyssey's Ba Vi Jungle cycling tour, you will have the chance to discover the most beautiful and outstanding natural area in the North of Vietnam. These places are refreshing and clean, perfect for relaxing and reducing stress. The fresh air will help you improve both mental and physical health greatly.
Besides, cycling is a great way to work out and keep fit. Normally, because of the heavy workload, many people don't have much time to exercise. So by joining a biking trip, you're giving yourself a day to be active and relax the stiff muscles. Instead of fancy travel trips, this simple yet interesting tour can help you get rid of all the tiredness from daily life.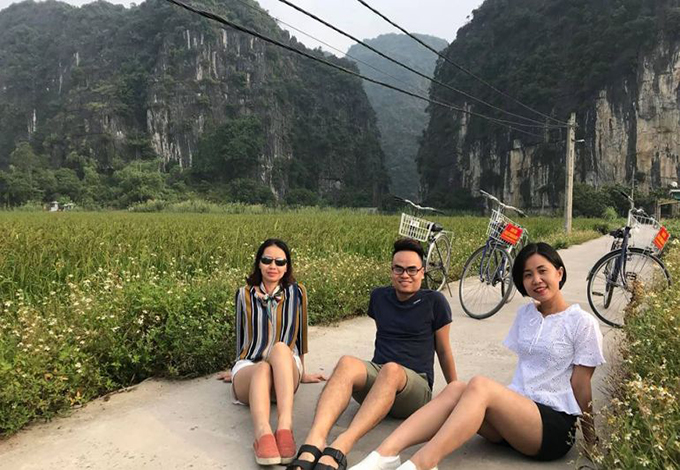 Cycling is a great way to have a wonderful time with your friends in the middle of nature
If you are exciting for a day biking in Ba Vi, you can contact us and book yourself a tour right now! You can also visit vietodyssey.com for more interesting travel tours around Vietnam with the most astonishing destinations and dedicated services. With our years of experience in the tourism industry and serving hundreds of customers, you won't be disappointed when choosing us.
Before deciding to book a tour, remember to carefully read the detailed information such as the itinerary, the policy, inclusions as well as exclusions of the tour. If you have any questions, the workers of the Vietodyssey will be happy to answer you.
Are you ready to pick up your backpack and explore the great Ba Vi Jungle?
vietodyssey.com