22 February, 2019 LJ
Ban Gioc waterfall is a gorgeous watery landscape, located in Cao Bang Province. It also marks the border of Vietnam and China, where we can see another country right in front of our eyes. Some people say you won't be able to feel the complete beauty of Vietnamese nature if you haven't taken on a Ban Gioc waterfall tour. Whether that's true or not, let's find out.
Ban Gioc waterfall – the true pulchritude of Vietnamese nature
As said above, Ban Gioc waterfall lies on the border between Vietnam and China. Recognized as the 4th biggest waterfall in the world, and is acknowledged as the largest one in South East Asia, Ban Gioc waterfall is one of the most magnificent paradises with the beauty of the majestic and attractive nature.
With a width of 300 meters, the waterfall cascades down from a height of 53 meters through the limestone floors, forming large and small cascades of water, tossing a layer of translucent dust into space. At the foot of the waterfall is the surface of the Quay Son river, its clear water surface illuminates the mountains and clouds. On the shore is a green field of Tay and Nung people who have been living in Ban Gioc village for a long time.
>>> Tour Cycling Odyssey From Ba Be National Park To Bac Son Valley 6 Days
With a charming natural beauty that perfectly blends in with the peaceful vibe of the countryside, this place has been recognized as a National Landscape since 1997. In recent years, Ban Gioc waterfall has been increasingly attracting many domestic and foreign tourists to stop by. The place soon becomes precious jewelry of Vietnamese tourism, and no one can leave Ban Gioc waterfall without feeling relaxed, refreshing and happier than ever.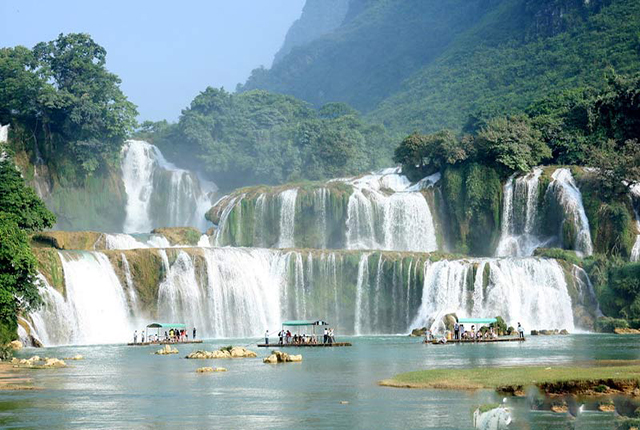 The poetic beauty of Ban Gioc waterfall can shake anyone's heart
But if you're only visiting Ban Gioc waterfall, your vacation won't be that exciting. Around this beautiful watery landscapes are many more fascinating destinations that charmed the curiosity of many international travelers. Those tourist attractions not only satisfy visitor's desire to discover but also help them to understand more about Vietnamese culture, cuisine, and lifestyle of local people.
You can do all the things above with Vietodyssey's Ban Gioc and Cao Bang 3 days Tour! If you don't believe, then try to check it out. Our Ban Gioc waterfall tour won't let you down!
Join Ban Gioc waterfall and Cao Bang 3 days tour to discover the beautiful countryside of Vietnam
Vietodyssey didn't only design the tour so visitors can only hang out at Ban Gioc waterfall, but also discover a lot more attracting tourism destinations around it. Starting from Hanoi, the tour will give you the best time of your life!
On your way to Cao Bang Province where Ban Gioc waterfall is located in, you will stop by Thai Binh City to visit Museum of Cultures of Vietnam's Ethnic Groups – a public construction the culture and history of various ethnic groups in the northern area during the Indochina War are exhibited and shared. After learning some interesting facts about the rich culture of major hill tribes settled in Vietnam, you will be led to Cao Bang Province.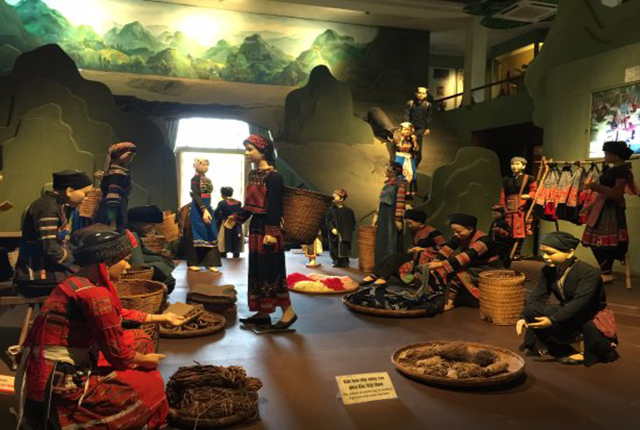 Inside the museum of Cultures of Vietnam's Ethnic Groups
The Cao Bang tour gives you the opportunity to learn more about Vietnamese cuisine, especially local dishes that were cooked and served by ethnic minority communities including the Tay, Nung, Dzao and Hmong. There's no better place to study the ingredients, how to cook the food, how to serve and eat of a Vietnamese dish than in their own house. That's right, on your first night in Cao Bang, you will have the chance to have dinner in the ethnic community's house! That will be a one-of-a-kind experience that you hardly have twice in your life.
On the other hand, you can also learn some more amazing things about Vietnamese food by buying and tasting them in the busy market of Cao Bang. In those markets, local people make food and sell them to earn a living. Not only that, they also make knives and other products. Wandering around the market and interacting with the local people will give you a more thrilling experience of Vietnamese cuisine and culture.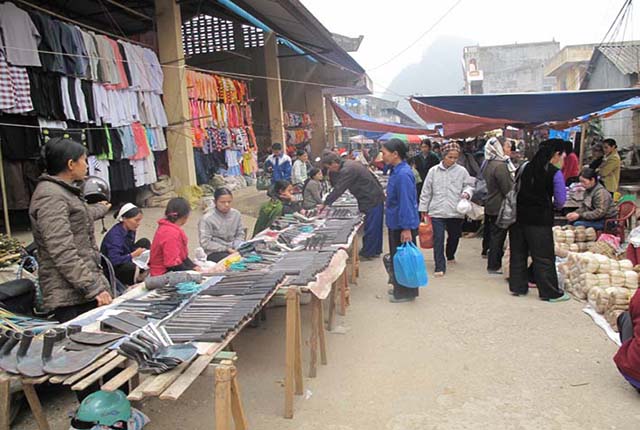 A market in Cao Bang Province where you can buy many wonderful souvenirs
And of course, Ban Gioc waterfall cannot be left out of the list. On the second day of this Cao Bang tour will be the highlight of the trip. You can spend a whole morning playing and wandering around in the cool, fresh and beautiful water of the waterfall. Remember to bring your camera, you won't get enough of the beauty with just your two eyes. Some pictures of the landscape will definitely help you to remember sweet memories and make your friends jealous!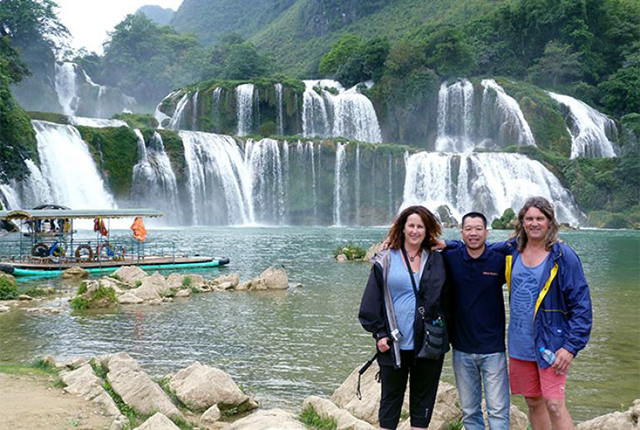 International visitors in their trip to the splendid Ban Gioc waterfall
Beside the magnificent waterfall, there are two more destinations that most tourists can't miss out when visiting Cao Bang Province. Nguom Ngao cave and Pac Bo cave definitely are the two destinations that will blow your mind! The beauty of those caves can't be described by words, so you absolutely have to give those places a chance.
Not stopping there, this Ban Gioc waterfall and Cao Bang 3 days tour also give you the chance to study about Vietnamese history and nature, by exploring the great president Ho Chi Minh – where he mastermind the 1954 independence from French colonialists, and Ba Be Lakes National Park, where the peaceful, quiet environment of the wild nature are kept and preserved for years.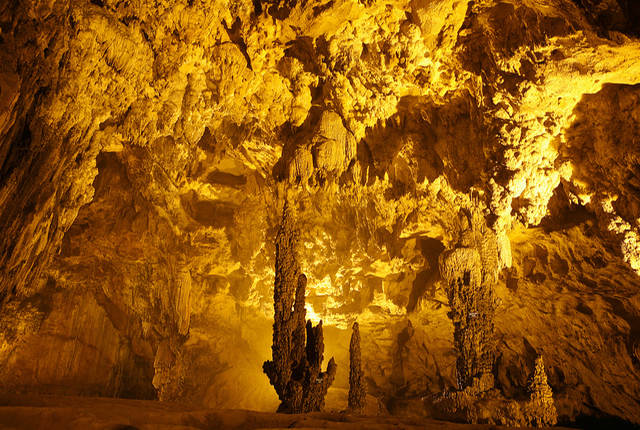 A stunning view inside Nguom Ngao cave
Only in 3 days, Vietodyssey's Cao Bang and Ban Gioc waterfall tour can take you to more than any beautiful landscape you've ever been to. On top of that, the staff crew are friendly, hospitable and will give you any time you need. You will be served carefully throughout the trip, and when you go home, you will leave with nothing more than happy memories and some unique souvenirs.
If you're excited about giving Vietodyssey's Cao Bang tour a chance, don't hesitate to check out for more information HERE and book yourself a trip right now!
Cao Bang and the stunning Ban Gioc waterfall are waiting for you, pick up your backpack and join in the best vacation ever in your life!