17 October, 2018 Mặc Vũ
Among best places to visit, Ha Giang, Vietnam is popular to many travelers. If you want to enjoy the beauty of high mountains and majestic landscapes, you can not miss Ha Giang, the northern province of Vietnam. Let's together discover the featured beauty of this destination.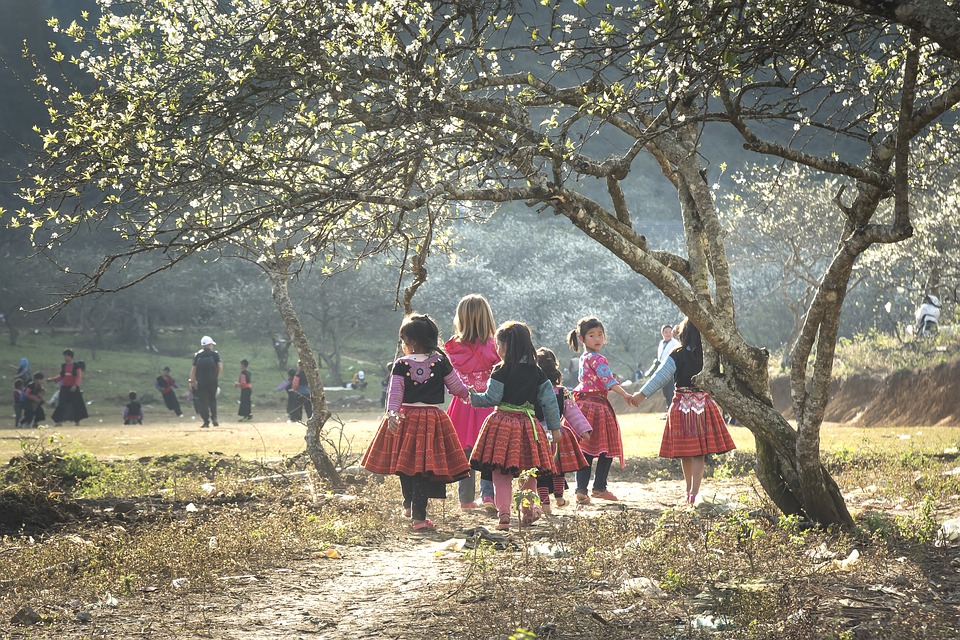 Ha Giang, Vietnam
Where to visit in Ha Giang, Vietnam?
There are many great places to visit in Ha Giang. In every district of Ha Giang, you can easily find a beautiful destination to adventure and discover. From Quan Ba to Dong Van, wonderful majestic views will blow your mind and make you breathless. To have best Vietnam tours, especially in northern provinces of Vietnam, you should never miss these top 10 places in Ha Giang.
1. Dong Van rock plateau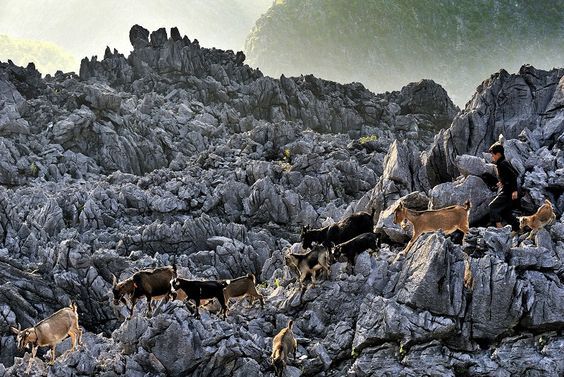 Dong Van rock plateau
This is why many say come to visit Ha Giang, Vietnam. Dong Van is very famous and popular for its tourism and beauty. A traveler should never miss Dong Van rock plateau during their tours to Ha Giang, among best places to visit in Vietnam This is not only a tourist destination but also a mysterious place for scientists to discover. In December of 2010, at last, this was recognized by UNESCO and become a wonderful heritage of the world.
Dong Van rock plateau includes much rock in different shapes and sizes. There are hundreds of rock to visit and discover. You can see all of them along the way to Dong Van and all are in strange shapes. On many of them, people find out ancient letters but until now, they even can not know its meanings. Many scientists come here to discover the mystery. Many other travellers come to get good pictures of Ha Giang landscapes.
2. Mansion of Vuong family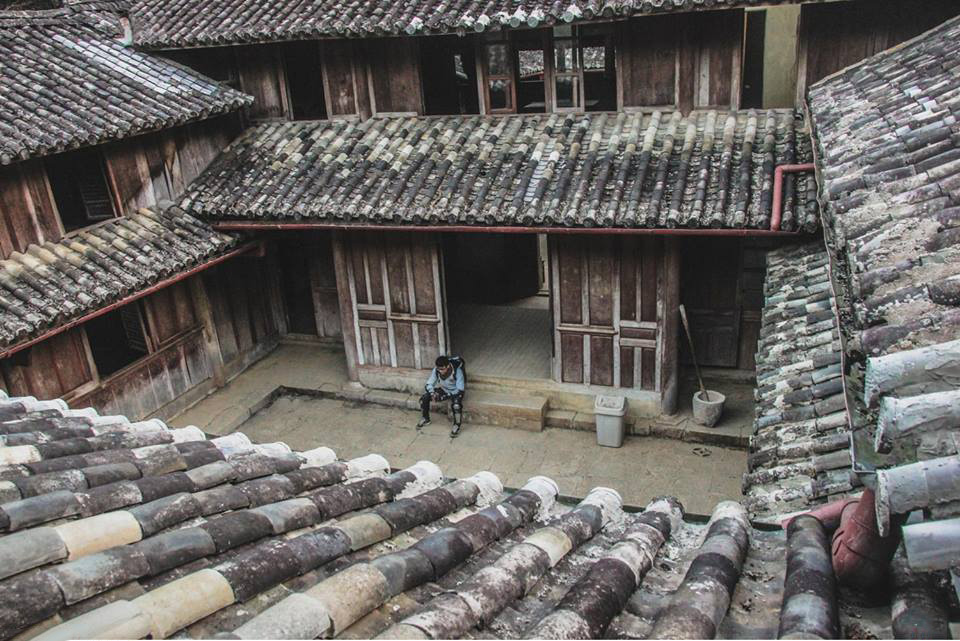 The second destination to visit in Ha Giang is Mansion of Vuong family. This is like a gem of Vietnam in the forest. This huge mansion is surrounded by high ancient green trees. Through long time and history, this Vuong mansion still keeps its mysterious beautiful nature.
The house of Vuong Family, the king of Miao ethnic, is located in Sa Phin, Dong Van, and Ha Giang. This mansion is impressive not because of its gigantic size, but its magnificence and unique design. As it was created by the Chinese stone artists from Yunnan (China) and the skillful Mong builders, the place's design is influenced by the traditional architecture of the Qing dynasty in China in the late 1890s, as well as some element from the local Mong culture. This destination is a must-see that you should not skip on your tour in Ha Giang.
Mansion of Vuong family in Ha Giang is among the best places to visit in Ha Giang, Vietnam. This was first built in 1019 and completed in 10 years later. This is a very expensive mansion with about 150 billion of Vietnam dong. In Vuong mansion, you can find many treasures of Vuong family. Stable woods used includes great stories to tell, which stay still during times and ages. You can ask your local tour guide for Vuong family history to listen to their stories and immerse with nature.
3. Lung Cu flag tower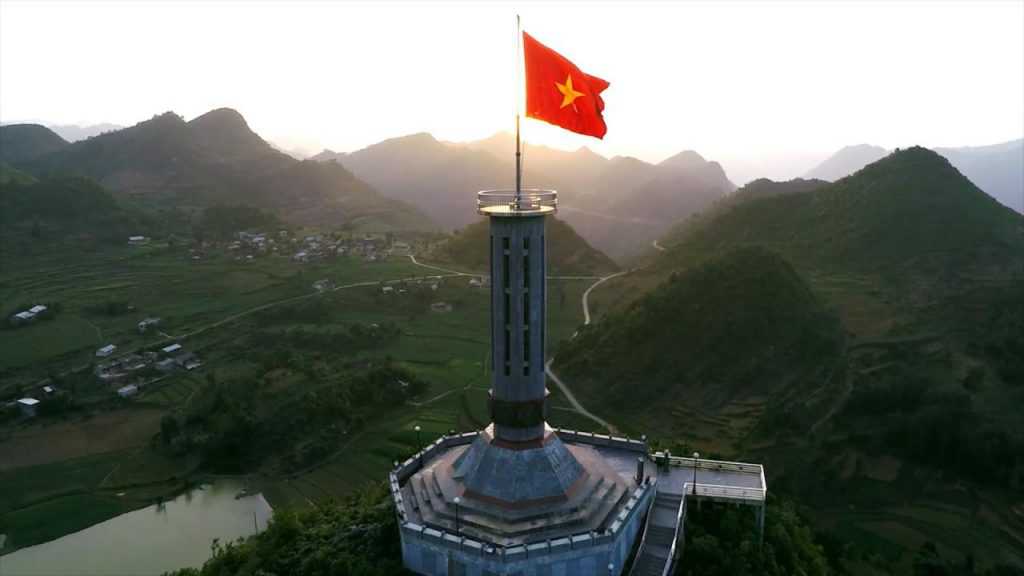 Lung Cu flag tower
Lung Cu flag tower is Vietnam north pole. Many take Vietnam motorcycle tours to get to this wonderful place. To get to Lung Cu flagpole, you have to ride about 150 kilometers and step up almost 400 steps up to the high mountains. It is such an amazing moment to get to the peak if it. From Dong Van rock plateau, you can hire a motorbike to visit this wonderful place. No one can miss this during Vietnam, Ha Giang tour.
From a high place like Lung Cu flag tower, you can have a great view of Dong Van, Ha Giang. Under the mountains, you can see ethnic villages and discover their local life. High mountains with Hanh Phuc road (Happy Road) will become smaller and within your eye view.
4. The happy road in Ha Giang, Vietnam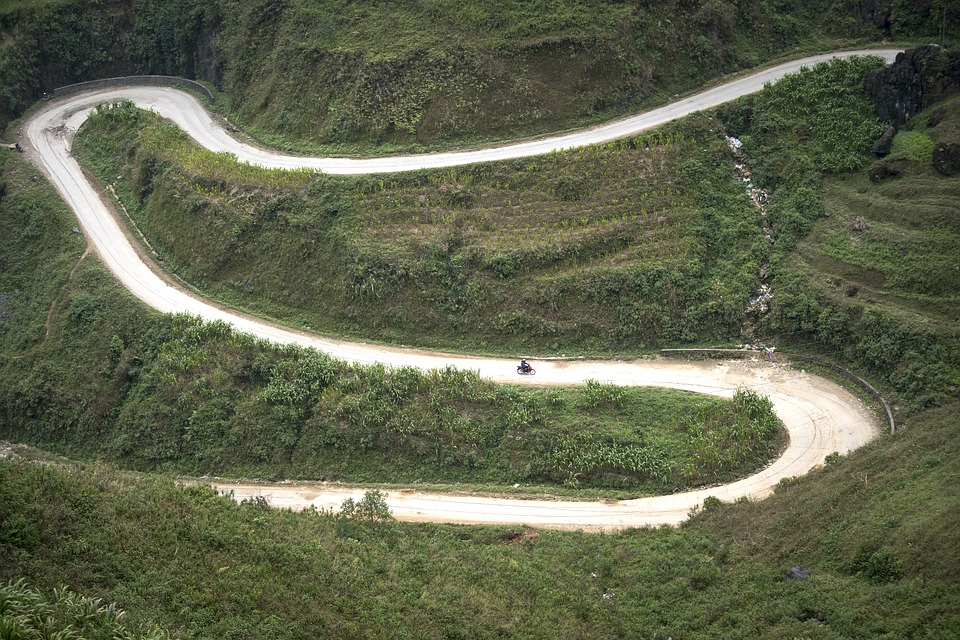 The last of top 4 best destinations in Ha Giang is the happy road. This happy road lasts about 200 kilometers, connecting many districts of Ha Giang.
The happy road is not only a road to ride but also a road of love and sacrifice. Hundreds of young people spent time and life to make this in about 6 years. It is a story of union and warm hearts.
If you come to visit this Happy road, the best and most majestic place to visit is Ma Pi Leng pass. The happy road connects Dong Van and Meo Vac, with Ma Pi Leng pass will blow your mind.
5. Ma Pi Leng pass- top 4 passes of Vietnam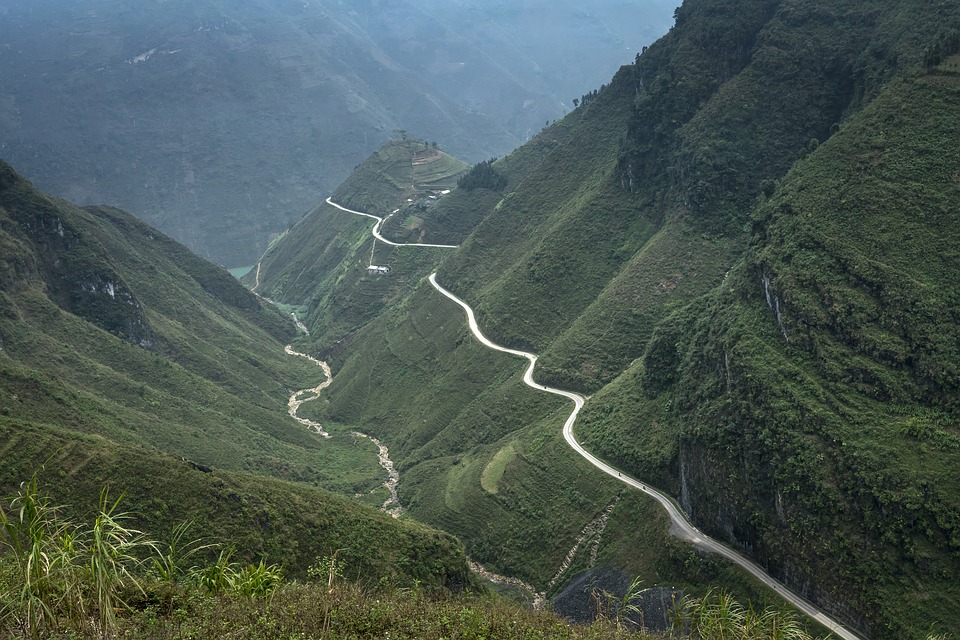 Ma pi leng pass
Coming to Ha Giang without visiting Ma Pi Leng is a pity. Many just come to see how wonderful it is. You can see during your Vietnam tours, many ride motorbikes a long way to have a stop at Ma Pi Leng pass.
Ma Pi Leng pass means horse nose. To many travellers, this is among the top 4 most dangerous passes of Vietnam. Many curves and high position make Ma Pi Leng beauty and features. You can see mountains under your feet, see local villages with their life far from your seat. Rock mountains in the right hands become cold at high places and this is difficult to ride with rainy weather.
6. Dong Van old quarter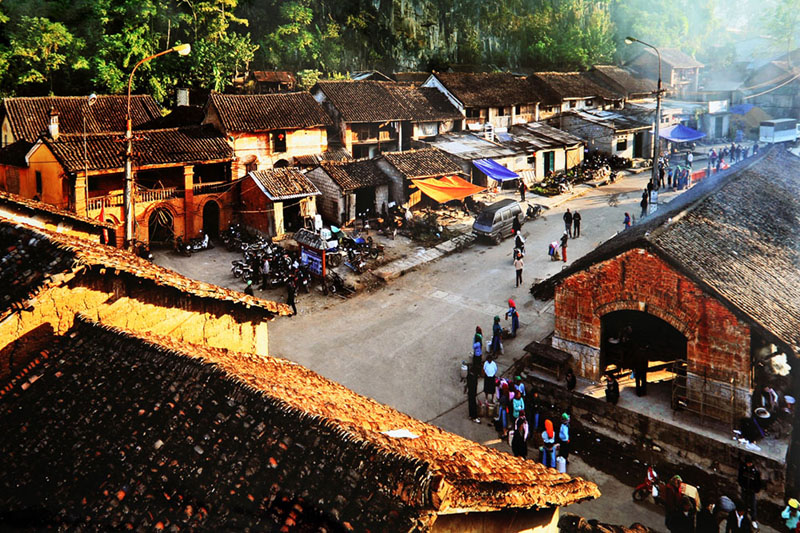 Dong Van old quarter
Dong Van old quarter in Ha Giang is among the best places to visit in Ha Giang, Vietnam. Dong Van old quarter is small, with many old longhouses. There are 40 houses in this old quarter. Now you can easily find Vietnamese food and coffee around the quarter. Enjoying featured food and get some minutes to visit Dong Van center market on Sunday is a great experience.
7. Quan Ba twin mountains
Quan Ba twin mountains
Like twin couples, Quan Ba twin mountains are special and featured with its full shapes. Its beauty is like a young lady with a charming appearance. Among high and majestic mountains, this destination is a stop with romantic beauty.
Riding through long way and mountains, from the high position, you can get a great view of Quan Ba twin mountains, with its very special shapes, you can't stand to say Woahh at least one time.
8. Lung Cam village - Pao's story Vietnam movie
Lung Cam village is so beautiful
If you have ever heard about Pao's story Vietnam movie, you can see how beautiful Lung Cam village is. This ethnic village is attractive to many visitors, both for younger and older. Many of them are just travellers, some are journalists and directors.
This ethnic village is among top best villages in Ha Giang. You can find from the internet about Pao's story movie. Because of its beauty and meaningful content, Pao's story won Golden Kite Prize, a very famous prize of Vietnam movie association.
9. Hoang Su Phi terrace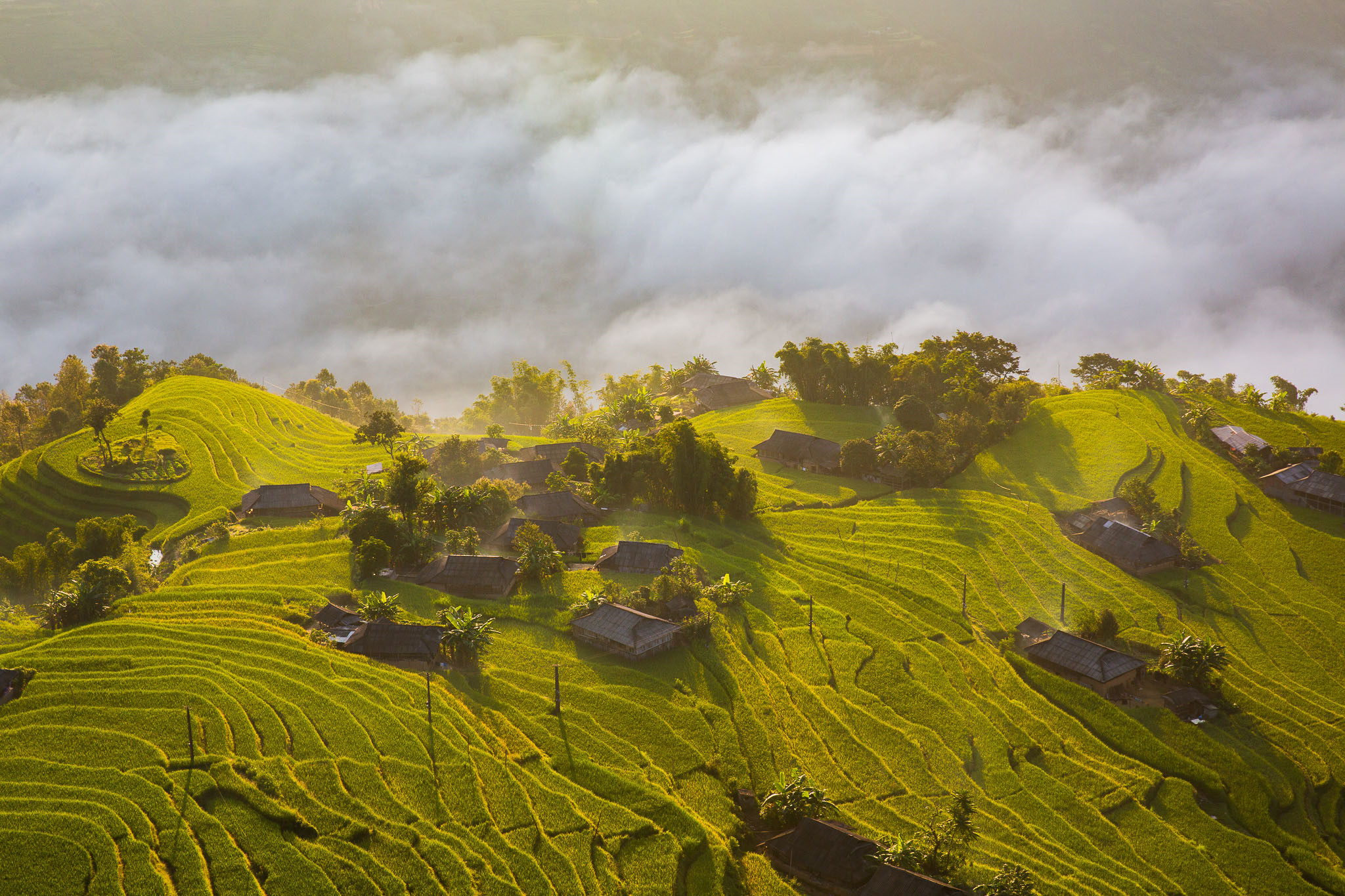 Hoang Su Phi
Among the best places to visit North of Vietnam, you can not miss yellow terrace in Hoang Su Phi, Ha Giang. It is such wonderful to see how terraces are in high mountains of this northern province.
Ethnic people in Ha Giang earn living with farming. You can not only enjoy terrace beauty but also enjoy great featured food of Ha Giang with corn on this destination. Hoang Su Phi terraces are beautiful with yellow color of ripe rice, and green of young rice, too.
10. Lung Tam village – Brocade weaving village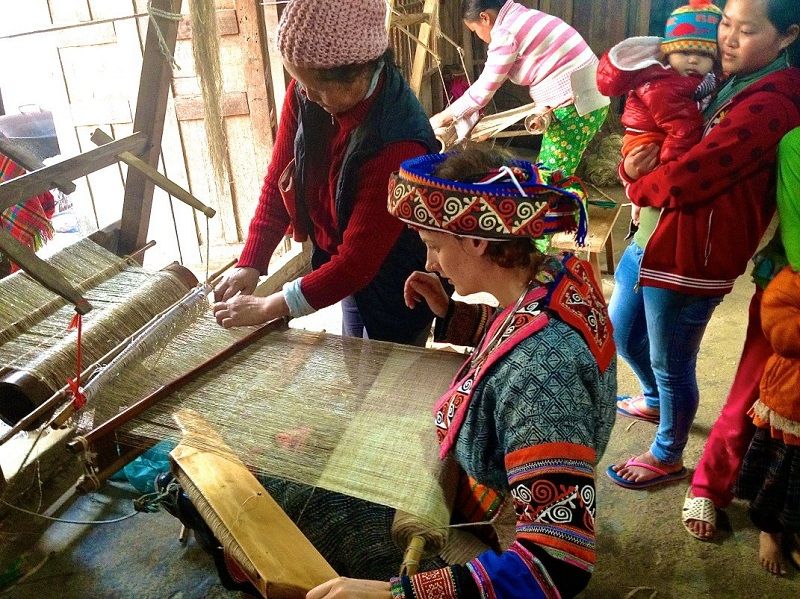 Lung Tam Village famous for weaving with handicraft products
From high position looking down, Lung Tam is a small village of white Mong people. This is famous for its brocade weaving with handicraft products. In this ethnic village, you can find for your friends and family great souvenirs such as bags, clothes, handkerchiefs, scarfs,…All are made by skillful artists with great experience. You can also enjoy and discover about their way to make woven linen and dye, featured the beauty of the village.
Read more:
Top 10 adventurous places of Northwest and Northeast Vietnam
---
Address: 15 Hang Chao, Cat Linh, Dong Da, Hanoi, Vietnam
Email: sales@vietodyssey.com Telephone: +84 96 212 34 86 Hotline: +84 96 212 34 86