23 February, 2019 LJ
Vietodyssey - Ba Be Lake, also known as one of the largest natural lakes in Vietnam, is definitely deserves the title "The Heaven of Vietnam". If you haven't been to this beautiful place, you haven't experienced the deepest and oldest beauty of the S-shaped country. Recently, most of the Ba Be tours in Vietnam are attracting more and more visitors from all over the world.
Ba Be Lake – the true beauty right out of a fairy tale
Ba Be Lake is recognized as the largest natural lake in Vietnam, and also known as one of the hundred biggest lakes in the world. Located in Ba Be National Park, this place is recognized as a national tourist area in Vietnam. The beautiful destination is also classified by UNESCO as one of the world's 20 most beautiful freshwater lakes that need protection and development.
The Ba Be National Park is located in Bin Nam Mau commune, Ba Be district, Bac Kan province. What makes the place becomes 'the true Heaven of Vietnam' is the magnificent nature sceneries. Ba Be Lake is surrounded by two banks of Ngan Son and Bac Son river. If you love the landscape of mountains, forests, fields, majestic nature here, a Ba Be Lake tour is the perfect choice to relax after a tiring working week.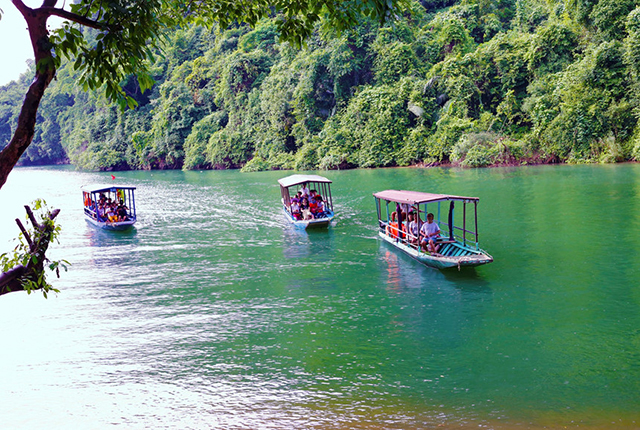 The majestic beauty of Ba Be Lake makes every visitors fall in love
Some Vietnamese people said the Ba Be Lake is the beauty which comes right out of a fairy tale. It's because the ancestors of Vietnam had often told each other a myth of how this beautiful lake was created and lasted until nowadays. In the past, in Bac Can area, every year the villagers of Nam Mau held a ceremony to worship the big Buddha, attract people from all over the country to gather and celebrate. One day, an elderly woman came to the village to attend the ceremony. Her clothes were ragged and tattered, her body smells bad, causing people to stay away. Anywhere the old lady came to beg for food, she was scolded and driven away.
However, there was a widow, with her son hadn't been disgusted, she let the old lady in her house, ate food, and gave her a place to sleep. In the next morning, the old beggar woman told them: "I am not human, I only pretended to be a beggar to test the faithful of men and women who came to the village of Nam Mau Buddha. Everyone was chasing me, except for you two. I would like to foretell you that there will be a great disaster. Whenever you see a source of water starting to pour in here, you two should quickly run to the top of the mountain to avoid it."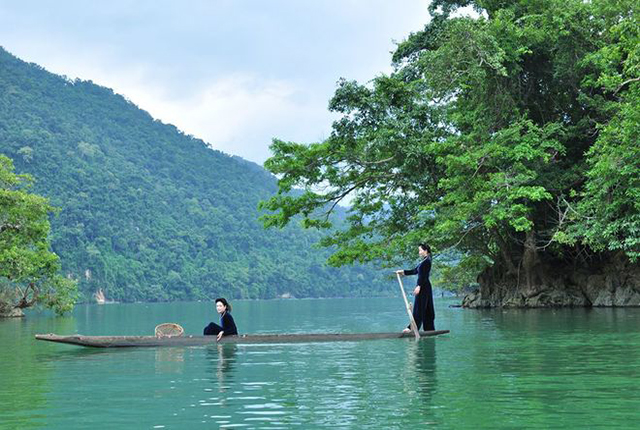 Ba Be Lake is a scenery that comes right out of a myth of ancient Vietnam
Then, the beggar disappeared. The next day, water started to flow into the Buddha festival and suffocated everyone except for the widow and her son. They had climbed on the mountain and built a house to live there. Over time, the place became crowded and turned into the Nam Mau village. The whole valley was flooded with water and turned into 3 large lakes, so it was called Ba Be Lake. The place has been a famous tourist destination ever since.
Have you been fascinated by this mystery, stunning lake yet? If you do, you will also be charmed by an interesting Ba Be Lake trip too.
How many Ba Be Lake tour you can join to witness the stunning beauty of Ba Be Lake?
There are many ways for you to visit Ba Be Lake. Nowadays, more and more domestic as well as international visitors from all over the world are coming to this beautiful watery landscape. Understanding that, Vietodyssey have designed numerous interesting tours for travelers to choose and join.
Instead of going by cars like most tourism trips, the best ways to fully enjoy the wild scenery of Ba Be Lake is going by bicycles or motorbikes. These two transportations will help you experience the most of Vietnamese nature and countryside.
If you want to cycle, you will have the chance to discover more interesting destinations near Ba Be Lake, because a cycling trip is absolutely no fun if you only ride a bike to one place. You can witness the majestic view of Bac Son valley – another magnificent watery landscape of Vietnam. 6 days spending outdoors will help you relax your mind and improve your strength perfectly. Some activities with beautiful nature will get rid of all the stress and tiredness in you.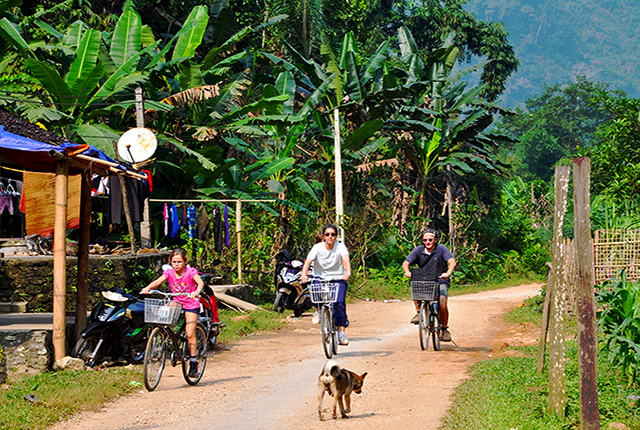 Cycling through the beautiful countryside roads to Ba Be Lake is a wonderful experience
If you like to travel by motorbike – common transportation in Vietnam – instead, the trip will be faster and no less exciting. Vietodyssey also designed a trip from Ha Giang to Ba Be Lake on motorbikes that will stun you with its amazing itinerary. Many people from all over the world have been charmed by the loveliness of Ha Giang, and have chosen to come back as many times as they can to enjoy more the fresh air, the splendid view of the place with their family and friends. Besides, it's always pleasant to experience new rides like motorbike instead of cars and buses.
Also, you can research more information about Vietodyssey's amazing Ha Giang trekking tour if you're interested.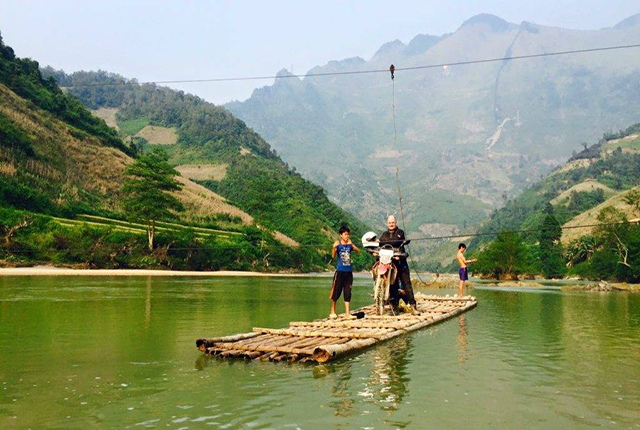 Motorbikes are common transportation in Vietnam, and also a great way to arrive at Ba Be Lake
And by mentioning trekking, you can also choose a Ba Be Lake trekking tour if you're feeling up to some exercising to get fit, a trekking tour will be a wonderful choice for you. Making your own way through the wild forest, studying trees, the weather and other species will be an exciting experience. Daily life in nowadays modern society doesn't give people much chances to participate in outdoors activities or to keep fit by healthy exercises. So a Ba Be lake trekking trip will be a wonderful opportunity to fully enjoy the nature and stretch your limbs.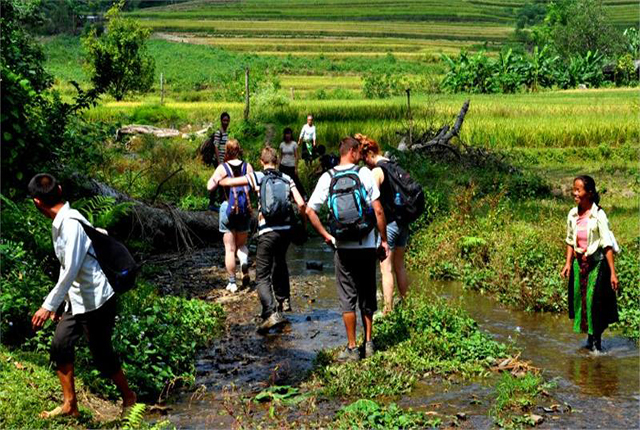 Trekking to Ba Be Lake is also a great opportunity to discover the daily life of Vietnamese local people and nature
Aside from that, Vietodyssey also designed a lot more unique and interesting trip so visitors can come to Ba Be Lake by any way they want. All of the tours consists of English-speaking tour guide with hospitable and friendly services, who will keep your trip happy, exciting and comfortable. Besides, the trips have reasonable prices so customers won't have to worry about their tourism budget being emptied. A justifiable amount of money for a wonderful trip with the nature and drown in the beauty of Ba Be Lake – one of the UNESCO world most beautiful lakes – what can be better than that?
Choose a Ba Be Lake tour for your next vacation and you won't be disappointed
Vietodyssey always help international visitors from all over the world to understand more about Vietnamese beautiful tourism destinations as well as culture and history. Among numerous stunning places to visit in this S-shaped country, Ba Be Lake is one of the best choices. So if you're looking for a beautiful watery landscape to spend a vacation with your loved ones, you should choose Ba Be Lake. The stunning place definitely won't let you down.
Are you exciting for a tour to the largest, most pretty natural lake in Vietnam? Then pick a tour that suits you most, pick up your backpack and go!
vietodyssey.com