08 March, 2019 LJ
Cycling tours are becoming more and more popular, and Cuc Phuong National Park is one of the most outstanding natural landscapes in Vietnam. Coming to this amazing destination, you will be drenched in the beauty of the natural environment that human doesn't usually have in modern society. Vietodyssey's cycling tour will give you the best experience in your life.
High-quality equipment accompanied you in Cuc Phuong National Park cycling tour
Vietodyssey's cycling tour is always equipped with high-quality mountain bike so you can fully enjoy yourself on the trip. You will ride through the magnificent nature, with giant green trees and the fresh environment. Feeling the cool air, you will be completely relaxed and forget all the tiredness in your daily life. Besides that, the dedicated staff and tour guide who will join you on the trip will bring everything you need to make a trip funnier, and they are always ready to help you with everything you need. Their thoughtfulness will make you feel comfortable throughout the wonderful cycling tour!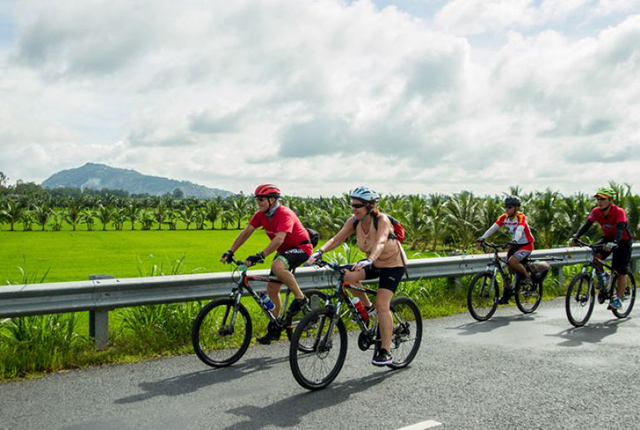 Cycling is a wonderful way to travel and take care of yourself
The trip also makes you exercise, by cycling along the paths, the beautiful countryside and the home of local people in Vietnam. This is a perfect chance for you to be active, to enjoy outdoor activities and become stronger. Both your mental and physical health will be improved greatly. Not only be able to enjoy the beauty of Vietnamese nature but after the trip, you can also feel yourself being more powerful.
Cuc Phuong National Park cycling tour consists of many interesting places
On your journey to Cuc Phuong National Park, you will also be taken to many other amazing places that will capture your attention immediately. This trip to the deepest, most wonderful area of Vietnam won't let you down.
Starting from Hanoi, you will first stop at Bat Trang Ceramic Village, which famous for handmade ceramics. This village was formed in the Ly Dynasty. Over 500 years of history with many ups and downs, the name Bat Trang still exists and is growing until nowadays. Bat Trang pottery products have been highly appreciated for quality, with many designs, types and shapes, with various functions such as household ceramics, worshiping and fine pottery arts, construction ceramics and decorative ceramics.
Visiting the pottery workshops in the village, visitors will be introduced to the stages of making products here. Many people can't help but admire the ingenuity and meticulousness of artisans. Thanks to their skillful hands, the artisans have turned a piece of dirt into a quintessential and lively work of art.
Coming to Bat Trang Ceramic Village, you will have the chance to discover a lot of interesting things about Vietnamese culture as well as history. This will be an interesting highlight on your cycling tour.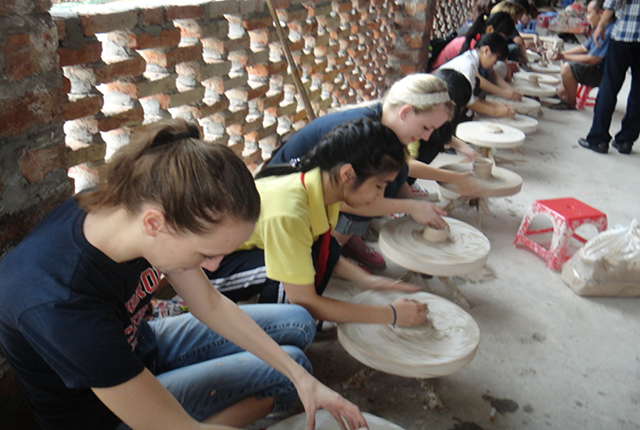 Foreign tourists being introduced to ceramic making
Leaving Bat Trang Ceramic Village, you will go across many traditional villages and rice fields to visit Tam Coc – one of the most tourists attraction in Ninh Binh province. Tam Coc is located in the famous Trang An scenic complex. Also known for other names like "Ha Long Bay on the ground" or "Nam Thien De Nhi Dong", this is one of the elements that attract millions of people from all over the world to Ninh Binh every year.
Inside Tam Coc, there are numerous natural wonders that you can enjoy, but Vietodyssey will take you to the best ones. You will board a boat for a leisurely cruise on the Ngo Dong River, and float through the three large amazing caves along the river. On the boats along the Ngo Dong river, weaving among the smooth and beautiful rice fields, all of it creates such an amazing view. Floating on Ngo Dong river, you will see the magnificent beauty of Tam Coc that you can't see anywhere else in the world.
You will also visit the Thai Vi temple, one of the representatives of the history of Vietnam. After the first resistance war against the Nguyen Mong army in 1258, King Tran Thai Tong had given up the throne to his son and then retreated to the mountainous area of Vu Lam. People built Thai Vi temple on the place where he rested to worship him. The temple was built in such a wonderful, beautiful and dedicated design. Visitors often feel the ancient atmosphere of the history of Vietnam, and feel awed by the stunning landscape there.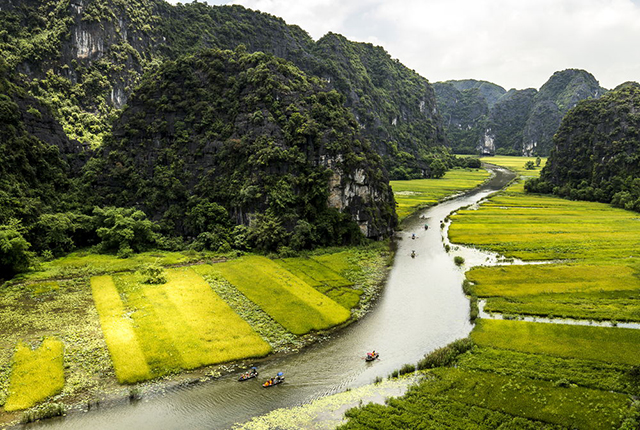 The beautiful Ngo Dong river inside the magnificent Tam Coc
At last, this cycling tour will lead you to Cuc Phuong National Park. Cuc Phuong National Park is located in about 120 kilometers in the Southwest of Hanoi, adjacent to Ninh Binh, Hoa Binh and Thanh Hoa. This is a large nature reserve, storing many diverse and abundant species of animals and plants in Vietnam. Cuc Phuong owns many ancient trees and beautiful birds. This is such a great place for outdoor excursions.
Cuc Phuong National Park covers an area of 25000 ha and is also the first national forest in Vietnam. Features of Cuc Phuong are tropical rainforest, all year it is covered in beautiful green color. The park also extremely rich and diverse fauna and flora. There are many highly endangered species that have been discovered and preserved here, which helps protect the environment greatly.
Not only that, more than 400 species of butterflies of all kinds, up to millions of them are living and coloring this beautiful national park. Butterflies often come out the most on beautiful sunny days, making it a vibrant and bright forest. This is also the occasion for Cuc Phuong forest to welcome many tourists to visit and admire. Inside Cuc Phuong National Park, there are many natural wonders that will absolutely impress you. Remember to bring your camera to capture the amazing views, so your trip can last in your memory.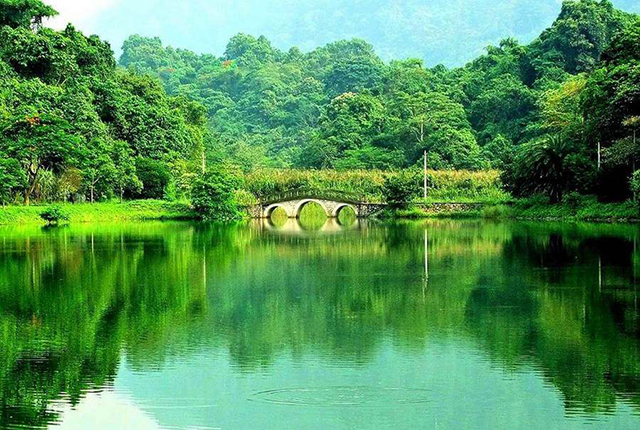 A poetic view inside Cuc Phuong National Park
Along with those wonderful places, this Cuc Phuong National Park will also take you to other magnificent places, which will help you understand so much more about Vietnamese history, culture and society. You won't regret joining this trip!
If you are interested in booking a trip to Cuc Phuong National Park and other stunning places on bicycle already, you can check for more detailed information as well as itinerary, inclusions and exclusions anytime on Vietodyssey. If you want to book a tour for yourself, just contact the staff and they will help you with anything you need. With a reasonable price, this will be a wonderful experience for you and your loved ones.
Vietodyssey always put an effort to give you the best-quality trip! Are you ready to explore Cuc Phuong National Park?
vietodyssey.com