09 November, 2018 LJ
Ha Long has been one of the most famous travel city of Hanoi for its magnificent beaches. What's greater than striding along the beach, bath in the sun, the wind and the cool ocean air? There you can take beautiful pictures and make unforgettable memories. Do take note of these dreamy beaches and visit them as soon as possible!
1. Tuan Chau is the most famous beach in Ha Long
Despite being an artificial beach, but Tuan Chau beach is still as beautiful as any natural beach you can find, with long sand mattress, coconut trees standing under the bright sunlight and the cool wind blowing full of the salty smell of the ocean.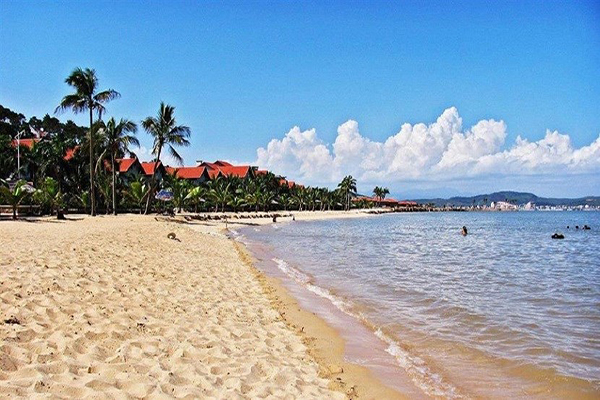 The beautiful long sand mattress of Tuan Chau beach
After enjoying the sea, you can also entertain yourself with various of amusement parks near Tuan Chau beach such as dolphin, seals, sea lions show; intense indoor and outdoor games; 9D movie theater; International port of Tuan Chau; Tuan Chau-Cat Ba ferry,...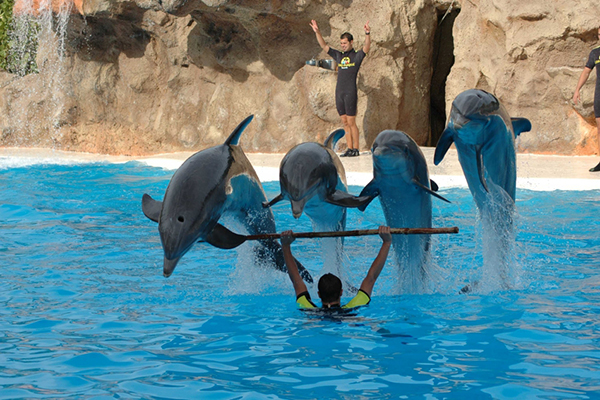 The wonderful dolphin show at Tuan Chau island
2. Dreamy Ngoc Vung beach of Ha Long
Located in the south of Ngoc Vung island, Ngoc Vung beach is the destination for people who want to bath in nature and escape from the city for a few days.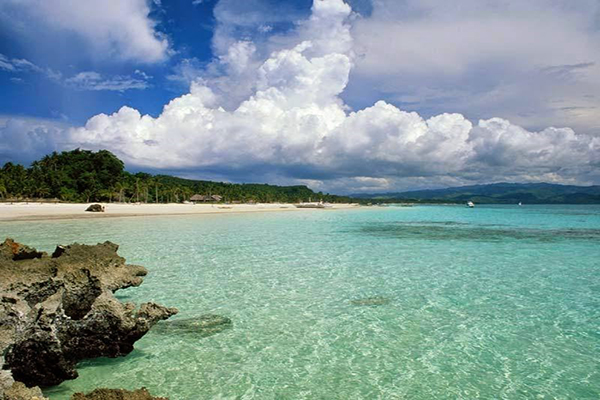 Everyone can be charmed by the dreamy Ngoc Vung beach
With clear blue water, fresh air and non-polluted environment, Ngoc Vung beach have brought many domestic and international tourists to visit Halong Bay. Here you can enjoy the beach, or join games on the beach with friends or explore the surrounding islands in the most interesting and attractive way.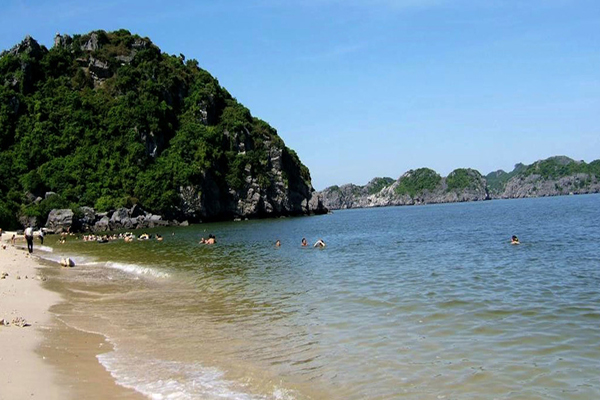 Tourists enjoy bathing in the cool and fresh water
With the beauty of nature, tranquility and romantic, Ngoc Vung beach is increasingly attracting visitors to bathing, participating in recreational activities on the sea and especially exploring the life of fishermen fishing village.
3. Ha Long's famous white-sand Minh Chau beach
What makes Minh Chau beach so special is the soft, non-sticky sand mattress that extends along the blue sea. Local people usually describe the sand at Minh Chau beach as "white as snow, velvety as velvet".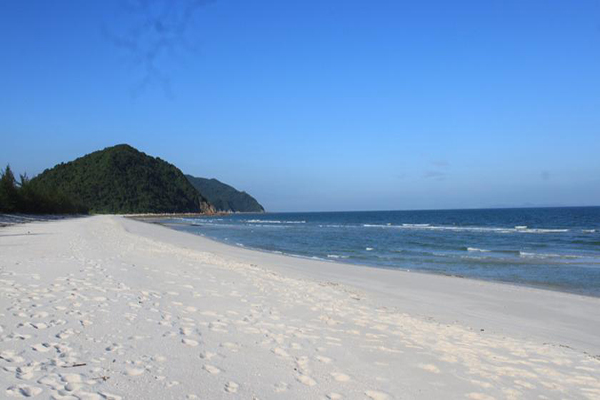 The white sand mattress makes Minh Chau beach so beautiful
At Minh Chau Beach you can spend your free time camping, sightseeing the nearby islands, learn more about daily marine life at the beach, and enjoy the mysterious beauty of the beach at night.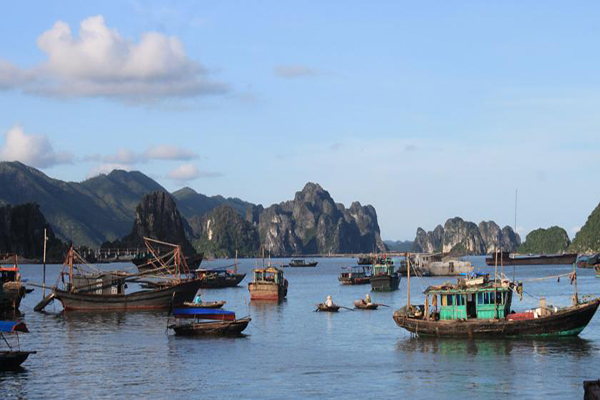 The village near Minh Chau beach is also worth visiting
And don't forget the fresh and delicious seafood you can enjoy there, like fishes, crabs, shrimps and more, which are cooked by local people immediately after caught directly from the sea.
4. Bai Chay beach
Bai Chay beach is another astonishing artificial beach of Ha Long. Bai Chay beach attracts tourists by its blue ocean, soft and charming sand mattress, fresh and cool air, all of them together make such a lovely scenery.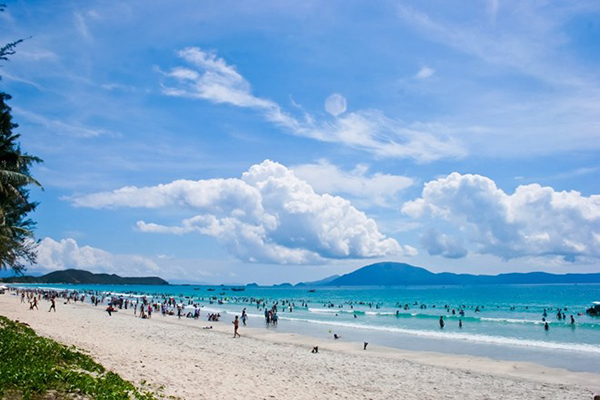 Bai Chay beach has become a famous travel destination of Ha Long
Visiting Bai Chay beach, not only you can enjoy nature, but also have a chance to entertain yourself at the Royal Park nearby. There are many types of entertainment from traditional to modern: water puppet show, ethnic music, karaoke room, disco dancehall...
5. Ba Trai Dao / Three Peaches Beach of Ha Long
Three Peaches beach has beautiful blue sea and charming scenery, therefore, attracts people to come and visit every year. If tourists want to bath in the sea here, they can only do that in 2 – 3 hours, due to other times, tides will rise and the sea level will dive down.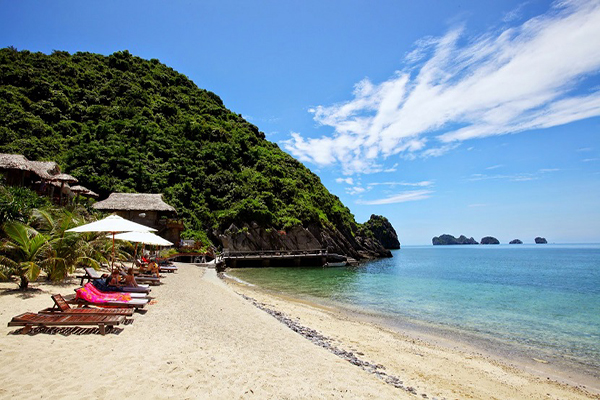 The charming beauty of Ba Trai Dao beach
There aren't many hotels and restaurants around Three Peaches, so tourists only come here to enjoy outdoor activities and shopping for souvenirs. But still, it's an astonishing travel destination that we really should not miss.
6. Ti Top beach – the symbol of the relation between Vietnam and the Soviet Union
In 1962, President Ho Chi Minh and astronaut Gherman Titov visited here. President Ho had named the beach Titov as to celebrate the friendship between the two countries Vietnam - Soviet.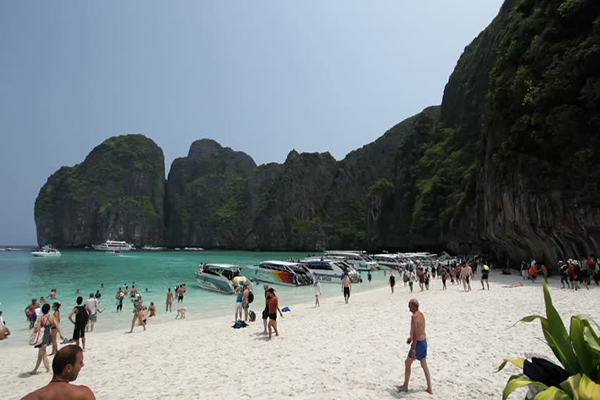 Ti Top beach attracts many tourists every year
Here in Ti Top beach, besides enjoying the sea and sun-bathing, tourists can also participate in sports games such as volleyball, parachuting, surfing motorcycles or gently surfing Halong boats to visit the islands nearby.
For those who love adventure travel cannot ignore mountain climbing to enjoy the panoramic view of the beach as well as Ti Top island from above or enjoy the beautiful sunrise and sunset on the beach.
The beach is beautiful under the sunlight
Not only that, you definitely can't miss the delicious seafood such as crabs, squids, shrimps,... that is directly caught from the sea and cooked by the local chef.
Excited for a trip yet? Check out now our
HA LONG BAY TRIP
immediately! This beautiful city won't let you down!