02 November, 2018 LJ
Sapa is one of the most famous cities in Vietnam which attracts thousands of tourists every year, famous for its magnificent and wonderful villages of the local people. Those are definitely destinations for people who keen on traversing the cultures and traditions of the tribal groups. Take a look, shall we? And then you'll be mesmerized for sure.
How can you learn about a city's cultural? That's right, by visiting the local people and see how they live! There's no greater lesson than experience it by yourself. Here in Sapa lays such huge and wonderful villages of the local people that will surely amaze you.
1. Ta Phin village – Sapa's signature handicraft village
You can visit Ta Phin village - a village of Red Dao's people possessing a rich culture that has not been damaged by modern life.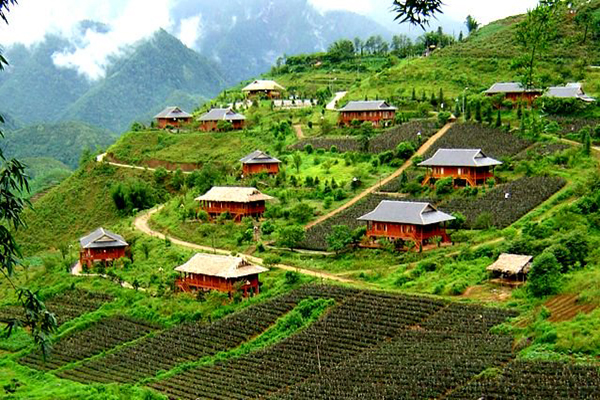 An overview of Ta Phin village
Located about 17 kilometers in the West of Sapa, that will take you 30 minutes to go by motorbike, since the roads are quite difficult for cars to move. You can hire a motorbike taxi, or hire a motorbike to go on your own. But it's best if you have someone to lead the way, because the lumpy roads may cause some troubles.
Ta Phin village is always crowded with women wearing traditional clothes, holding colorful reels of thread and cloths. They mostly sew to earn a living, so in this wonderful village, you can find distinctively hand-made brocades made by ethnic people such as bags, scarfs, purses, skirts, and even backpacks and coats. All these products are beautiful in bright colors and various patterns.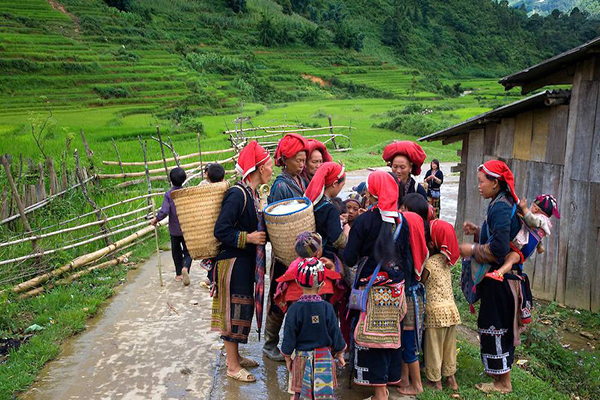 Local people at Ta Phin village
Many foreign tourists have stopped by and purchased unique products made by the Red Dao people. And if you are lucky enough, you will have a chance to join a Red Dao wedding, to see how carefully they prepare for the ceremony, and other exciting festivals like "the dancing festival", "oath-taking ceremony", and many more.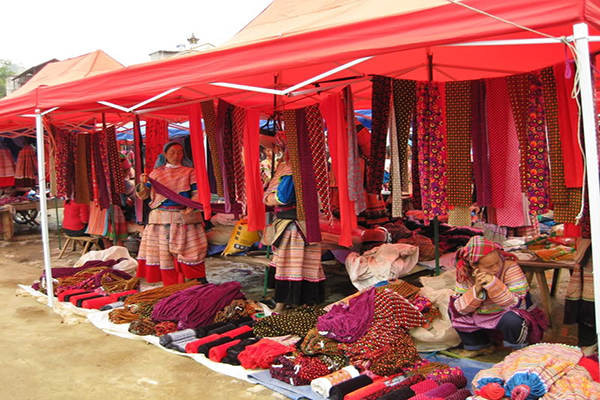 Ta Phin is the famous handicraft village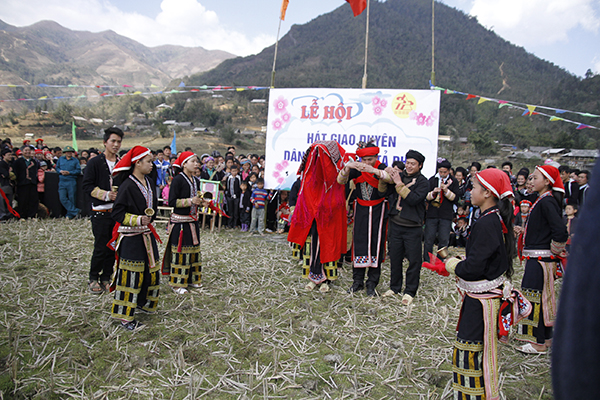 The oath-taking festival at Ta Phin village
2. Cat Cat
Village –

the most

famous village in Sapa

Another famous village in Sapa for you to visit is Cat Cat village. Comparing to Ta Phin, this place is nearer to Sapa, only about 3 kilometers and you can reach there on foot in 45 minutes. This is the village of the H'mong trill tribe.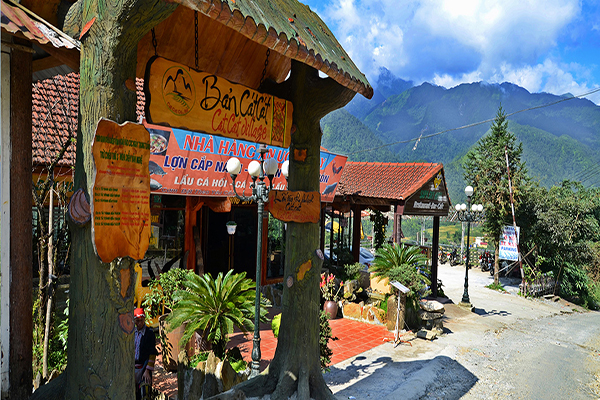 Entrance to Cat Cat village
This village is famous for its fascinating natural. Coming to Cat Cat, you will be led down a giant staircase that leads to the magnificent waterfall called Tien Sa Waterfall. You can also visit the old Hydro Electric Power Station built by the French in 1920.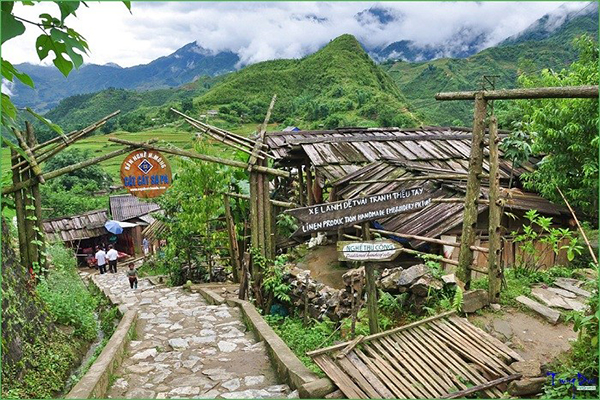 The staircase leads to Cat Cat village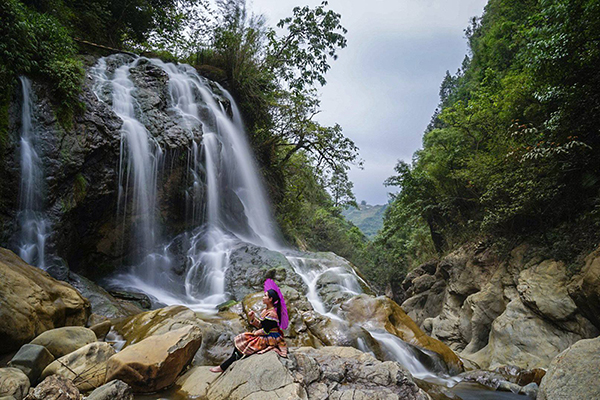 The dreamy waterfall at Cat Cat village
Along the staircase, you will be welcomed with various souvenirs shops sold by the H'mong people. And at the end of the staircase, you'll come to a wide road which surrounded by wonderful natural and fresh cool air. You can hire an H'mong dress, put them on and begin your journey in Cat Cat village – it'll definitely be an unforgettable experience.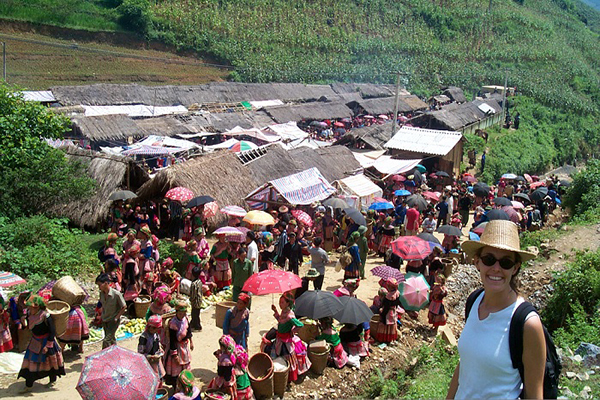 People trading and purchasing goods at the Cat Cat village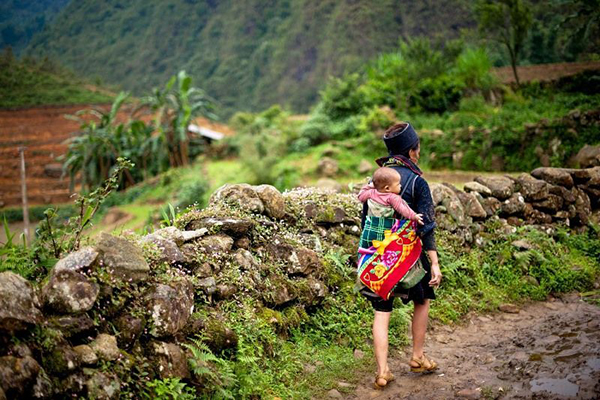 Cat Cat is famous for the wonderful nature
3. Sapa's Lao Chai village
Located 6 kilometers from the city center, Lao Chai village is the home of black H'mong people. From the 8-kilometer-main-road from Sapa town, you will witness a great view of the whole village, offering the marvelous panorama of the village, backed by high mountains and facing the river.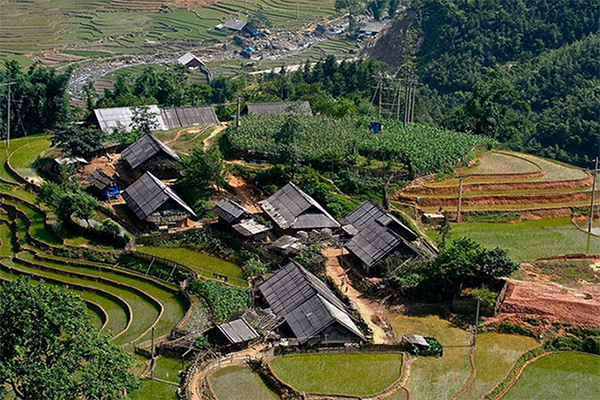 An overview of Lao Chai village
The people living in Lao Chai village are quite friendly, they will allow you to join them in meals, and let you ask them about their cultures and customs.
Not only that, the place is the perfect spot for you to enjoy the fresh air, see terrace fields, stream, visit and discover some of the H'mong's families. This is a 10 out of 10 destinations if you want to simply escape from the noisy, busy city for a while.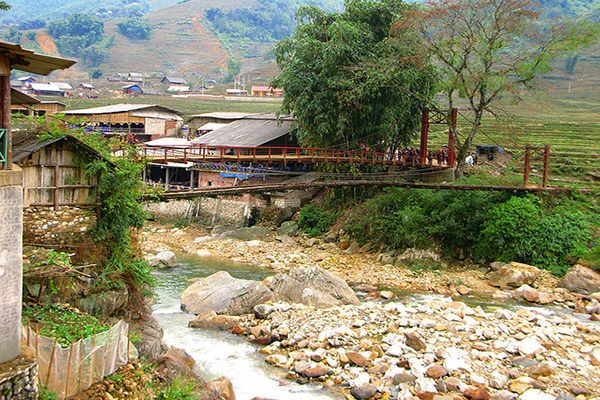 The simple and fresh environment at Lao Chai village
4. Y Linh Ho village
Y Linh Ho is a small commune composed by a dozen of small hamlets scattering on the very tough mountain terrain with high and steep mountains. The village is famous for its magnificent valley, lying between majestic mountains, as well as other sceneries of the area.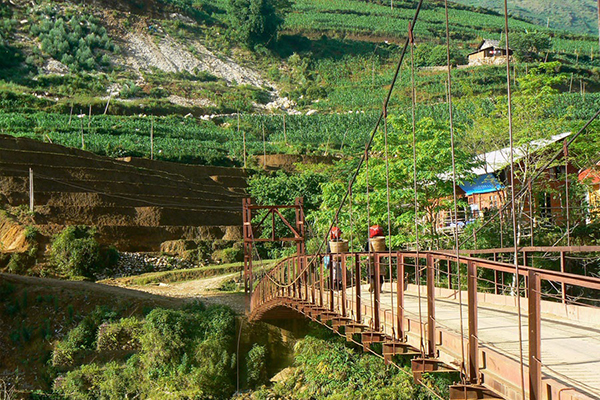 A bridge leads to Y Linh Ho village
Visiting the village, you will be welcomed by the Black Mong people who wear very dark clothing in blacks and navy dyed with indigo (often seen on the hands of older Mong women).
You will have a chance to visit wooden and bamboo houses of local people, the cool and fresh river and valley to Lao Chai village where the H'mong also live, maybe have a picnic or even a swim if the weather is good enough.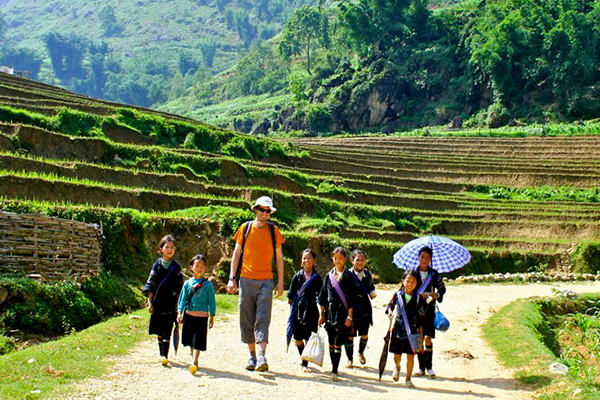 A tourist with friendly local people in traditional costumes
5. Ta Van village
Ta Van is a village of Lao Cai province, lying peacefully in the valley of Muong Hoa. Residents are mainly the H'Mong ethnic, Giay, and Red Dao… with approximately 1000 people.
Visitors who come to Ta Van village will have to go past a small and narrow road, surrounded by fertile terraced fields which adorns by the green of corn and rice. Growing rice is the major profession of the Giay. Local people also produce instruments and engraved silver.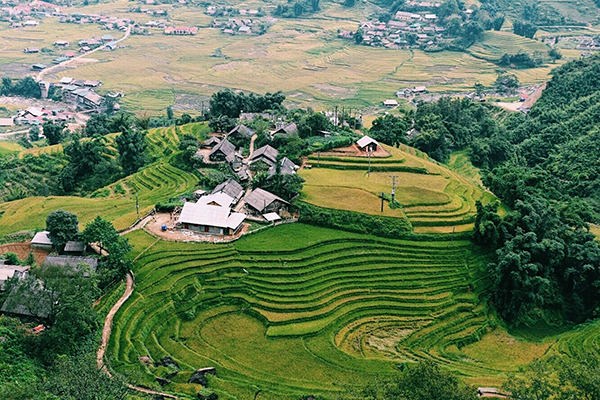 An overview of Ta Van village surrounded by rice fields
Local people live in both stilted houses and common houses with a solemn central part which is served as a place for ancestor altar and guest reception. Visitors will be overwhelmed by the beautiful and simple houses there.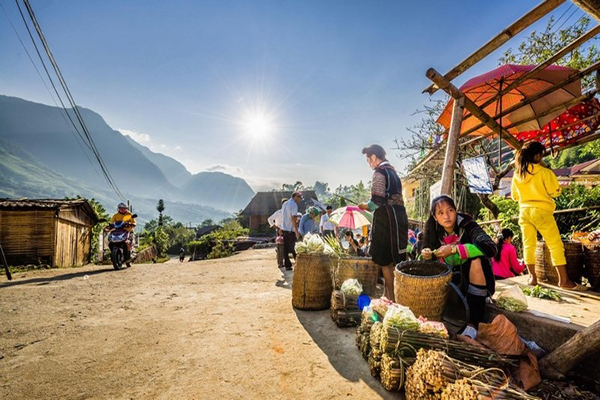 Ta Van people opening their market to purchase goods
Sometimes, if you come at the right season, you can enjoy some special dishes of ethnic Giay such as roast fish of Muong Hum, horse meat of Muong Khuong, sticky rice of Van Ban… and enjoy festivals, folk games of the Giay: Nao Cong, Roong Pooc… and participate in tours of the village.
Exciting for a trip yet? Come and check out our SAPA TOURS and book one for yourself! You definitely can't miss out a chance to explore one of the most beautiful cities in Vietnam.