15 March, 2019 LJi
Sapa, the most famous tourism city in Vietnam, is also called 'the heaven of Vietnam' due to its magnificent natural landscapes and the beautiful tourist destinations. Sapa is also famous for its fresh environment with cool weather and clean air. This is a perfect place for a cycling day, which is the wonderful trip that Vietodyssey shall give you.
Why should you join a cycling tour in Sapa?
Cycling is a wonderful outdoor activity. The bicycle is environment-friendly transportation, which releases no polluted gas or air into the atmosphere. It also uses no energy, so traveling by bicycle is a great way to protect the environment as well as save fuel. This type of tourism is so much healthier than other fancy trips.
Cycling is also a great way to exercise. Cycling requires your energy and makes you active, so it helps reduce the extra fat in your body and replace it with strong muscles. In modern life, people usually don't have much time to work out to keep fit, so by joining a cycling tour, you are giving yourself the perfect chance to exercise all the while enjoying a miraculous vacation. Not only that, by riding a bike through outstanding natural landscapes, you will also get rid of the tiredness and relax your mind completely. All in all, it's an excellent way to improve both mental and physical health.
Not only you can exercise, but your loved ones as well. Your children can have the chance to work out and become stronger, your family can take the opportunity to be active and improve their strength. Such high-quality bonding time will bring so much joy and happiness to you and your loved ones.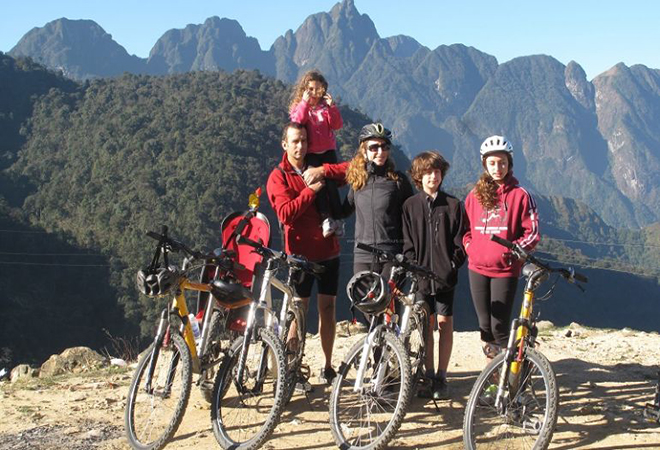 Cycling is the perfect way to keep fit and relax
And why choosing Sapa? Because Sapa is a spectacular city with tons of magnificent natural beauty. The sceneries here are absolutely unique and breathtaking that you can't help being awed once you saw it. Coming to Sapa, you will feel like stepping on the gate to paradise, with a majestic view full of clouds, mist and the sun. In recent years, thousands of international travelers from all over the world have been coming to Sapa just to admire the mesmerizing beauty of the place. So remember to bring your camera with you to capture numerous stunning photos.
>>>4 Days In The Stunning Sapa And Mu Cang Chai – Wonders Of Vietnam
Besides, Sapa is quite famous for its cool weather, with the average temperature that rarely higher than 25 Celcius degree. This factor gives travelers the ideal weather to come and explore the wonderful heaven of Sapa. With all the amazing reasons above, why don't you join our Sapa cycling tour right now?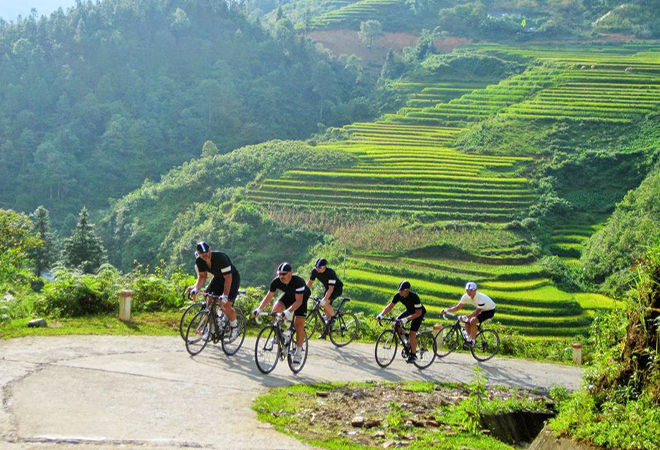 The weather and landscapes in Sapa are the ideal factors for cycling
Where will you cycle to in Sapa?
Sapa has numerous breathtaking tourism destinations, but in your one day exploring Sapa, Vietodyssey will take you to the most outstanding ones. Coming to these places, we guarantee that you won't be disappointed.
Your first stop is the Silver Waterfall. The Silver Waterfall is located about 15 kilometers from Sapa to Lai Chau, Dien Bien, and through a long mountain road, visitors will set foot to one of the most beautiful waterfalls in Vietnam.
The Silver Waterfall, with a height of over 200 meters, is upstream of Muong Hoa river with a height of 1800 meters above the sea level, located at the foot of O Quy Ho pass. Standing on the summit of Ham Rong mountain in the center of Sapa, you can see the white silver color of the waterfall in the clear sky and this is the origin of the name of the waterfall. From the high ravine, the roaring water flowed down, white foam like flowers explodes so people called Silver Waterfalls.
Once coming near to the Silver Waterfalls, you will hear the roaring and rushing water flowing down from the top. Here you will feel the beauty of nature and the cool air because it's always cold in this area so please remember to bring a warm jacket with you. After climbing up the stone steps and conquering this waterfall with beautiful pictures, you can go down to the foot of the waterfall and enjoy Sapa's special delicious dishes such as Grilled Wild Birds, Grilled Eggs, Grilled Pork...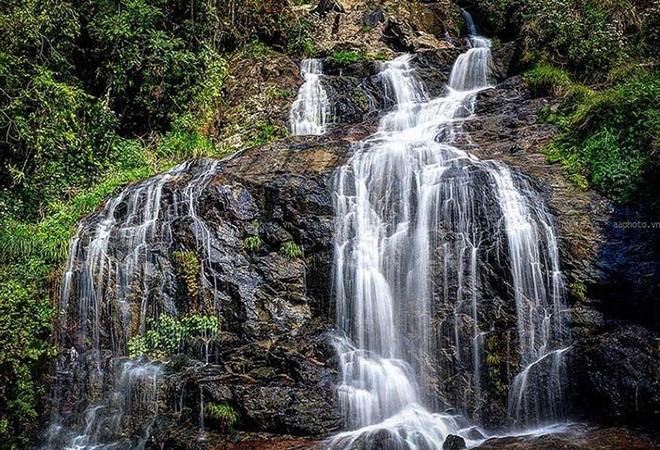 The outstanding beauty of Silver Waterfall
After done exploring Silver Waterfall, you will continue your journey to the Heaven Gates. You will absolutely be overwhelmed by the astonishing landscape here. The breathtaking destination is located at the highest peak on O Quy Ho Pass - one of the most famous "Four Passes" in Vietnam.
Heaven Gates is considered the most beautiful views of Sapa. From here, you can zoom your eyes to cover the entire valley, alternating with the mountains of Hoang Lien Son range. The main highlight is the winding roads in the distance - this is also the most characteristic point that only O Quy Ho Pass in Sapa has.
The Heaven Gates is located in a high place above the sea level, so the weather here is usually very cold. The environment, thanks to it, also very fresh and clean, so cycling to explore the place is the most perfect method to improve your mental and physical health.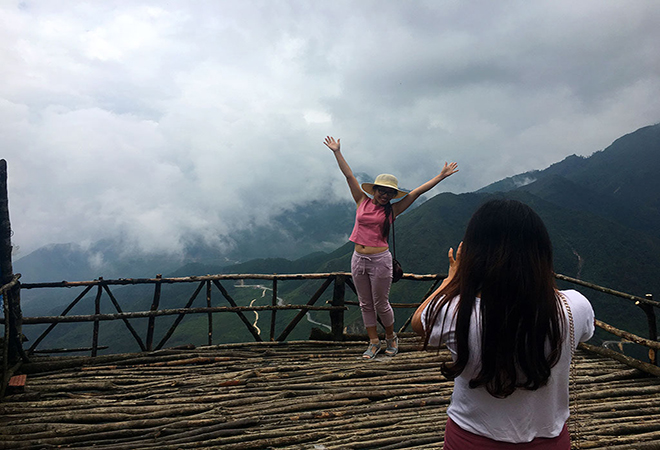 From the Heaven Gates, you can have the whole view of Sapa Valley
After exploring the outstanding landscapes in Sapa, you will cycle to Binh Lu to have lunch. If you take a trip on Sunday, you will be able to visit their market too. Binh Lu market lies about 50 kilometers from the center of Sapa, which is the place for the cultural exchange of many ethnic minorities such as Day, Ha Nhi, Lu, Dao black, Mong black, Thai, Kinh and so on. Local people bring to the market many products such as dong leaves, glutinous rice and food like armpit pig, mountain chicken... Here you can buy lots of beautiful souvenirs for your loved ones.
After a long day of cycling, you will be taken back to the center of Sapa. After the trip, you will feel so much more refreshed and relaxed.
If you are excited about taking a full day cycling tour in Sapa, you can always check out for more detailed information and the itinerary of the tour. Please remember to carefully read the policy, inclusions as well as exclusion of our biking tour in Sapa. If you have any questions, the staff crew of Vietodyssey is ready to answer you.
If you want to choose another travel tour in beautiful Vietnam, go to vietodyssey.com where a lot more interesting trips are waiting for you! With our years of experience in organizing travel tours, you won't be disappointed with our services.
Vietodyssey is ready to help you uncover the unspoiled beauty of Sapa. Are you ready to take on the most amazing vacation ever?
vietodyssey.com