21 November, 2018 LJ
Sapa, a mountainous district in Lao Cai province is a quiet and modest land hiding many beautiful scenes. The pleasant weather, the beautiful nature and the hospitable people make a uniquely wonderful picture of Sapa. All of them attracts visitors everyday. To have the best experience in this impressive destination, today we will suggest you the most famous places to go.
1. Conquering Fan Si Pan - Roof of Indochina
Fan Si Pan is the highest mountain of Indochina (about 3.143 meters) and lies in the center of Hoang Lien Son mountain range. Although the mountain is about 9 kilometers to the southwest of Sapa, it will take you six to seven days to conquer its peak on foot.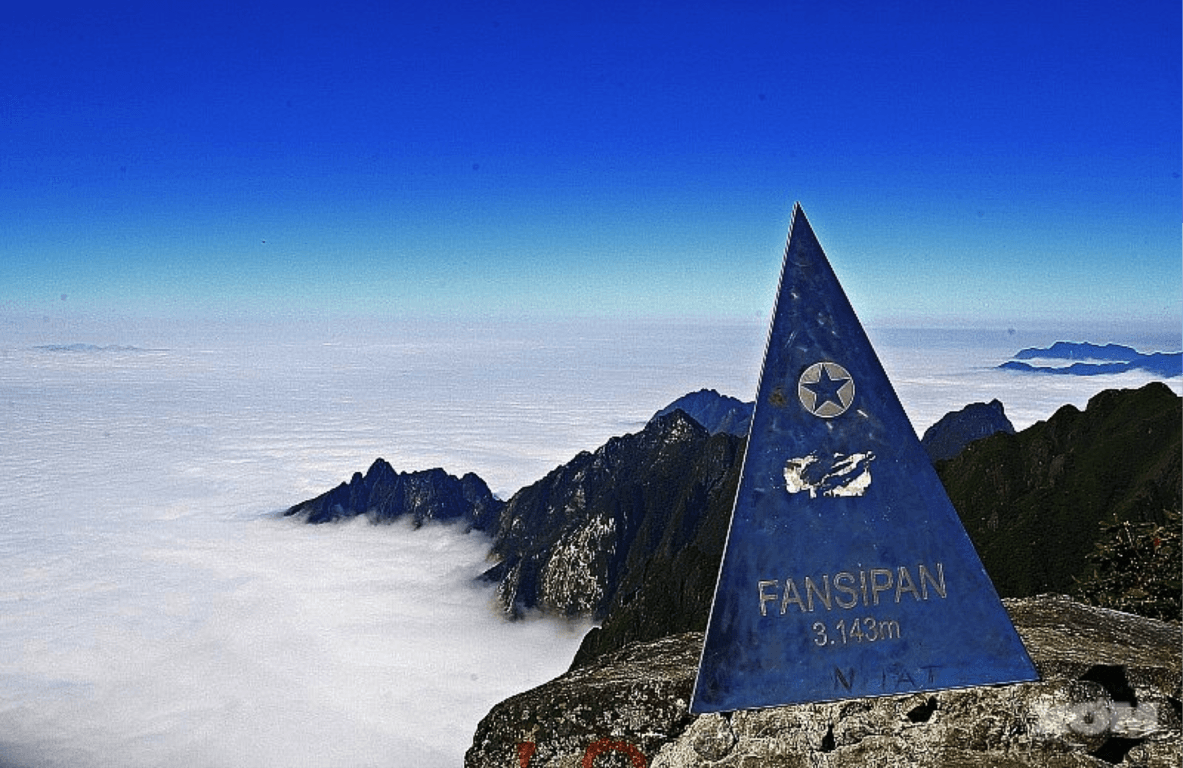 Majestic scenery of Sapa from the peak of Fan Si Pan
On the path to the mountain peak, visitors will be able to discover amazing flora and fauna of the Hoang Lien Mountains such as: Hoang Lien trees - valuable medicines, precious wood trees, wild chickens, bears, monkeys, chamois and birds ...
2. Ham Rong mountain (Dragon Jaw mountain)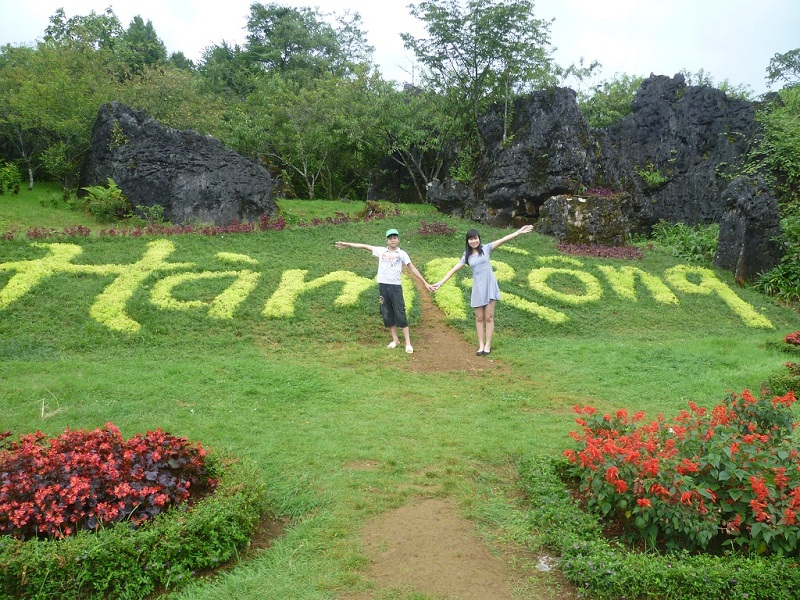 Spring in Ham Rong mountain
Ham Rong mountain is nearby the center of Sapa, about 3 kilometers. Tourists can walk on foot. From the peak of Ham Rong mountain, you can enjoy the panoramic view of Sapa, Muong Hoa, Sa Pa and Ta Phin blurring in the mist.
Nowadays, through the impact of people, Ham Rong is actually a beautiful landscape of Sa Pa. Accessing Ham Rong, visitors will feel like they are standing in the fairy garden and surrounded by clouds and brilliant flowers.
3. Sapa ancient church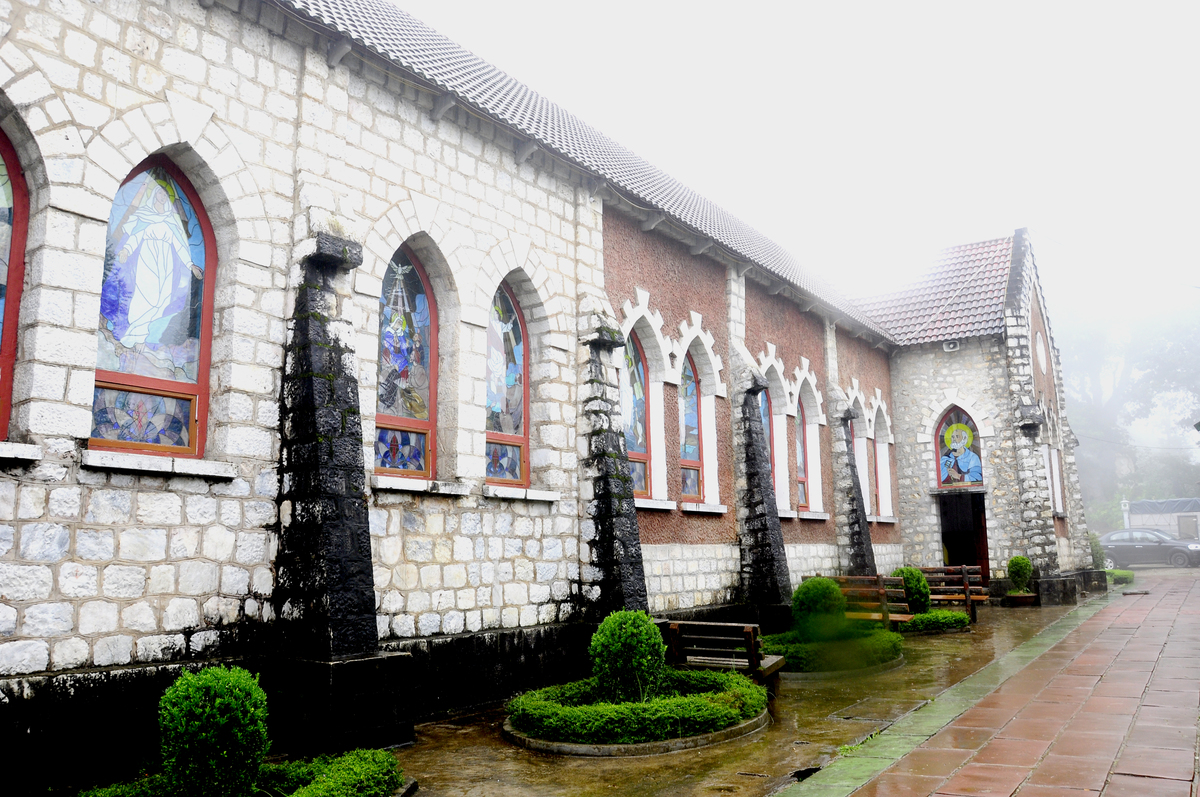 Ancient church in Sapa town
Located right in the center of Sa Pa town, Sa Pa stone church was built in 1985. The church is considered as one of the most pristine architecture remains made by the French.
The church that has been well innovated and preserved has become an indispensable image when referring to the misty Sapa.
4. Cat Cat village
This is an old village of Hmong, about 2 kilometers from the center of Sapa. The village still maintains many traditional handiwork such as growing cotton, linen and weaving…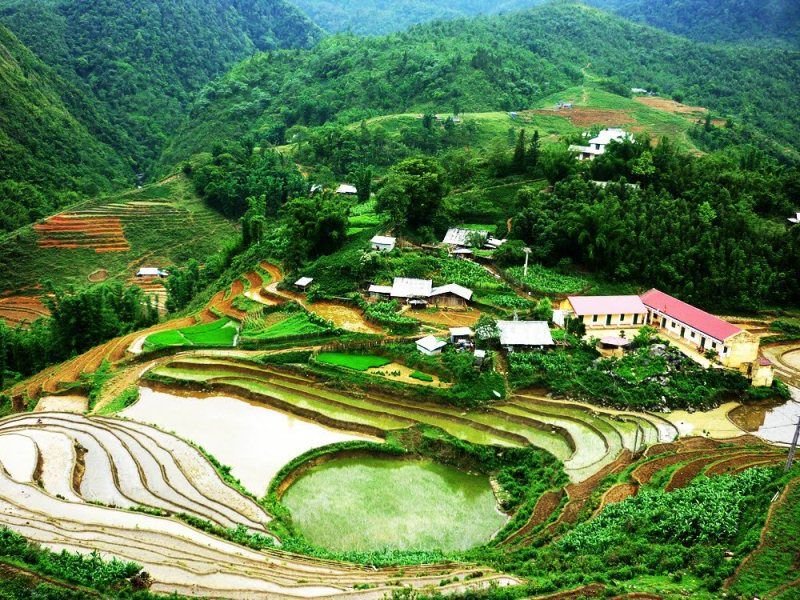 Beautiful Cat cat village
Cat Cat village attracts many visitors because it is near the center of the town. Today, the village has become Cat Cat tourism area.
5. Ta Phin village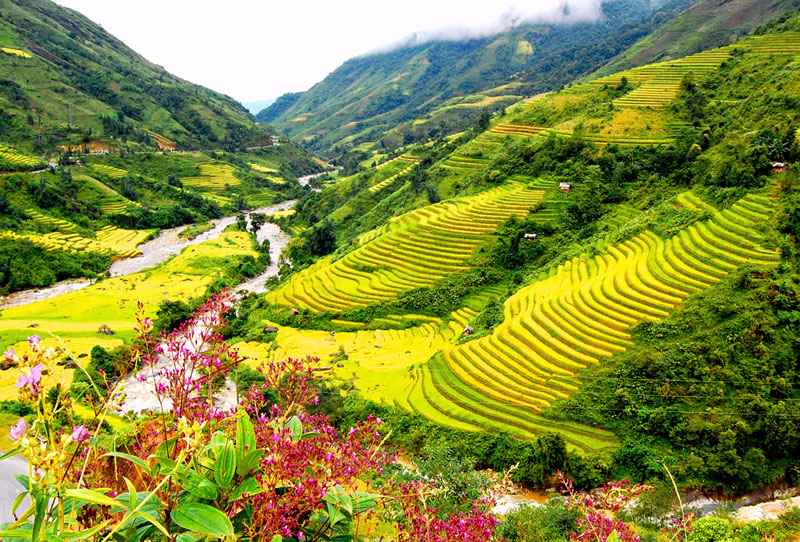 Ta Phin - a memorable destination
Ta Phin village belongs to Sa Pa district, about 17 kilometers from the east of Sa Pa town. The village that has beautiful natural scenery and cultural identity of the Red Dao is very well-known for its famous brocade.
On your way visiting ta Phin village, you can also explore Ta Phin cave. In the cave, there are many stalactites in the differently interesting shapes such as dancing fairies, sitting fairies, rice paddies and sparkling forests…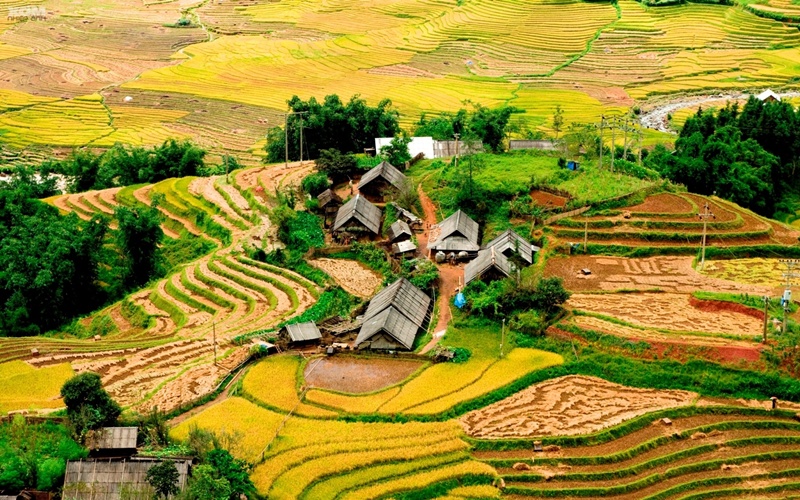 Wonderful village of Vietnam
Besides, there are many other villages of different ethnic groups for you to visit such as: Ta Van village - the living place of the Hmong, Giay, tay, Red Dao…; Y Linh Ho village, Lao Chai village of the black Hmong (about 7 kilometers to the southwest of Sa Pa, near Muong Hoa stream); Ho village of Tay people; Lao Chai village of black Hmong (about 8-9 kilometers to the southeast of Sa Pa, on the left side of Muong Hoa river); Ho village of Xa Pho people...
6. Muong Hoa valley - Sapa ancient stone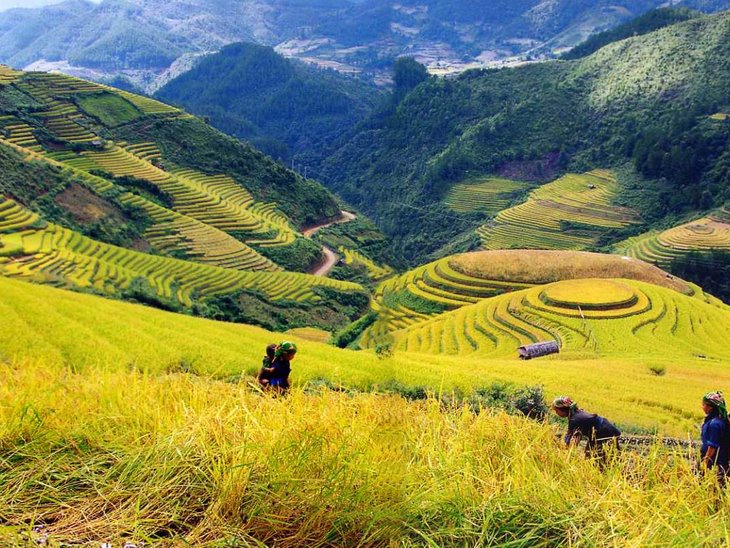 Muong Hoa valley
Muong Hoa valley belongs to Hau Thao commune, about 8 kilometers to the southeast of Sa Pa town. There is an ancient stone yard surrounded by trees, flowers and terraced fields of many ethnic groups. Figures, strange characters carved on the surface of hundreds of sandstones have not been explained so far.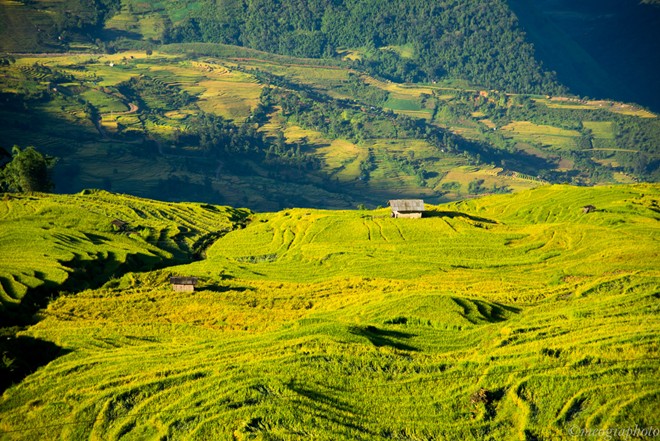 Attractive destination in Sa Pa
Today, the ancient carving area has been listed in national monuments as a unique heritage of the ancient Vietnamese. In Muong Hoa valley, there is a 15-kilometer beautiful stream crossing Lao Chai, Ta Van, Hau Thao and Ban Ho communes.
7. Silver waterfall - Dinh Deo (Thac Bac - Dinh Deo in Vietnamese)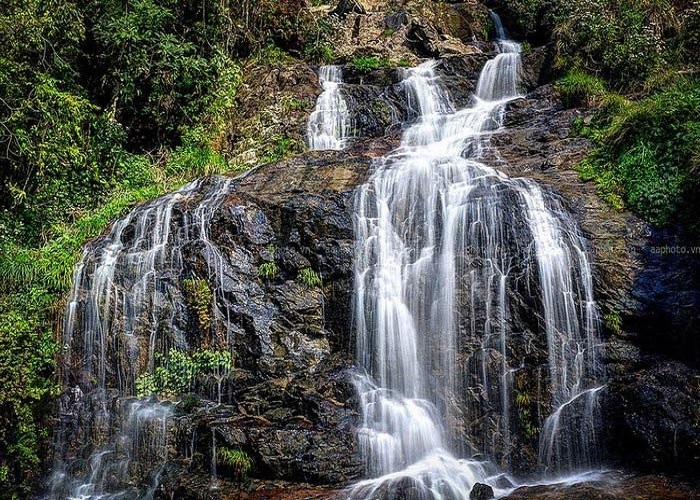 Beautiful Silver waterfall
From the center of Sa Pa town, about 12 kilometers to the west on the road to Lai Chau, you will see Silver waterfall falling from the height of over 200 meters into the stream in O Quy Ho valley that creates lively forest sound. However, you need to consider to visit the waterfall in spring because the amount of water is quite low in this season.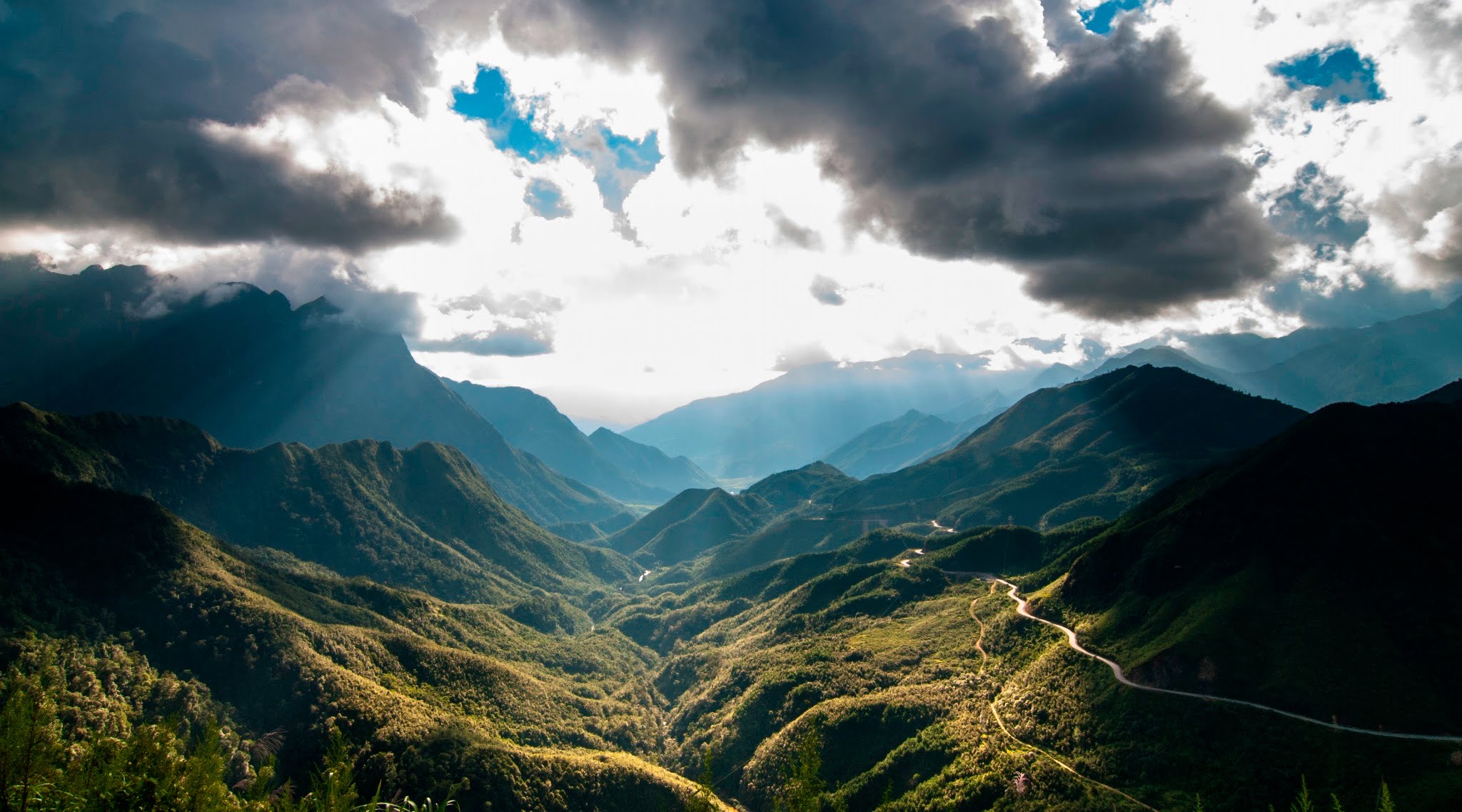 Dinh Deo Sapa
About 3 kilometers from Silver waterfall, you will be able to admire Dinh Deo from which you can have the best view of Fan Si Pan and the unique road to Binh Lu.
8. Heaven Gate
Moving out of Sa Pa town, about 18 kilometers to the north, you will be overwhelmed by the amazing winding road to the Heaven Gate. The road is called Tram Ton shoving in majestic Hoang Lien Son mountains.
Standing in the heaven gate, you can see the whole picture of the under giant valleys, green fields, long roads and Silver waterfall far away. Only standing in this gate, can you feel the majestic beauty of Fan Si Pan and deep valleys under your foot.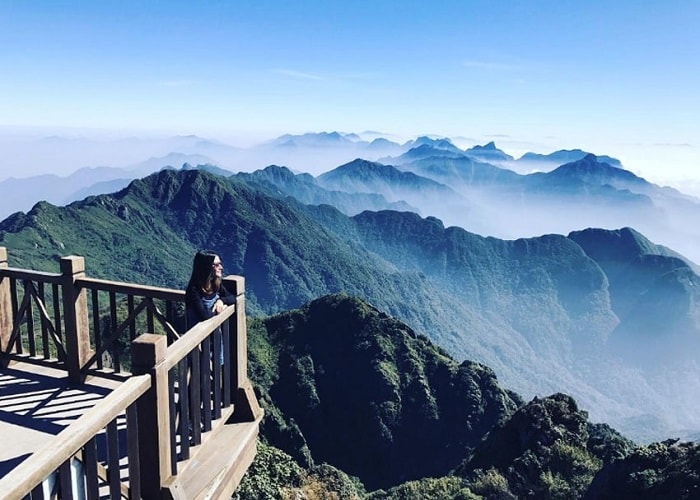 Majestic Silver waterfall
9. Fairy Cave (Hang Tien in Vietnamese)
Along Chay river about 6 kilometers from the center of Bao Nhai town, Bac Ha district, the boat will take you to the Trung Do ancient citadel that keeps many legends.
Stopping for a while, you have chance to admire Fairy cave (Hang Tien) - a Halong miniature attaching with the legends of Three-Aunt temple in Bao Nhai commune. Most of visitors come there to go sightseeing, bathing in Tien stream and praying for health, beauty and wealth.
10. Coc San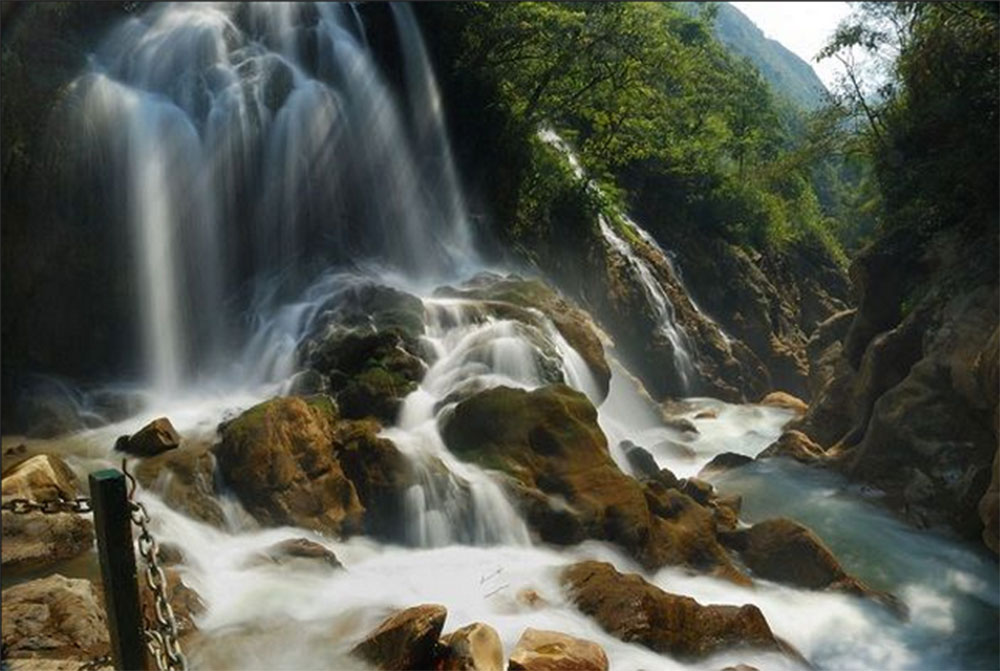 One of the most impressive destinations of Sa Pa
Located in Co San commune, Bat Xat district about 7 kilometers from Lao Cai city, Co San consists of a giant system of caves and waterfalls. From 4D route, there is a small land path (more than 1 kilometer) leading to Coc San. The way to Coc San is very dark and hard and its beauty is completely natural and pristine.
The most special feature of Coc San is that under each waterfall you can find a beautiful cave.
Hope that these above information will be useful for you. If you have any question, contact us by A CLICK HERE