16 February, 2019 LJ
Cycling is one of the best ways to fully enjoy the beauty of Vietnam. And why should you choose a tour on a bike instead of other luxury types of tourism? What are the special elements of our Vietnam cycling tours? Let's find out, and you won't regret knowing of these best Vietnam biking trips!
Why should you spend money on a cycling tour in Vietnam?
Daily life can be very stressful, tired and bothersome. That's why people go on a vacation every time they can, because nothing can refresh our mind better than an interesting trip to somewhere we've never known of. Lately, traveling has become a popular way to relieve stress and tiredness.
While there is a lot of people enjoy luxury and expensive vacations, many others still prefer a cheap, refreshing trip under the blue sky and drown in the beauty of natural creations. Just imagine standing in front of a giant rice field, take in the refreshing air and the cool wind, or smelling the salty flavor of the ocean,... your body will get rid of all the weariness. A vacation like that is much more relaxing than spending time in the hotel room or artificial pools.
Modern life doesn't give us much chance to discover the true beauty of nature, that's why more and more people are spending money on outdoor vacations and wild trips. Stepping out of the door and take in the loveliness of the sky, the wind, the trees and much more, your body and soul will be relaxed, comfortable and completely refreshing. It's like finding peace to your mind, getting rid of all the tiredness in daily life. Not to mention, a little bit of exercise will only do more good than harm!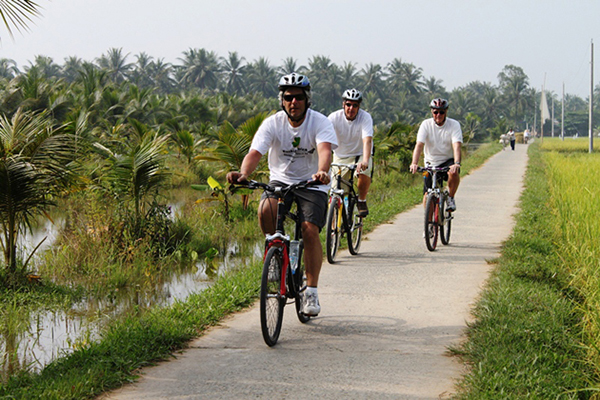 Cycling is one of the best ways to truly enjoy nature, escape from tiring daily life
In recent years, Vietnam has slowly become the perfect destination for travelers who want to have a vacation with a magnificent nature. In Vietnam, tourists can visit the sea, playing on the most beautiful beaches in the world such as Ha Long, Con Dao, Mui Ne,... or study about the life of local people, researching different culture in Sapa, Tam Dao,... With splendid nature view and various tour routes, Vietnam tourism is getting more and more developed, interesting and pleasant.
One of the best ways to enjoy the beauty of Vietnam is going by bicycles. Vietnam is well-known for its long, twisting and wild paths, very suitable for riding a bike. And cycling is the perfect combination of exercising, traveling and relaxing at the same time! There is absolutely no better way to heal your mind, forget all the stress and tiredness all the while keeping your body fit, improve both mental and physical health and enjoying the stunning nature. What a healthy, unique and wonderful experience that you have to try on at least once in your life. It definitely will become an unforgettable memory in the future!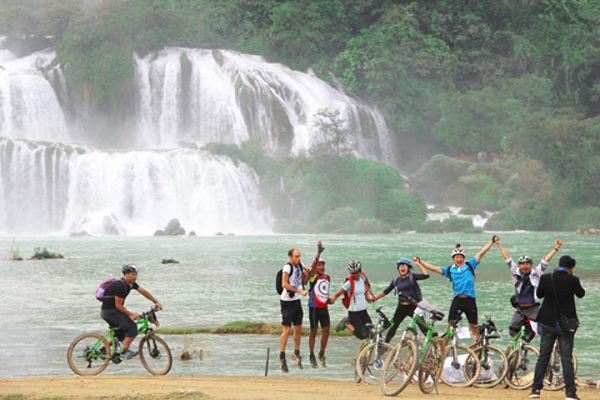 A Vietnam cycling tour from Ba Be National Park To Bac Son Valley, filled with joyful visitors
If you can't wait to have your own Vietnam cycling tour, but still hesitating to choose one, we're here to help! Vietodyssey give you the best cycling tours in Vietnam with the most reasonable price! With such dedicated services and interesting itineraries, our attractive Vietnam biking tours will definitely blow your mind!
Here are some of our best Vietnam cycling tours for you to check out, don't hesitate to take a look and contact us right away!
Take a look at some of our best Vietnam biking tours with the best price!
Here in Vietodyssey, we have the best cycling tours in Vietnam! All of our cycling routes are guaranteed to have the best quality, with hospitable services and interesting itineraries. Thousands of visitors have experienced and satisfied with our best Vietnam biking tours!
Best domestic cycling tours in Vietnam
Have you ever heard of the beautiful Sapa with various customs of the local people? Or Mai Chau with majestic rice fields and spectacular caves? Or Ha Long with beautiful beaches, which had been recognized as the World Heritage by UNESCO? Now imagine discovering those places, drowning in the beauty of nature and completely lose yourself in lovely cities, all on a bicycle! Isn't that much more exciting than going on a car and watch everything through the glass window?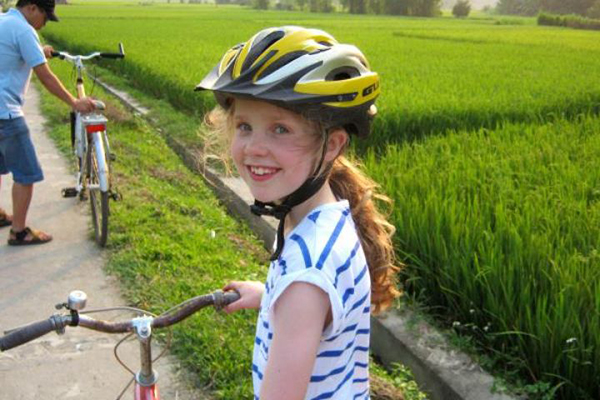 Little brave travelers next to a giant field of Vietnam
Vietodyssey has all the cycling tours you need for an amazing vacation! Whether you're curious about snowy Sapa, or the mystic Ninh Binh, famous Hoi An or stunning Mu Cang Chai, you can choose a biking tour routes that the most suitable for you. All of our Vietnam cycling tours have reasonable prices, so you don't have to worry about your traveling budget.
Let's take a Hue – Hoi An cycling tour as an example! Cycling from Hanoi, you will have the chance to discover almost every interesting things about Vietnamese culture. You will understand that Vietnam is much more than busy roads, modern facades and bustling lifestyle! Especially, you will have the chance to discover Hoi An – one of the most ancient, famous and pretty villages of Vietnam. A lot of foreign travelers have chosen our Hue to Hoi An cycling tour out of their curiosity about the mystic Hoi An.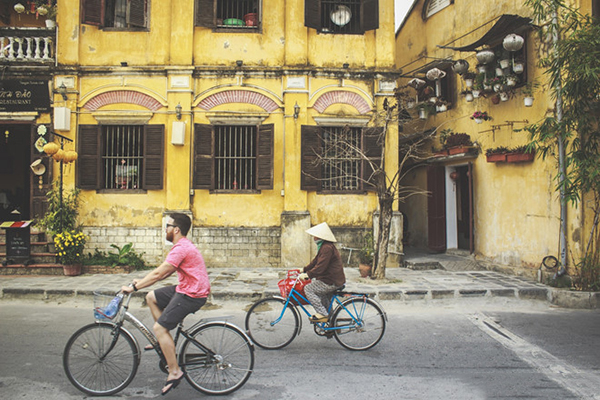 Beautiful Hoi An make every visitors fall in love from the first sight
After the trips, most visitors say they feel relaxed, healthier and a lot happier too. Especially, they all have understood more about Vietnamese people and culture, therefore fall in love with this beautiful country as well as the hospitable local people here. The cycling experience does not only help them study about Vietnam better than any books but also gives them such unforgettable memories!
Not only want to visit Vietnam? Amazing Vietnam – Cambodia cycling tours are waiting for you!
If you are wanting something more than just a Vietnam trip, then our Vietnam – Cambodia cycling tours are the perfect choice for you! Cycling from this country to another will definitely be an amazing experience that you will never be able to forget!
If Vietnam is famous for the beautiful Hanoi capital, bustling Ho Chi Minh city or ancient Hoi An; then Cambodia is well-known for its magnificent Siem Riep city with famous Angkor. The cycling tour will take you from wonders to wonders, drown you in the breath-taking landscapes and gives you an amazing chance to learn about the history of both Vietnam and Cambodia.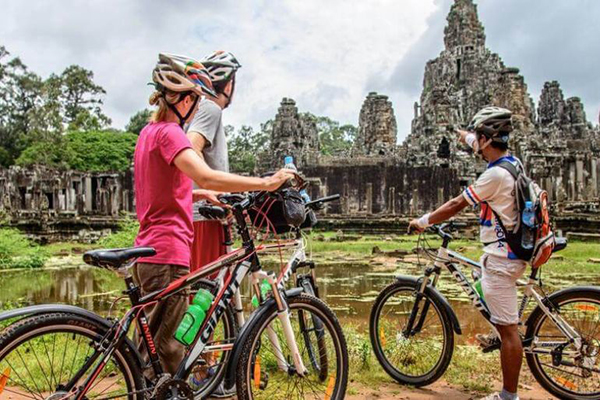 Discover the ancient beauty of both Vietnam and Cambodia on a bike – what else can be cooler than that?
Vietnam cycling tours are already cool enough, but now you can even ride a bike from Vietnam to another country too! There's nothing more exciting and awesome! Such a spectacular trip will be a perfect chance for you to organize a bonding trip with your family, your friends or your significant other. And I can guarantee that your friends will be blown away to know that you've been in a one-of-a-kind trip that no one else has the chance to.
Pick one from our best Vietnam cycling tours, then start packing and go!
Excited for a cycling trip? Then check out for more information about our Cycling tours, then pick one right away! You won't have to worry about the budget, because as said before, our tours have the most reasonable price!
What are you hesitating for? Bikes are waiting, let's start riding!