20 February, 2019 LJ
Ha Giang - a city located on the banks of the Lo River in the North-East region of Vietnam, has been a perfect place for trekking tours and gravitated many travelers from all over the world. Many of them had trusty chosen Vietodyssey's tour, but what is the truth behind this 5 days 4 nights trip?
Ha Giang is one of the most beautiful cities in the North of Vietnam. The place has captured the love of international travelers from all over the world due to its peaceful countryside-beauty. Its fame has been known to various people in many regions, and that's the reason why Ha Giang has been welcoming more than hundred thousand tourists every year.
Tourists can explore Ha Giang by many transportations, such as cars, bicycles... But lately there has been a trend of hanging in Ha Giang by trekking, because trekking can not only give you the fullest experience in this beautiful city but also help you relax, refresh your mind, improve your strength and give you the chance to completely drown in the peaceful atmosphere of the lovely countryside.
Understanding the desire of many tourists, especially international ones, Vietodyssey has designed a 5 days Ha Giang Trekking Tour which has been chosen and trusted by numerous travelers. But why is the tour so loved, and what is the truth behind it that has been hiding? Let's keep reading and find out.
Ha Giang 5 days Trekking Tour – what is The Truth Untold?
Do you know the differences between traveling by car and trekking? Instead of watching everything through a glass window, trekking gives you the opportunity to look at all beautiful places with your own eyes, feel the air with your own skin, and touch everything you want with your bare hands. And trekking with Vietodyssey, you can do all of the things above in all tourists attractions in Ha Giang, without missing a single place.
It's said that trekking in Ha Giang gives you the best lesson about Vietnamese society
Many people say trekking is one of the best ways to learn about a place's culture and daily lifestyle. And guess what, that's so true! Vietodyssey's tour will lead you through many rice fields as well as villages of local people. Now you can watch them work and grow crops directly, not from any video clips online or some blurry pictures!
Vietnam is an agricultural country, with growing rice being the main crop, and the giant beautiful rice field is also one of the best characteristic beauty of the S-shaped nation. You definitely can't feel enough the beauty of Vietnamese countryside without visiting the rice fields at least once. And what can be better than watching them with your own eyes, standing next to them and smell the fresh fragrant of wheat?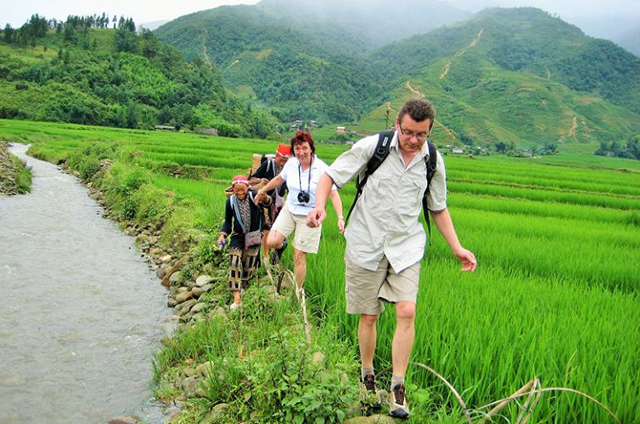 Foreign tourists walking through the beautiful green rice field with a local person
Not only that, the trekking tour also brings you to meet many Vietnamese ethnic minority communities, such as Man, Dao, H'mong, Giay... You will learn their various custom, their traditional food, clothes, visit their villages and houses, study how they work to earn a living... You will even spend a night at a Dzao house too! What can be cooler than that?
It is true that Ha Giang 5 days trekking tour help you mingle with nature?
Absolutely right! Because Vietodyssey's tour not only leads you through rice fields but also bring you through long, deep and mystery alleys, where you can feel the majestic and wild vibe of nature. After coming out of the alleys, you will be brought to the magnificent landscape of pine forests, where you can take numerous picture of nature to bring back and brag with your friends. Bet most of them haven't seen such admirable views.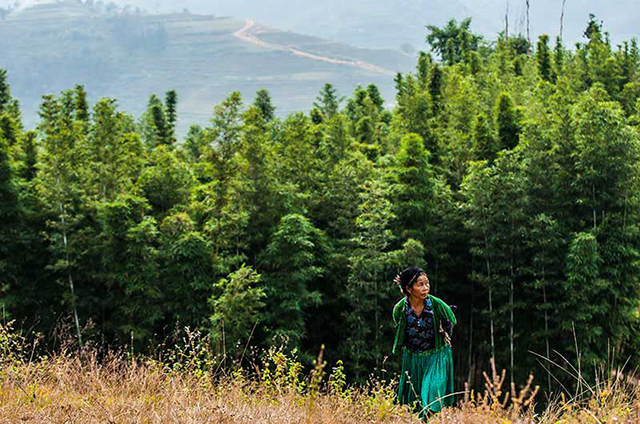 The stunning beauty of Ha Giang nature will make you overwhelmed
This amazing Ha Giang trekking tour even bring you to the most impressive mountains, most mighty limestone peaks, stone forests, and canyons! Remember to charge your camera before going, because if you don't, you will be regret! And some beautiful rivers also can't be missed from the list, right? Not the biggest, but the most peaceful and poetic rivers are waiting for you in this trekking trip!
They tell me that trekking in Ha Giang doesn't help me learn any Vietnamese history?
That's a big NO! Here in Vietodyssey, the Ha Giang 5 days trekking tour is designed so tourists can discover many interesting facts of Vietnamese history, because we know that's the thing international travelers curious about the most. The evidence is in the tour's itinerary, the King of the H'mong's Palace, Dong Van Old Quarter, Pu Lo fortress and many more ancient places are included.
All of those places mark an important milestone in the history of Vietnam. Each of them has its own story, and waiting to be told to international friends, who are curious and interested to hear.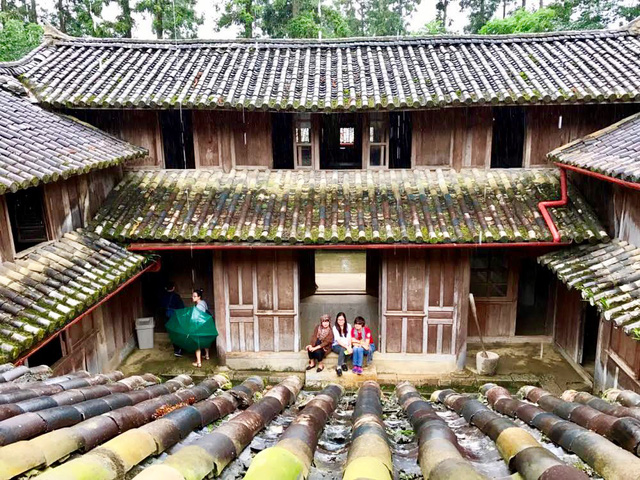 Inside the King of the H'mong Palace - one of the best places to learn about Vietnamese history
And come to think of it, trekking to those places it's way more exciting than going by car. By trekking and slowly walk through the huge walls, you will feel more the ancient vibe of the historic sceneries. Of course, taking pictures is also a must-do. Really worth booking a Ha Giang 5 days trekking tour, right?
Finally, trekking in Ha Giang in 5 days are tiring, right?
Maybe, but Vietodyssey also has the perfect solution to solve the problem! Between trekking schedules, the tour is also designed so tourists can take a break and eat every time they need. It may be tiring at first, but slowly, your body will get used to the activities, and all you feel is joy and excitement.
On other hands, this Ha Giang 5 days trekking tour is a perfect chance for you to work out and improve your body strength! Daily life doesn't give people much time to exercise, due to heavy workload and school projects. So why don't you use this chance to be active a bit? Besides, some cool fresh air will only do you more good than harm.
Trekking is the most wonderful way to improve both your physical and mental health
After the trip, it can be guaranteed that you will feel much stronger, more relaxed, more conscious and happier than ever! You will bring home only sweet memories, maybe some fantastic photos and unique souvenirs too.
Figured out all the truth about our Ha Giang 5 days trekking tour?
Then don't be hesitate to check our for more detailed information, then book yourself an amazing trip to Ha Giang right HERE!
Trekking is a new joy that many people are catching up on, so why don't you? Pick up your backpack, your camera, and prepare to have the best time of your life! Don't wait anymore to bring a smile to your face. Let's go!