20 October, 2018 Mac Vu
Being the capital of Vietnam, Hanoi plays an important role to be the heard of the country. Hanoi is also famous for long history as well as beautiful natural landscape such as Hoan Kiem Lake, the West Lake or other regions. Top 10 must-see sights in Hanoi will give you full information you need to know and discover the real face of Hanoi.
Hoan Kiem Lake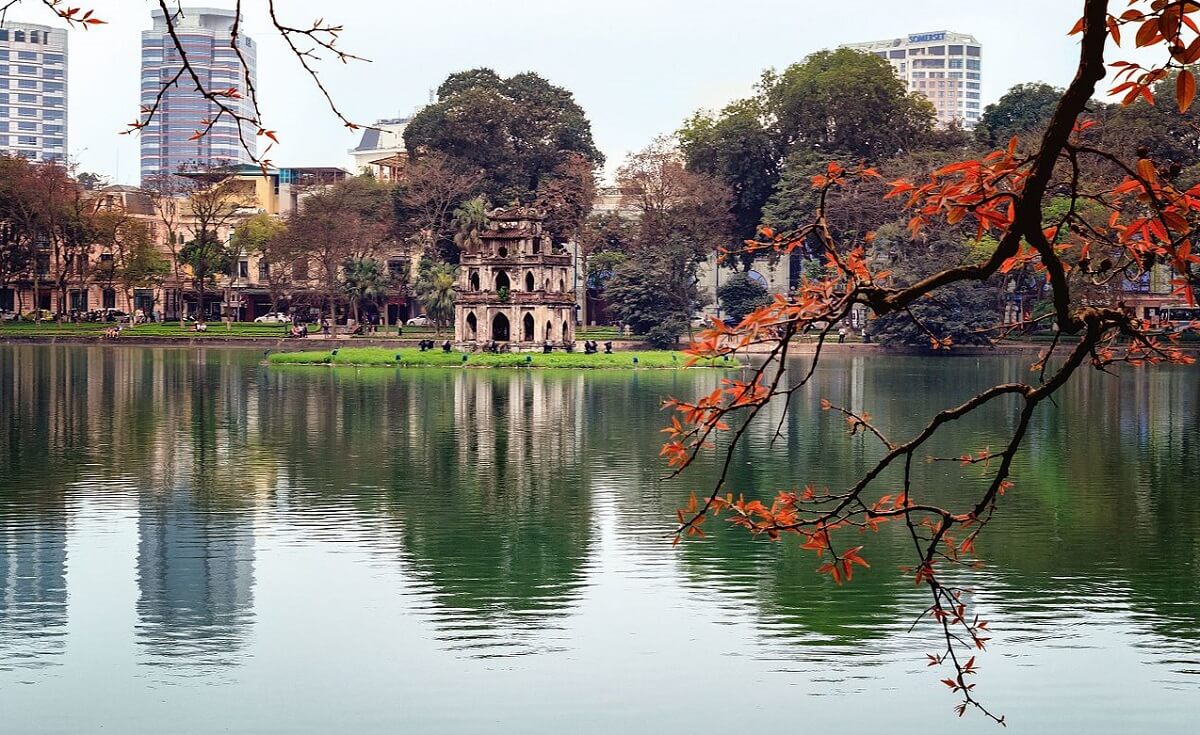 Because of special geography, Hanoi is a city of lakes and rivers with plenty of lakes and the Red River pass through Hanoi. Hoan Kiem Lake is one of the most attractive lakes in Hanoi center. It is located in the heart of the city with a unique, ancient architecture of turtle tower in the small islet in milder of the lake. In the bank, it has many impressive and valuable heritages such as Pen Tower, "Dai Nghien", "The Huc" bridge to lead Ngoc Son Temple.
One pillar pagoda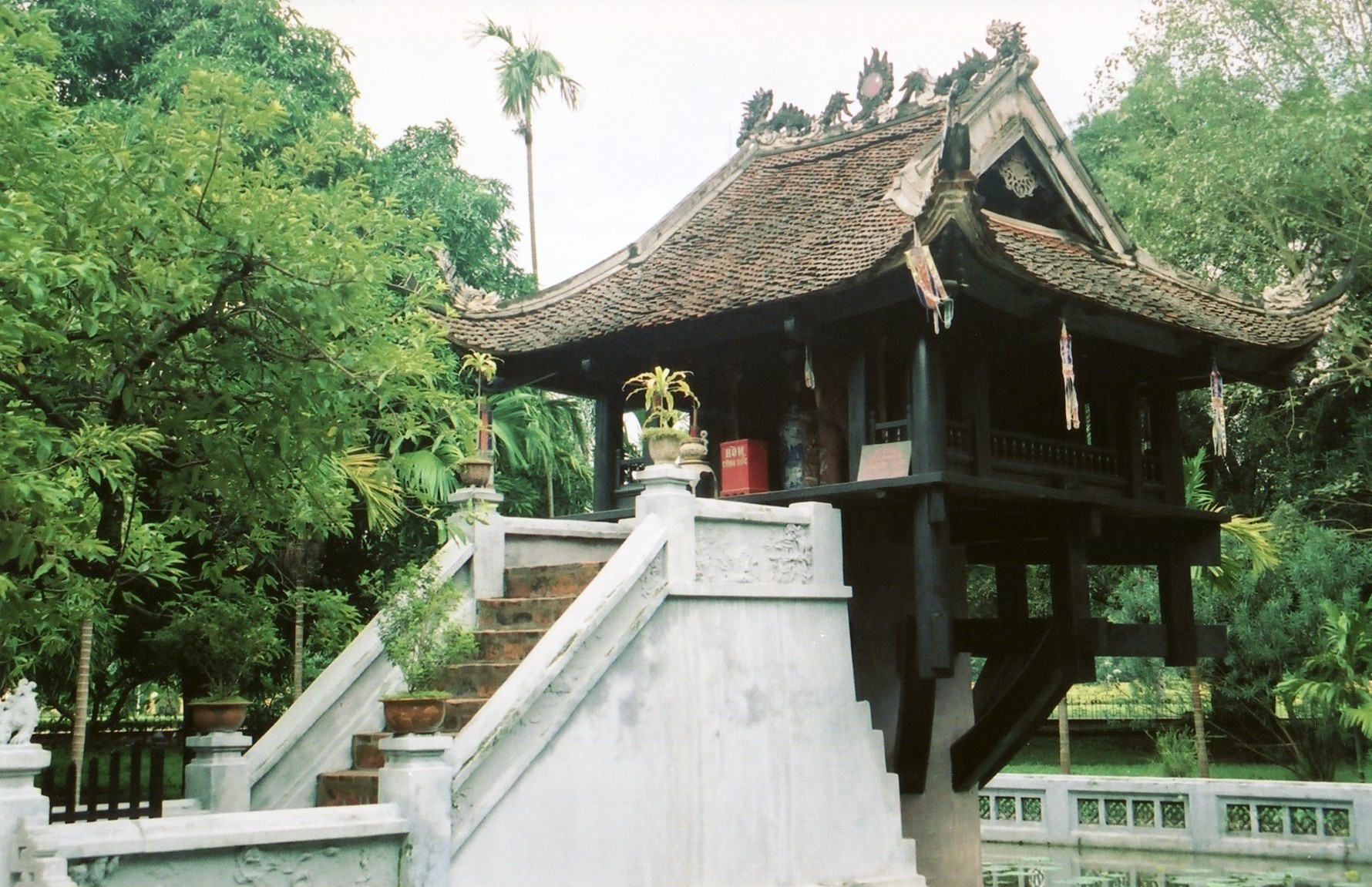 As known as a center of Buddhist religion in Vietnam, Hanoi has many ancient temples and pagodas. The most famous pagoda is One Pillar Pagoda in Ba Dinh District, Hanoi City. It is a shape of lotus in the middle of the lotus pond and becomes a unique architecture in Vietnam. It was constructed under the King Ly Nam De in the 6th century after his dream to meet bodhisattva Avalokiteshvara in the pagoda and she left him a son. After several months, his queen had the son and he built the pagoda to worship. The pagoda is an important part of Hanoi ancient city.
Temple of literature ( Van Mieu – Quoc Tu Giam)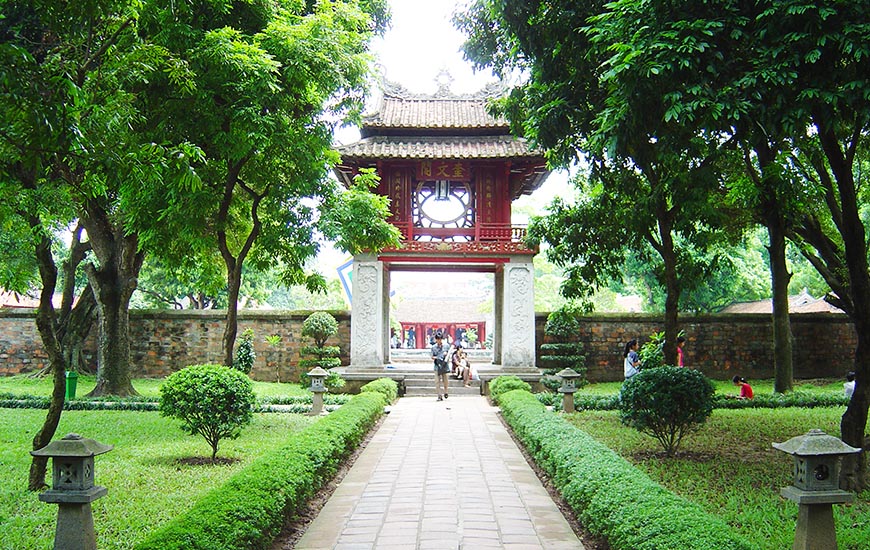 Located in Dong Da District, the temple of literature is the place of worshiping Confucius and his great students. It is known as the first university in Vietnam and the place displays 82 steles of 1304 doctors. The steles include full information about the doctor such as name, address, years. Nowadays, Van Mieu Quoc Tu Giam attracts many students to pray lucky before getting the final examinations. It also becomes a famous place to organize many events in Hanoi.
Hanoi Cathedral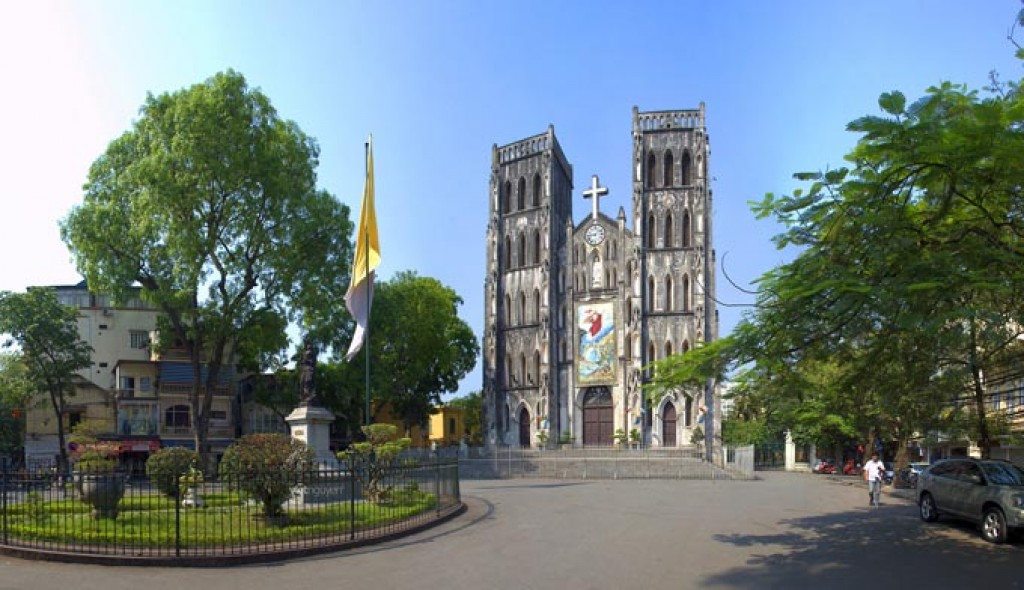 Situated in Hoan Kiem District, near Hoan Kiem Lake, Hanoi Cathedral is an irony of French architecture in Hanoi. It was built during the Vietnam War by French colonist and was an attractive destination not only young people in Hanoi but also many travelers. Comfortable and airy views make the cathedral is a good place to relax, go café shop in the morning or chat with the friend when enjoying lemon tea – a familiar drink in Hanoi.
Hanoi Old quarter
Located in the heart of Hanoi, the Old Quarter is the highlight of Hanoi. It is famous for 36 streets to be named by 36 goods of each street such as "Hang Bac" sales jewelry; "Hang Ma" sells paper goods. Building by French colonist from the 19th century, Hanoi Old Quarter is a good place to wander along ancient streets, sightseeing and explore the peaceful capital of Vietnam. Visit Hanoi Old Quarter, you also feet the inside beauty of human in Hanoi. They are friendly, closely and honestly.
Hanoi Opera house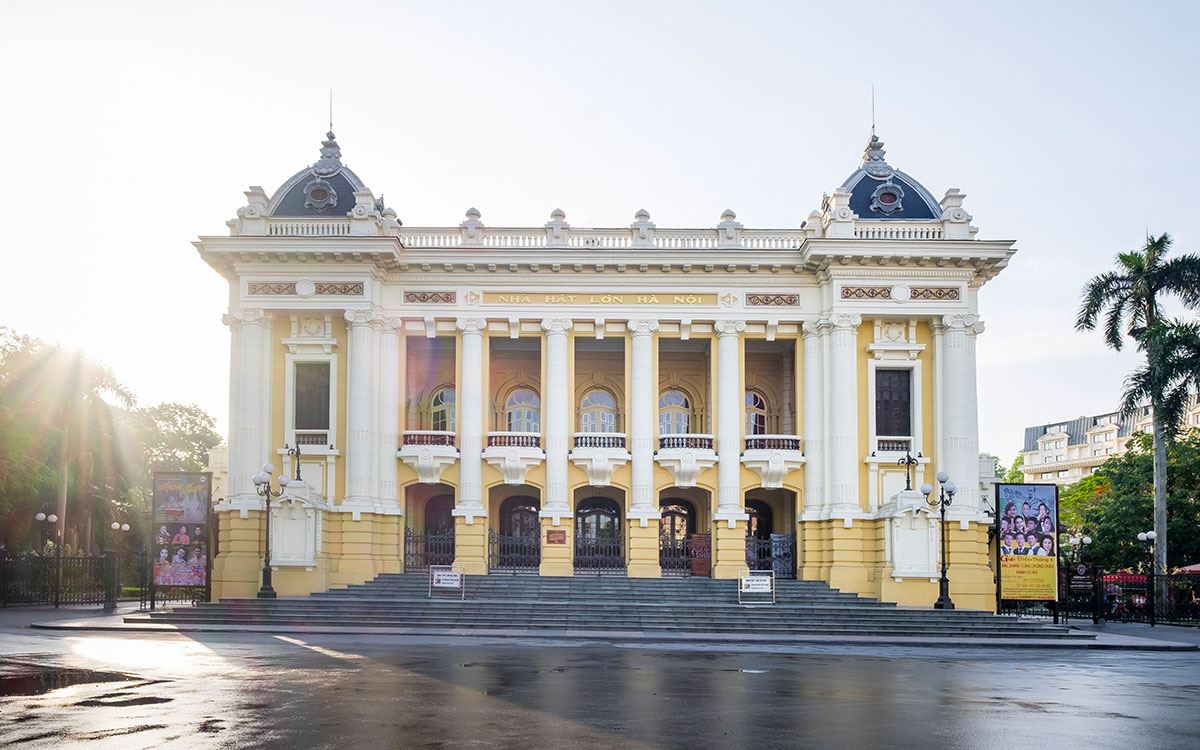 Located at 1 Trang Tien street, near Hoan Kiem Lake, in the center of Hanoi, Hanoi Opera House is a smaller version of the Opéra Garnier in Paris. It is well-known as French architecture and become one of the symbols of Hanoi City. Nowadays, the opera organizes many important events particular in Hanoi and general in Vietnam.
Ba Dinh Square – Ho Chi Minh Mausoleum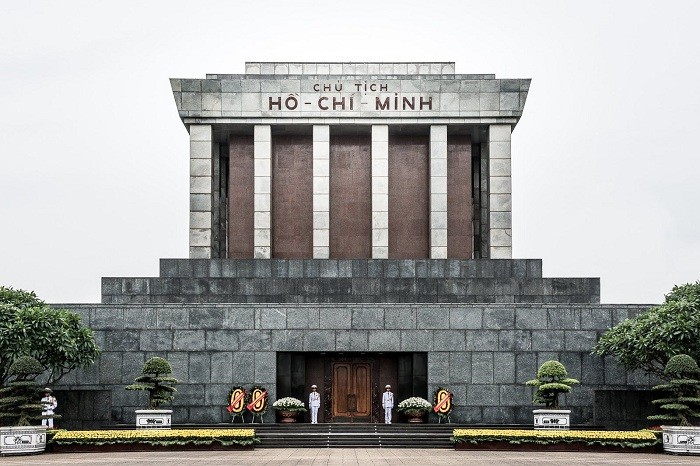 Traveling Hanoi, you should not ignore the political center of Vietnam – Ba Dinh Square, visit Vietnam's great man as well as pay your respect to him and Buddhist – Ho Chi Minh Mausoleum. It is a part of Ho Chi Minh Complex in Ba Dinh District. Ba Dinh Square is a place where President Ho Chi Minh read the Declaration of the independent republic to found Vietnam. The mausoleum is a place to keep Ho Chi Minh's body. Because he was a great president for Vietnamese people, so they want to keep him live forever. They call him by the familiar name – " Bac Ho". Every day, a lot of Vietnamese people and tourists come here to meet him. The mausoleum opens 5 days per week, except Monday and Friday. When you visit the mausoleum, you must wear a formal dress.
The West Lake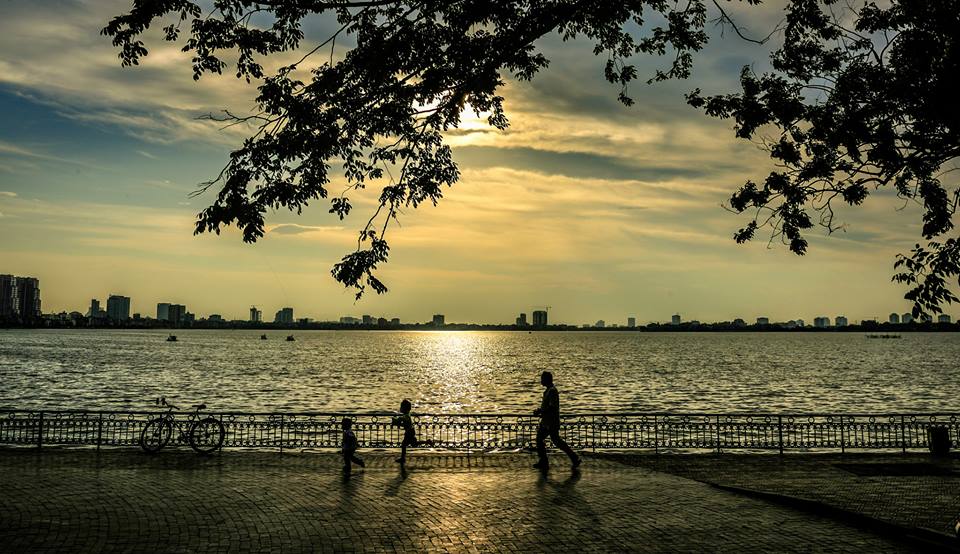 Located not far from the city center, the West Lake is the largest lake in Hanoi city, one of the most beautiful landscapes. You can rent a bicycle or cruise around the lake to view and explore local lives. The most appropriate times to visit the lake is sunset time when you can watch the sunset on the West Lake. It is so romantic time, you will have a new chance to discover Hanoi city. Near the West Lake, it is Nghi Tam village, an ancient village is famous for colorful flower frame and bonsai of the old man. Moreover, Ngu Xa village is a traditional casting, Yen Phu village is a traditional incense village. They are near the West Lake, you should visit when traveling to Hanoi to discover Vietnam culture.
French Quarter

French Quarter is completed buildings and houses, which were constructed by French colonist under the Vietnam War in the 19th century. Visit the French Quarter, you will have a good chance to see Hanoi Opera House, villas with French style. Now, there are hotels, restaurants and other buildings. Walking or cycling along the quarter, it will be great experiences.
Museum of Ethnology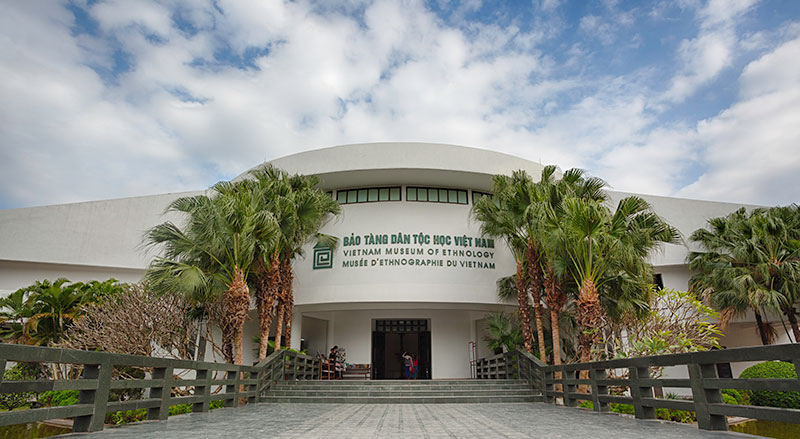 Situated at Nguyen Van Huyen Street, the Museum of Ethnology is far 8km from Hanoi city center. The museum shows a lot of documents and artifacts including 42,000 photographs, 15,000 artifacts, 237 audiotapes. All of them display culture, daily life, the religion of 54 ethnic groups in Vietnam. It is known as the real face of Vietnam with diverse cultures. Visit the museum; you also can know Vietnam life from musical instruments, clothes, jewelers, agricultural tools. Moreover, the museum has outside exhibitions to display a variety of traditional houses from other regions.
If this is the first time you visit Hanoi, you should enjoy daisy lives of Hanoians to try street food in 36 Street of Hanoi Old Quarter or wander along the street as well as visit top 10 must-see sight in Hanoi. This will give you an overview of Hanoi ancient capital of Vietnam.
Read more
9 Best Places For Trekking In Vietnam
---
Address: 15 Hang Chao, Cat Linh, Dong Da, Hanoi, Vietnam
Email: sales@vietodyssey.com Telephone: +84 96 212 34 86
Hotline: +84 96 212 34 86