Next to the Olympic Stadium, a building which has never actually held an Olympic Games, the Olympic Market of Phnom Penh sits flamboyantly, located in Road 286, Chakar Mon, Phnom Penh. The market is said to be the best place to go shopping, buy nice fabrics, clothes, shoes, accessories and other fashion items. Besides, visitors can also try a lot of traditional as well as street food in the market.
The Olympic market was built back in 1962 that is a three-story market near the Olympic Stadium and features mostly wholesale goods. This is the heaven of fabrics and textiles, moreover, colorful cloth of all variations is always available for purchase. Also, traditional patterns, diverse textures and intricate weaving methods can be seen in the market. It is popular amongst young Cambodians wanting to buy clothes, shoes, accessories and other fashion items imported from China, Korea, Thailand and Vietnam.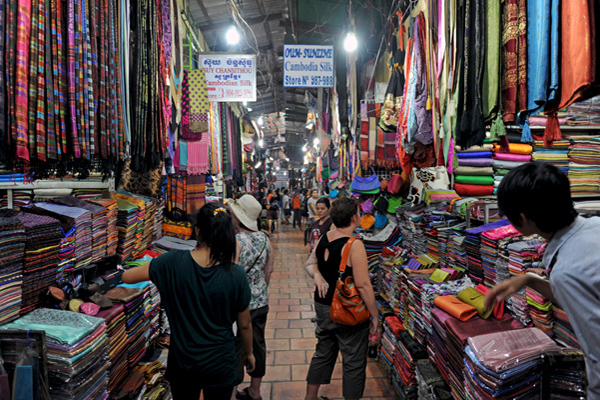 The surroundings are very busy and the entrance is often blocked by tuk-tuk and motodups (motorcyle -taxi). In the outer region, many shop are located, selling Cambodian delicacies.
Olympic market has 3 floors. The first floor is countless clothing shops and shops selling fashion accessories such as belts, glasses, wallets and shoes. Besides clothes, there are also numerous shops offering jewelry in the first floor. The second floor is specially for ladies with evening dresses worn in Cambodia on festive occasions. These beautiful dresses can be purchased for only 40$ what is by far the best price compared to other market in Phnom Penh. The last floor located restaurants which offer a lot of special and tasty Cambodia dish with affordable price. If you are crazy for exploring and trying new dishes in anywhere you come, Olympic market's third floor is the ideal choice.
Olympic market opens daily from 7 a.m to 5.30 p.m.