Samlar machu is a Cambodian sour soup, a typical soup in the country. Of all the primary flavours (salty, sweet, spicy, sour, bitter, umami), Khmers are most fond of sourness, almost every town or province has its own unique version of samlor machu including samlor machu kroeung (featuring kroeung paste, turmeric, morning glory, coriander, stewed beef ribs and tripe), samlor machu Khmer Krom (featuring tomato, pineapple, catfish, lotus root and holy basil) and samlor machu Siem Reap (containing bamboo shoot and tiny freshwater shrimp). Any visitors to Cambodia can not miss the opportunity to taste this kind of soup, it becomes one of the specialities over the country.
Among these types of Khmer sour soups, the most popular variation is samlor machu moun (sour chicken soup), which is notable for the use of pickled lime. Meat in this type of soup is usually that of either chicken, fish, or pork. The ingredients for the soup is various and need to be careful. However, the cooking process is not as difficult as you think. Let's see the the instruction and try to make it for your family.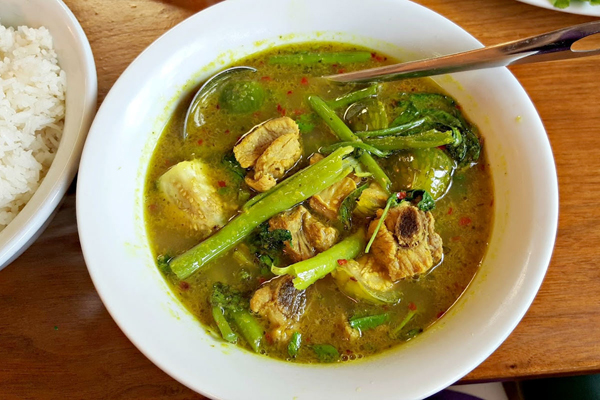 Ingredients:
- Fresh tamarind pump, salt, pepper, jasmine rice is the
- 3 tablespoons Red Boat fish sauce, minced fried-garlic, grated fresh-ginger
- Pineapple chunks and their juice
- 3/4 cup shallots, sliced
- 4 kaffir lime leaves
- 11/2 cans pineapple chunks and their juice
- Pepper, jasmine rice pepper
- 1 pound catfish steaks
Instruction:
- Bring broth to simmer.
- Add tamarind, fish sauce, shallots, garlic, ginger, kaffir lime leaves and pineapple with juice.
- Simmer for 20 minutes.
- Add tomato, celery, fish and okra, if using; simmer until fish is cooked through.
- Check seasoning and adjust with salt and pepper if necessary. Serve hot with a side of jasmine rice and garnish with cilantro, basil and green onions.