Shopping is the fastest way to explore a new culture and life style in the land you visit. If you go to Cambodia without spending time on visiting local market and shopping area, you may miss a lot of interesting things you have never heard about.
Markets areas in Cambodia are quite old but always bustling and crowded. Products are various with reasonable price, people are also friendly and hospitable.

1. Skun market
Located in Skun village, Kampong Cham province, on the way from Phnom Penh to Siem Reap, Skun market mainly sells horrible insect that you may be scared and dare eat them such as spider, scorpion, snake, worm, beetle, grasshopper, cricket,etc. All of them are marinated and processed to be tasty dishes, but not easy to eat.
2. Central market
The market was built in 1935 under French colonial empire and has impressive architecture with the dome. Central market is the unmissable place on traveling Phnompenh. A lot of products are displayed such as gold, silver, antique, krama, clothes, jewelry and so on.
Inside the market are stalls selling sweet gruel with original flavour, especially, stewed squash is the special food of Cambodian.
3. Battambang night market
Like other provinces in Cambodia, Battambang has a lot of shopping areas and markets at city center. Shops that are close together in Road 1, near city center are well-known with dozens of handicraft products such as marble, gemstone and wooden statues.You can buy souvenir at shops in hotel to have guaranteed quality, remember to purchase before deciding to buy them.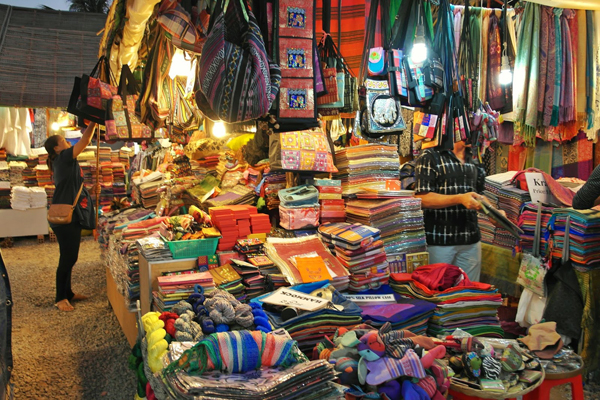 4. Olympic market
The Olympic market was built back in 1962 that is a three-story market near the Olympic Stadium and features mostly wholesale goods. This is the heaven of fabrics and textiles, moreover, colorful cloth of all variations is always available for purchase. Also, traditional patterns, diverse textures and intricate weaving methods can be seen in the market. It is popular amongst young Cambodians wanting to buy clothes, shoes, accessories and other fashion items imported from China, Korea, Thailand and Vietnam.
The market opens daily at 7 a.m to 5.30 p.m.
5. Phsar Kandal ( Kandal market)
Phsar Market is a local market in Siem Reap that was built long time ago. Besides products for tourists like clothes, souvenir, shoes, antique, ..., it also has fresh food and vegetables for people living in the region. Walking around the market, learning the secret of purchasing and finding out Khmer lifestyle are exciting experience for every tourists.
6. Sihanouk Ville market
In Sihanouk Ville market, you can easily find souvernir shops selling a lot of colorful shells with various size. Seafood in the market is always available and fresh. Moreover, the market displays clothes, hat, shoes,..with reasonable price. Rice wine, fish sauce and other special species are also bought by tourists here.
7. Angkor Night Market,
The Angkor Night Market, commonly known as the Original Night Market, established in 2007, was the first night market to open in Siem Reap and even the whole of Cambodia. It is located just off of Sivatha Road, in the heart of the town. It is an outdoors market, but is covered by a roof to protect it from the elements. With around 240 shops, it is the biggest and most interesting night market to see. As the biggest night market in Siem Reap, it naturally has a wide variety of things to see, do, eat and enjoy. A modest food court offers Cambodian, Western and Asian specialties. Excellent English is spoken here.