Savannakhet is Laos's third-largest city after Vientiane and Luang Prabang, and the surrounding area that makes up Savannakhet province. It is stretching from the Mekong River to the Annamite Mountains and is the most populous region in Lao. The city is also southern Laos's most visited provincial capital, its popularity with travellers due in part to its central location on the overland route between Vientiane and Pakse and between Thailand and Vietnam. Aside from being an important junction, Savannakhet also possesses very impressive architecture, and is a major staging post for jungle treks and cycling tours
Savannakhet is located in central part of the country with total area of 21,774 square meters. Its population is 850,00015, stretching 15 districts: Khanthabuly, Outhoumphone, Atsaphangthong, Phine, Sepone, Nong, Thapangthong, Songkhone, Champhone, Xonbuly, Xaybuly, Vilabuly, Atsaphone, Xayphouthong and Thaphalanxay. There are 11 ethnic minorities include Lowland Lao, Phouthai, Thai Dam, Katang, Mongkong, Vali, Lava, Soui, Kapo, kaleung and Ta-oi Phou over the province.
Savannakhet borders Khammouane Province to the north, Quang Tri and Hue provinces of Vietnam to the east, Salavan Province to the south, and Nakhon Phanom and Mukdahan provinces of Thailand to the west. The Second Thai–Lao Friendship Bridge over the Mekong connects Mukdahan Province in Thailand with Savannakhet in Laos.
Along with Bolikhamsai and Khammouane, Savannakhet is one of the main tobacco producing areas of the country. It also has numerous natural resources, Sepon is the largest mine in Laos, with reserves of copper and gold.
About climate, Savannakhet features a tropical savanna climate. The hottest month is April with temperature ranging from 23.9 °C (75.0 °F) to 35.2 °C (95.4 °F), while the coldest month is December with temperature ranging from 15.2 °C (59.4 °F) to 28.7 °C (83.7 °F). The diurnal temperature variation seems to be greater during winter due to dry conditions. The driest month is December with precipitation total 2.0 millimetres (0.079 in), while the wettest month is August with precipitation total 323.1 millimetres (12.72 in).
There are a lot of tourist attractions and activities in Savanakhet that bring visitors excited experiences.
That Ing Hang Stupa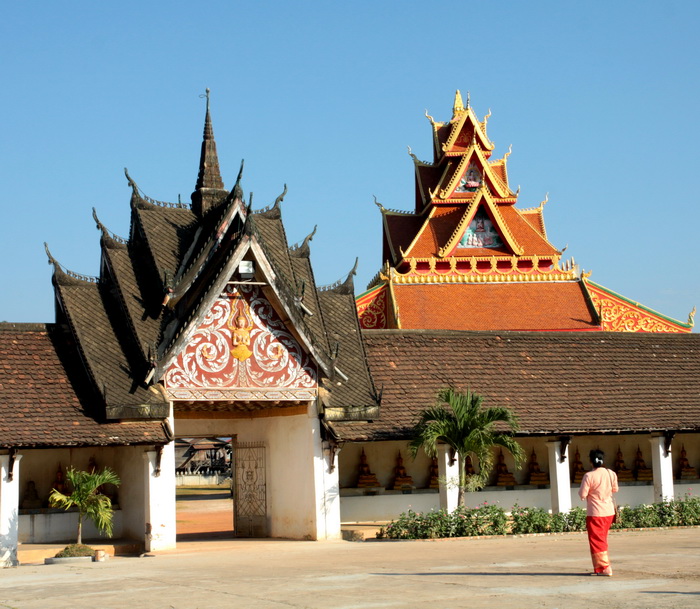 That Ing Hang Stupa, 15km in the northeast of Savannakhet center, is the ideal pilgrimage destination. The stupa was restored and enlarged to be a complex in 1548, at the same age of That Luang. Annually, a festival in January in Lao calendar is held during 3 days with boisterous and bustling atmosphere.
Wat Xayaphoum Temple
Wat Xayaphoum, a magnificient temple located inside Savanakhet, on the bank of Mekong river. It was built in 1942 by a group of 200 monks, it had been known as the school of Sanskrit language 06281. Now the temple becomes an unmissable-destination on the tour to Savannakhet.
Heuan Hinh stone house
This is the most valuable and rare relic that is 65km in the south of Laos. Heuan HInh is a house built with a lot of monolithic stones, overlapping each other as the architect of a pagoda. It is said that the stone house was built in 533 BC with architecture of Cham or post-Angkorian period. It attracts hundreds of people to visit, explore and experience to this place every year.
Dinosaur Museum
This is a French domination villa, a place to display items of the American war. The museum also hold the 90-year-old dinosaur bone with 15m in length which was found in Tang Vay commune, Savannakhet by a French geologist, Jousé Heilman Hoffet in 1936. Now it becomes one of the hot destinations in Laos.