After a short time driving, visitors will be impressed on the landscape of the beautiful town, Vang Vieng, a tourist-oriented town in Laos. Undoubtedly, the trip to Vang Vieng is surely an ideal choice to explore Laos.
The small town of Vang Vieng is located 150 kilometers north of the Vientiane Capital. This is a place of a dreamlike landscape of bizarre limestone mountain peaks and scenic cliffs with the Nam Song (Song River) bisecting the town.
Vieng was first settled around 1353 as a staging post between Luang Prabang and Vientiane. Originally named Mouang Song after the body of the deceased King Phra Nha Phao of Phai Naam was seen floating down the river, the town was renamed Vang Vieng during French colonial rule in the 1890s.
Significant expansion of the town and its infrastructure occurred during the 1964-73 Vietnam War when the US constructed an air force base and runway that was used by Air America. The airstrip was then called "Lima site 6". In more recent times, the town has grown substantially due to the influx of backpackers attracted by the opportunities for adventure tourism in a limestone karst landscape.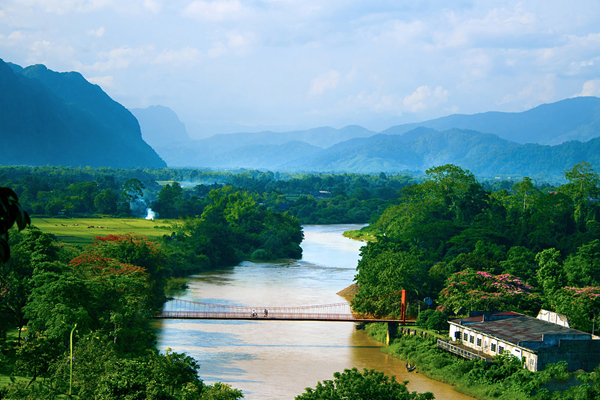 At present, Vang Vieng is the favourite destination for tourists especially young people, it is also known as Paradise for young as well as the land of backpackers. With cool climate, fresh and clean air that is similar to Dalat, Vietnam, this small town becomes the ideal destination at weekend and holiday.
Not only being well-known for beautiful landscape, Vang Vieng also have a lot of activities including normal and amazing games on Nam Song river such as kayaking, sitting in a small drifting tent, going fishing, sailing, slipping on the waterfall, bungee jumping, etc. Moreover, tourists can join climbing, exploring the forest, visiting caves and trekking in a track through a forest. If you are crazy for adventure activities, choosing Vang Vieng to visit is not a bad idea.
About tourist attractions, there are three prominently unmissable places in the town, they are Kaeng Nyui waterfall, Phangern Viewpoint and Chang Cave.
If you want to visit Vang Vieng, there are tips below:
- To reach Vang Vieng, you can either start at Vientiane or Luang Phrabang. But the way from Vientiane is nearer and easier than Luang Prabang.
- There is 10.000 kip/person on tuk tuk from station to the hotel
- The fee to cross Nam Song river on a big bridge is 5,000 kip, but it is free on a bamboo bridge nearby.
- Hotel in Vang Vieng is quite cheap including breakfast with good service.
- Bicycle for rent in the town is 15,000 kip for each, you will have to pay before use the bike and let the renter hold your passport.