For backpacking tourists who want to have more and more new experiences and adventures, besides popular destination like royal palace, temples, Baiyoke building, snake farm, ... normal places such as markets or museum are also worthy of exploring, they surely bring interesting information and help you understand more clearly local's life.


1. Siriraj Medical Museum
The nickname of this museum is The Museum of Death. The museum belongs to the complex of Siriraj hospital, it helps visitors retrace and know more epidemic together with catastrophe occured in the past. Siriraj Medical Museum also displays a lot of objects related to medicine and pharmacy, make it easier for visitors to have an overall view on this field.
2. Pak Khlong Talat (Thai flower market)
If you are flower lover, just go on ferry, across Chao Phraya, to flower market (Pak Khlong Talat). It surely help you combine to the place, see hundreds types of flower and even buy some with reasonable price. The way to Pak Khlong Talat is not difficult, you only need to get on a tuk-tuk and tell the driver "Pak Khlong Talat", they will go to the right destination.
3. Rama IX Park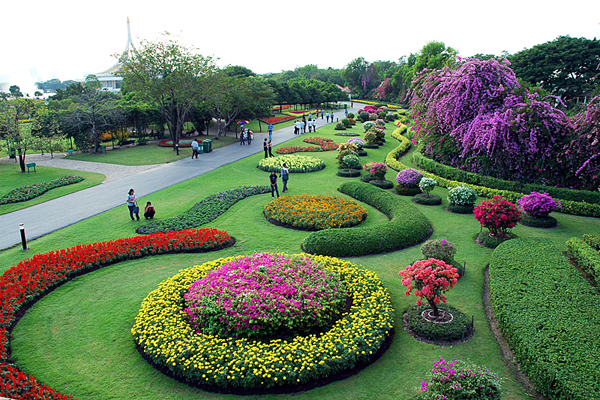 On the 60th birthday anniversary of Rama IX king in 1987, the park was built. It is the largest space in Bangkok with a beautiful botanical garden, lake and a large grassplot. This is a good chance to explore Bangkok in different way by find out all interesting and new feature.
4. Sub-zero Ice Skate Club
Bangkok is one of the place has the highest temperature in the world due to tropical climate impact, green house effect, exhaust gas, etc, therefore, you should visit Sub-Zero Ice Skate Club to enjoy cool air which is located on the fourth floor of Esplanade Mall. In the evening, this place becomes a noisy bar with the appearance of DJ, dancers and singers.
5. Wang Lang market
There are a lot of food in Wang Lang market in Thai style as well as Thai traditional food. As you know, bangkok is known for paradise of street food, and Wang Lang is an ideal place to try these food. People in the market are really friendly, humorous and food price is reasonable depending on the dish you want.
6. House of Museum
The House of Museums is nothing like a national museum or some majestic building full of dusty potteries. It's very humble and a lot more fun! None of the objects on display have any financial or historical value but many of them will mean a lot to visitors.

The House of Museums is a private collection of thousands of daily objects and goods dating from the sixties onward, displayed in what appears to be a nicely converted shop house. The place is hidden in a very remote location between Bangkok and Nakhon Pathom and it would be hard to find it without any knowledge of the area, or car navigation.