Wat Phrathat Doi Suthep is one of the most sacred temples in Chiang Mai and is venerated by Thai people. In important and big festival, Wat Phrathat Doi Suthep also attracts hundreds of people to go on on a pilgrimage. The temple is 15 kilometres from the city of Chiang Mai, all impressive views of this city can be seen in the temple.
Phrathat Doi Suthep, 600 years old until now, located on the top of Doi Suthep mountain with the height of 1676m on the sea level. It has been repaired a lot. The Wat impresses tourists by statues of Buddha with various sizes and fascinated architecture.
On visiting Wat Phrathat Doi Suthep, tourists will have opportunity to catch the images of monks chanting all day and enjoy peaceful atmosphere.
The oldest architecture of the Wat is a tower (Chedi) that was built with the bell-shape, a popular type in Chiang Mai. Next to Chedi is palace area (vihara) with surrounded lobby, in side vihara, dozens of statues placed on pedestals with different postures. All Buddha statues are gold-plated which are really impressive and solemn. In front of the wat was displayed lots of bells and gongs for visitors to try beating them. Moreover, there are big statues of soldiers holding swords and white lion that are believed to protect Wat Phrathat Doi Suthep. A big peacock statue can also be seen on the door with a large wall-painting.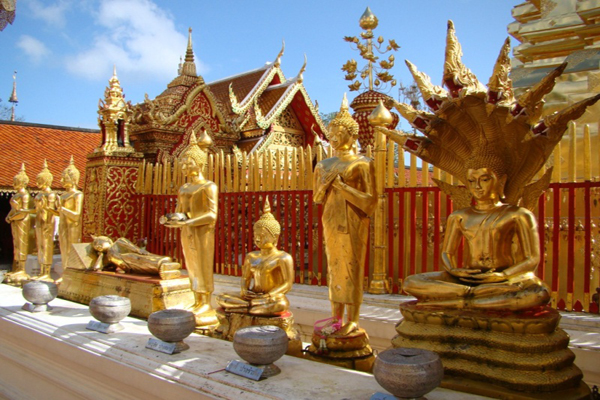 After visiting, visitors' twist will be tied with a white thread, chanting and bell-ring sound are heard at that time, too. Thai people believed that through ceremony, Buddhist will bring luck and health to everyone.
Suthep is a sacred Wat, it is said that anyone worship in four main direction, they will get intelligence and mercifulness. To pray for luck, people usually worship rice, flowers, a candle and incense, then praying and clockwise walking around the wat three times on bare foot at the same time. Prayers in the North believe to be intelligence, while in the south, they want to be success in their religion.
How to get to Wat Phra That Doi Suthep
The easiest way to get the Wat from city center is on taxi, it is better tget two-way taxi due to its position, far from city center. Toward visitors like adventure, using motorbike is a not bad idea, then climb 390 stone stairs or go on cable car to the top of Doi Suthep, which is the location of the Wat.
It opens from 6 a.m to 5 p.m and is free entrance.