Located in Phang Nga province, Thailand, Ko Panyi is the fishery village with hundreds of households living in rafts on the river. All houses link to others by a big stilt. People in Ko Panyi make a livelihood by seafaring, at present, tourism also develop and bring benefits for villagers.
Ko Panyi is a small fishery village that is well-known for charming and poetic natural landscape, as well as floating houses built on stilts by Indonesian fishermen.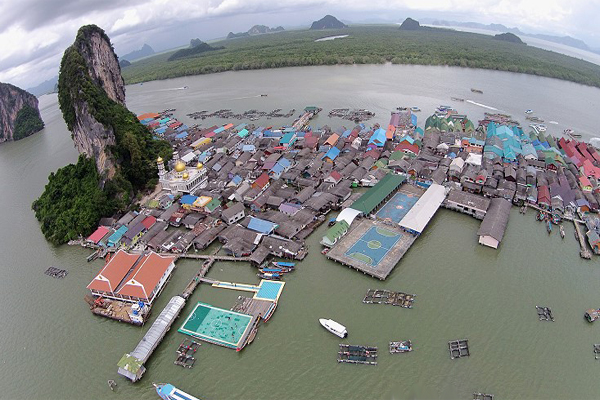 Ko Panyi was formed at the end of century 18th by nomadic Indonesian and Malay, that's why you can see almost all of villagers use Indo - Malay language instead of Thai language. Because law of Thailand didn't allow people were not Thai origin to live in the country, Indonesian and Malay immigrates had to live in rafts on the river. At present, thanks to the development of tourism and changes on landlaw, villagers are afford to buy and built new house in big islands and build cultural architecture, as well, prominently is spacious Muslim mosque.
There are 200 households and about 1.500 to 2.000 of population. A Muslim mixed-sex school can also be seen on visiting Ko Panyi. Besides floating village, mosques and Muslin school, tourists will have opportunity to go sightseeing to floating markets and experience life on the island.
Peak season in Ko Panyi is in dry season. The main livelihood here still is fishery. A floating football pitch with inspiration of World Cup 1986 by taking piece of wood and old rafts is one of the impressive things in the villages.
Visiting Ko Panyi, tourists will realize the hospitality and peaceful life with full of services and conveniences here. It is considered as sea paradise of Thailand.