Nakhon Ratchasima, often called Khorat, is a province in Thailand's northeast corner. It is the country's largest province by area which is rich in Khmer culture and has a long history.
- Square: 20,494 km2
- Population: 2.7 million people.
- City: Nakhon Ratchasima
- District: 32 districts: Mueng Nakhon Ratchasima, Khon Buri, Soeng Sang, Khong, Ban Lueam, Chakkarat, Chok Chai, Dan Khun Thot, Non Thai, Non Sung, Kham Sakaesaeng, Bua Yai, Prathai, Pak Thong Chai, Phimai, Huai Thalaeng, Chum Phuang, Sung Noen, Kham Thale So, Sikhio, Pak Chong, Nong Bun Mak, Kaeng Sanam Nang, Non Daeng, Wang Nam Khiao, Thepharak, Mueang Yang, Phra Thong Kham, Lam Thamenchai, Bua Lai, Sida, Chaloem Phra Kiat.
- Neighbouring provinces (clockwise, from North): Chaiyaphum, Khon Kaen, Buriram, Sa Kaeo, Prachinburi, Nakhon Nayok, Saraburi and Lopburi.
History:
The area around Nakhon Ratchasima was already an important centre in the times of the Khmer empire in the 11th century, as can be seen by the temple ruins in Phimai historical park. Nakhon Ratchasima Province is one of the provinces where there is still a sizable northern Khmer population.

Nakhon Ratchasima has long been the most important political and economic centre in the northeastern region. In the late-19th century, the railroad reached Khorat and it became the junction of two main rail lines in the northeastern, Isan, region. In 1933 it was the stronghold of the royalist troops in the Boworadej Revolt, as they fought against the new ostensibly democratic government in Bangkok. In the 1950s, the Korat Royal Thai Air Force Base was built in Nakhon Ratchasima; from 1961 until 26 February 1976, this facility was also used as a base by the United States Air Force.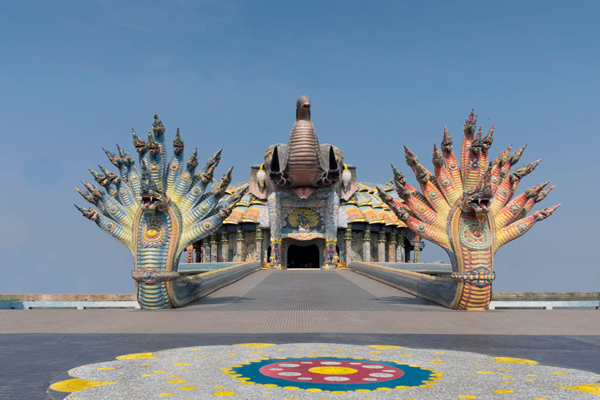 Wat Baan Rai Temple.
Climate & weather: there are three seasons: warm season (February - May), rainy season (May - October) and cold season (October - February). During cold season, the minimum temperatures fall around 8o C and even 12o C in some rural areas.
Transport:
- Air: Nakhon Ratchasima Airport lies 26 km east of the city. There are no scheduled air services operating from the airport.

- Rail: Nakhon Ratchasima is on the northeastern railway line, connecting Bangkok with Ubon Ratchathani and Nong Khai. In 2017,a 60-kilometre dual-track line will connect Khorat to Khon Kaen. It is the first segment of a dual track network that will connect Isan with the Laem Chabang seaport.
- Road: Passing near the city is Mittraphap Road (Thailand Route 2). A new motorway connecting Khorat to Bangkok is under construction in 2016 and will reduce travel time on the 250 kilometre journey to just over two hours.
Tourism:
The province is famous for revered Khun Ying Mo (Ya Mo) statue in the middle of town. It also has beautiful nature, with many forests mountains, waterfalls and reservoirs. Moreover, quality handicrafts, clay pottery in Dan Kwian in particular, attract a lot of tourists to buy as souvenir.
Korat Horse Racing Club, O&D Pub & Restaurant, A Game of Golf, Enjoy a Korat Festival, Besides, there are a lot of attractions and activities that you can never forget as well as regret visiting here. You not only visit Petrified Wood Park at Ban Krok Duean Ha, Chang Phuak Shrine, Maha Wirawong National Museum, Nakhon Ratchasima Zoo , Pratu Chum Phon, Ban Prasa Archaeological Site, etc but also join Korat horse racing club, play golf, enjoy Korat festival and various of food and restaurants around the city.