Pattaya is the city of Chon Buri province, 165km in the southeast of Bangkok, near eastern Gulf of Thailand. This is one of the biggest tourism centres and among the beautiful and attractive coastal city of the country.
Pattaya has not only beaches but also impressive shows. This place is divided into 3 zones, each has a large bus stop and is always crowded. The northern zone is Naklua that is quiet and less noise than the others, but dry and mud. Next to Naklua is center area which attracts the biggest number of tourists. Moreover, 2 streets along the sea, coconut trees lines near sandbank, a lot of restaurants, colorful bars and a busy walking street can be seen on the center area. Beyond the mountain, in the south is Jomtien, a paradise of restaurants near the beach.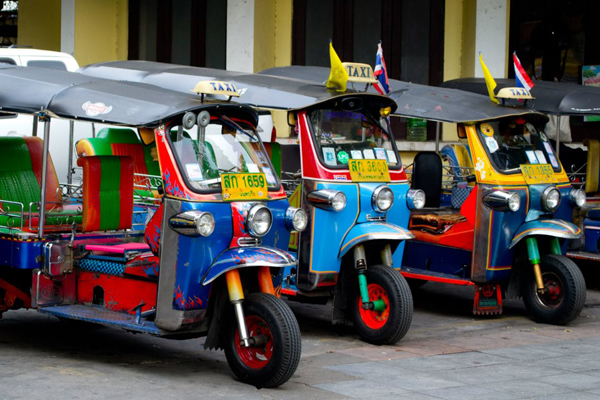 Tuk-tuk, a popular transport in Thailand
Transport:
There are a lot of buses going through 3 zones in Pattaya: North Pattaya. Center Pattaya and South Pattaya. Remember to tell bus driver where you want to get off, they will remind you. Besides, you can go on tuk-tuk with the price of about 100 baht for 2 people.
Pattaya has 1 beach with 3 parallel small roads:
+ Pattaya first road (Beach road): this area gathers dozens of restaurants, shopping centers, healthy services and interesting activities and games. This is one-way road from the North to the South.
+ Pattaya second road: It is 100 - 200m from Beach road. Similar to Pattaya first road, it has a lot of service and activities for you to experience. It is also one-way road but in the contrary direction with the former, from the South to the North.
+ Pattaya third road: 800 - 1000m from the two other roads. It is suitable for booking a room here due to the peace and clean . Different from Pattaya first road and Pattaya second road, this is two-way road, from the north to the south and vice versa.
Motorbike in Pattaya
If you like adventure and taking more experience, don't hesitate, let rent a motorbike and make your own exploration. Many hotels in Pattaya have renting bike service with reasonable price, around 150 baht a day (24 hours), especially you have to get petrol and deposit (1000 charge + passport). Motorbike should be used for travelling around the city due to the convenience, comfort and safety, remember to know basic highway code as below:
1. Thailand is left-driving country.
2. Always wear helmet on joining the street.
3. It is not allowed to nude on driving.
4. Remember to take identity papers.
What to eat in Pattaya
It is necessary to have a travel map for finding restaurants and transportation easily. Along South Pattaya road, there are lots of restaurants with reasonable price, good service and tasty dishes. Thai traditional foods are always available here including Tom Yum (a hot and sour Thai soup, it is said to be the best soup in the country), Papaya Pattaya Crab Salad (green papaya salad, it is the best dish in Pattaya and among top 10 Thai food) and other specialities.

Walking street is well-known for seafood, dozens restaurants serving lunch and dinner besides, a paradise of food can be seen here such as fried chicken, roast chicken, roast Turkey lamb, etc. The price for food in restaurant is variety, normally about 1000 - 5000 baht (including 20 shrimps, 3 crabs, squids,...), if you like a small party near the beach and contemplate the sea while eating, BBQ is ideal choice. Bars and pubs always welcome all of you to experience and relax.
In case you want to shopping after having a meal, food court in Royal Garden Plaza and Central Plaza is the suggestion, these two shopping centers have the largest number of restaurants and foods among shopping center in Pattaya. About price, it is various depending on what dish you choose, from 40 baht to 2000 baht.
Activities and shopping
The highest mountain in Pattaya: From mountain top, the sparkle scene of Pattaya beach t night can be seen clearly. Tourists have opportunity to join exploding firecracker and pray for health and a better life.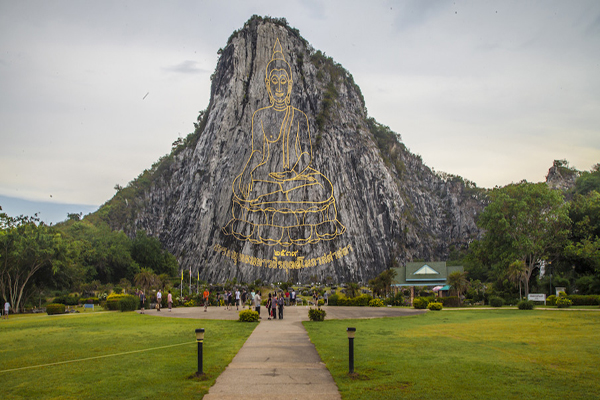 The world's biggest Buddhist statue: The statue is sculptured on the Khao Chee Jan mountain by 999kg of gold. It is the combination of ancient Sukhothai and Lanna traditional art that will make you impressed at the first time visiting. The area is guarded by Royal Thai Navy.
jsdnc
Mini Siam: the place is one of the attractive area that display small version of wonders of the world including: Statue of Liberty, Effiel tower, Sydney Opera house and other temples in Thailand. All of them make Pattaya be well-known by tourits.
Besides, you can visit and go shopping at Central Festival, Royal Garden Plaza, Avenua and Mike shopping mall.