Phuket is one of the southern provinces and the second-smallest province of Thailand. It consists Phuket island and 32 smaller islands off its coast in the country, and undoubtedly, this province is one of the most Thai popular tourist destinations. Every year countless thousands of holiday makers arrive from all over the globe, to enjoy its deservedly famous sandy beaches, natural environment, and abundant attractions in what is still best described as a tropical paradise.
Square: 576 sq km (222 sq mi)
Population: 386,605 people (2015)
City: Phuket City
Districts: 3 districts: Mueang Phuket, Kathu and Thalang
Geography:
Phuket, the largest island, is in the Andaman Sea in southern Thailand. The island is mostly mountainous with a mountain range in the west of the island from the north to the south. The mountains of Phuket form the southern end of the Phuket mountain range, which ranges for 440 kilometres (270 mi) from the Kra Isthmus.
Phuket island's length, from north to south, is 48 kilometres (30 mi) and its width is 21 kilometres (13 mi).

Seventy percent (70%) of Phuket's area is covered with mountains which stretch from north to south. The remaining 30 % are plains in the central and eastern parts of the island. It has a total of nine brooks and creeks, but does not have any major rivers.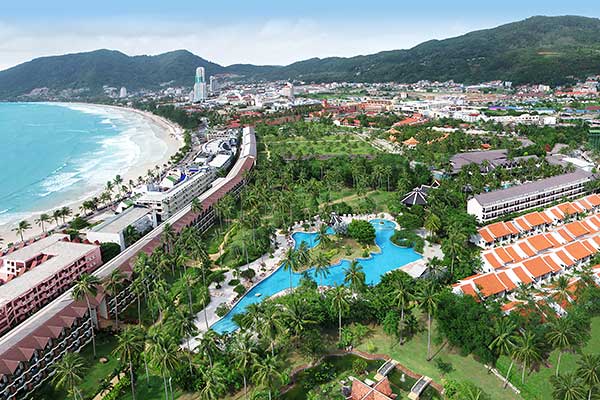 Climate & Weather:
Phuket features a tropical monsoon climate. There are only two seasons: rainy season (May - October), hot season (November - April). September and October are the wettest months. The best time to visit Phuket is from November to February.
The city has an average annual high of 32 oC (90 oF) and an annual low of 25 oC (77 oF).
Transportation:
Air: Phuket has an international airport in the north. Domestic and international flights to the province include Asian, Australian, European and North American airlines.

Road: central and suburban highway is considered as the popular way to transfer inside and outside the city, comprising parallel motorway and free way.

Water: there are a lot of boats from Phuket to islands and vice versa.

Tuk -tuk: The popular and favourite type of transport in Thailand due to its convenience to go around the city and other areas.

Bus: Bus to go around the city and from Phuket to Bangkok are always available.
Attractions:
There are many tourist attractions in Phuket such as: Two Heroines Monument, Thalang National Museum, Hat Patong (Patong Beach), Kamala Beach, Hat Kamala, Laem Phromthep (Phromthep Cape), The Big Buddha of Phuket, Phuket Aquarium, Old Phuket Town. Wat Phrathong, Hat Nai Yang National Park, Rawai Village, etc.
Besides, tourists can join dozens activities on beach like: surfing, parasailing, diving, snorkeling, going a boat tour and so on.
Cuisine:
Cuisine in Phuket is really variety with a lot of local dishes including Phuket Chinese, Peranakan and Malay food, and desserts. Phuket Chinese, Peranakan and Malay food are mee Hokkien (Hokkien noodles), a-sam hê (tamarind prawns), jiû-hû èng-tshài (squid morning glory), ô-tāu (fried oyster with taro), lóo-bah (fried spicy pork), Oo Dao (Desi thalli Indian), steak (Chinese steak), moo-hong (stewed pork belly), etc.
Desserts can be named as âng-ku kué (red turtle sticky rice cake), tsut-bí ka-ia̍h (sticky rice with egg custard), pak thong ko (White sugar sponge cake), ke-nn̄g ko (egg cake), kue ape (Malay-style pancake) and so on.