It is the dense network of the Mekong River and its tributaries that developed the waterway transport system and formed the special customs of the locals here. The habit of trading goods in the floating markets stands out and has become an image representing the area's tourism. Cai Rang Floating market of Can Tho is the most famous of all names. This article will help you understand what the floating market is, it's purpose, when to go, how to go, and what to buy. Read on:
A First Look at Cai Rang Floating Market
Located on Cai Rang River, this floating market is 6km away from the center of Can Tho City (the capital of the Mekong Delta), and about 30-minutes away from Ninh Kieu Wharf by boat. The same as other floating markets in the Mekong Delta (eg: Phong Dien floating market, Cai Be floating market, My Tho floating market), Cai Rang was initially formed to meet the trading needs of the locals while the road traffic system was still in its infancy. What's awesome is that it's existed for over a 100 years!
Today, even if the road traffic network has developed significantly, Cai Rang floating market keeps growing and brings value to the locals of the country and area in terms of economy, culture, and tourism.
What Is Interesting at Cai Rang Floating Market?
The Bustling Trading Scene
The first impression Cai Rang floating market makes on everyone is its extremely lively and crowded trading atmosphere. Stare in awe when you see the smooth performances of traders juggling fruits boat to boat. Interestingly, in the middle of such a bustling trading scene, you will still somehow find strangely comfortable moments while immersing in the rustic lifestyle of the Vietnamese and breathing in the cool breeze of the great river.
Local Products
Playing as one of the main trading centers of the Mekong Delta, Cai Rang is a place where the locals sell and buy a wide range of products catering to their daily lives. Besides staple commodities, this is a famous location to find local products priced quite reasonably. They may be the freshest fruits harvested from the farm like durian, milk fruit, rambutan, mangosteen, grapefruit, etc., or even other processed specialties, such as fish sauce, coconut candy, or dried fishes. Come here and worry no more about what to bring home.
Foods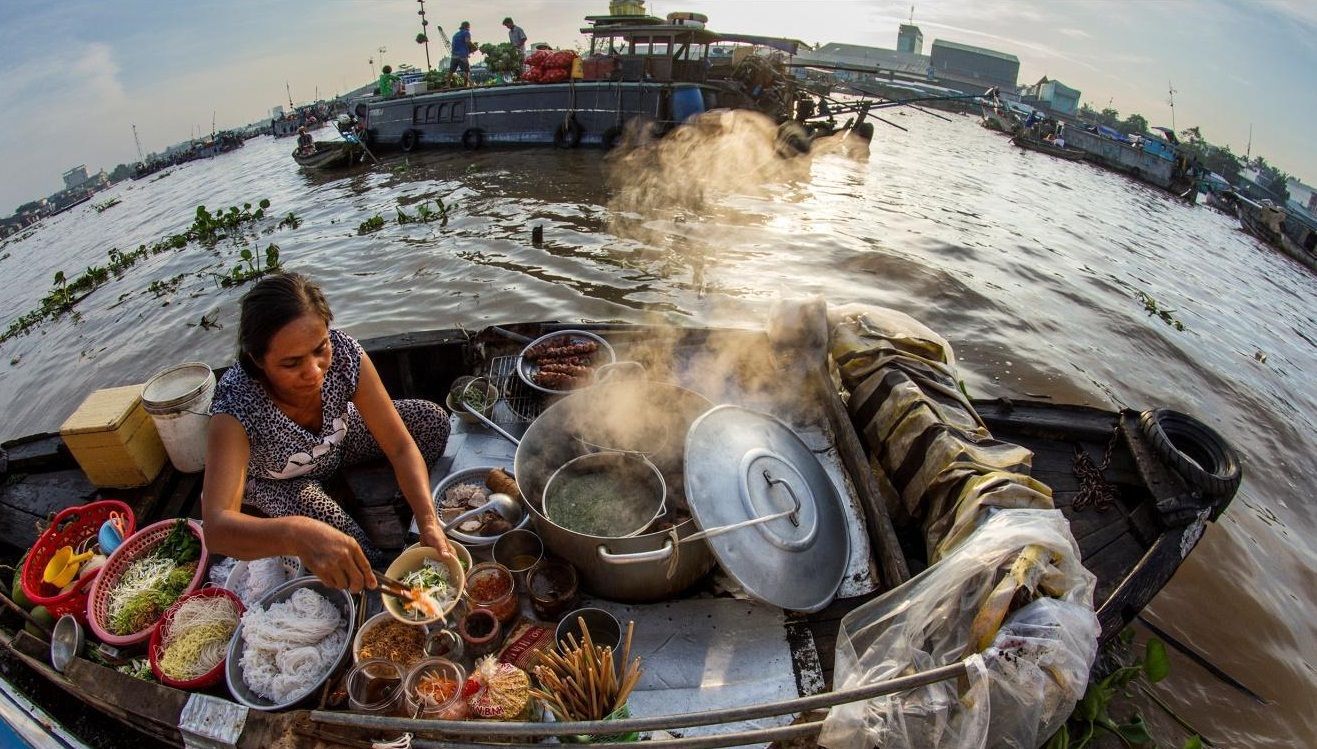 On the other hand, visitors shouldn't miss out interesting eating experiences while visiting the floating market. Because the trading activities start early in the morning, there are many floating restaurants opened to serve breakfast for both sellers and shoppers. Here, you can find most local dishes, With only 25.000 VND (~1 USD), surely you can treat your hunger with a quite hearty meal and even a cup of coffee. Most of the locals have been living with their "floating stall" for about 30 – 40 years, so believe me, they really know how to make their dishes and you will surely get a tasty experience.
Some tips and tricks!
Cai Rang floating market is open all day but it is best early in the morning, while the temperature is cool and the sun is not too harsh. Therefore, try to make it before 7 A.M. because you don't want to miss the busiest time, when it is at its best.

To know what goods a boat sells, customers only need to obverse from distance the poles erected in front of the boat. On these poles, the sellers will hang a sample of the products they are selling.

Also, remember to bring on your cap and sun block since the sun will become hot very quickly.
If you want to have best experience, avoid touristy boats. Take a local fishing boat. You'll have more flexibility this way and the local will show you around.
Capturing beautiful photos is one of the most exciting parts of a trip, so we suggest that you choose a local pineapple boat. Pineapple boats are the boats that have a roof for you to climb on top of. From there, you can have a beautiful panorama picture of the whole market.