Overview
Sense the bustling streets and modern facades in Vietnam to absorb in the endlessly spiritual traditions. Gain an understanding about the symbolic Cao Dai religion, amble through forest monasteries and converse with Buddhist monks. Meet Tai Chi masters, craftsmen and other locals to learn about the complex belief systems of Vietnamese people.
Highlights
Gain an insight into Cao Dai religion: Explore the Cao Dai Great Temple, unveil the history and beliefs of this unique religion
Establish a connection with Vietnam's customs: Engage in a Tai Chi class, visit Buddhist monks and learn about traditional medicine to comprehend the local belief system
Meet the inspiring locals: Chat with disabled artisans while making traditional handicrafts, listen to their life story, including their hopes and dreams.
Expand all
Tour itinerary
Day 1: Ho Chi Minh Arrival

MEAL: N/A

From Tan Son Nhat Airport to your chosen hotel in HCMC (8km): 20min
Upon arrival to Ho Chi Minh City, you will be transferred to the hotel by our driver and tour guide for check in. Then, the rest of the day is at your leisure.
Accommodation: Hotel in Ho Chi Minh City.
Day 2: Ho Chi Minh City

MEAL: B
As one of Asia's most eclectic cities, Ho Chi Minh City is best explored on foot.
Pick-up stage begins around 8:00 from the hotel for a drive to the starting point. First, enter a charming and buzzling local market and weave through tiny back alleys into some of the most hospitable neighborhoods in the city. Venture into a small temple to pay tribute to 5 mother goddesses before continuing to a monastery where the monks are eager to show their home and provide astrology readings.
In the afternoon, visit Vietnam's first traditional medicine museum, the FITO Museum, to adore an amazing collection of 3,000 items that exhibit the development of traditional Vietnamese medicine. Implements for preparing indigenous herbs, typical objects in traditional pharmacies as well as ancient books and documents on traditional Vietnamese medicine; all are visible in the galleries.
Accommodation: Hotel in Ho Chi Minh City
FITO MUSEUM
Day 3: Ho Chi Minh City - Tay Ninh - Cu Chi Tunnel

MEAL: B/L

Depart Ho Chi Minh City at 07:30 for the drive to Tay Ninh.
Arriving to Tay Ninh, pay a visit to the Cao Dai Great Temple, with mystical architecture and a belief system that combines all the world's major faiths.
After lunch in a local restaurant, visit the famous Cu Chi Tunnels. These subterranean hideouts consist of an incredible underground tunnel network constructed by Vietnamese resistance fighters (Viet Cong) during both the French and American wars. In the late afternoon, journey back to Ho Chi Minh City.
Accommodation: Hotel in Ho Chi Minh City
CU CHI UNDERGROUND TUNNEL
Day 4: Ho Chi Minh City - Danang - Hoi An - Half Day City Tour

MEAL: B


Danang airport to Hoi An Old Town (30km): 50mins
After breakfast, transfer to Tan Son Nhat Airport for the short flight to the central port city of Danang. On arrival to Danang, our guide and driver will be waiting to provide transport to Hoi An Ancient Town, a major Asian trading port in the 17th and 18th centuries.
After checking in to the hotel, embark on a cyclo tour of the ancient town, passing by former merchants' homes, the 400 year-old Japanese Covered Bridge and the colourful central market.
Enjoy the remainder of the day at leisure.
Accommodation: Hotel in Hoi An
HOI AN ANCIENT TOWN AT NIGHT
Day 5: Hoi An - Half Day Community Exchange

MEAL: B/L

Hoi An to Hue (110km):3hrs
Start in the morning with a hotel pickup and short transfer to the Lifestart Foundation in the centre of Hoi An. Take part in a class taught by the local artist Mr. Sinh Trong, who has been sponsored and helped by the Lifestart Foundation. The Foundation helped Sinh to realize his passion for painting and turn it into a vocation.
Afterwards, enjoy an hour-long lantern making class. Hoi An's traditional lanterns are very famous and bring a beautiful charm to houses and streets. While creating a miniature lantern, learn about Vietnamese life through interesting discussions with the class instructor and Lifestart members.
In the afternoon, leave Hoi An for Hue, the former imperial capital of Vietnam. Its mesmerizing tombs and mausoleums of the last emperors of Vietnam reveal fascinating insights into the lives of the imperial families and their subjects.
Depart Hoi An for the drive through Danang before climbing over the Pass of Ocean Clouds and dropping down to the wonderfully photogenic fishing village of Lang Co. Stop for some photos and continue the drive north to Hue.
Accommodation: Hotel in Hue
Day 6: Hue - Half Day City Tour - Flight To Hanoi

MEAL: B/L


Your chosen hotel in Hue to the Garden of Hue (5km): 10mins
Start off the morning in Hue with a visit to a quiet and peaceful pagoda located in a pine forest. One of the most interesting parts of the pagoda is the eunuch tombs from the former Royal Court, which are found only in this destination. If the itinerary falls on a Thursday or Sunday morning, join up to 20 Buddhist monks and nuns who gather together to pray and read aloud scriptures. This pagoda is internationally recognized for being the monastery where Zen Master Thich Nhat Hanh studied as a novice monk.
After the visit, journey on to Minh Mang's Tomb, which is which is located in a tranquil setting of gardens and ponds.
In the afternoon, explore the Imperial Citadel where the Nguyen Dynasty ruled between 1802 and 1945. The ancient citadel reflects the pomp and ceremony of the dynastic rulers as well as the scars of many years of turmoil, both ancient and modern (the Royal Citadel was badly damaged in the latter stages of the war).
From here, transfer to the airport for the 1-hour flight to Hanoi. On arrival, our driver will be waiting to provide transport to the hotel.
Accommodation: Hotel in Hanoi
Royal Citadel Hue
Day 7: Hanoi - Hanoi Full Day City Tour

MEAL: B/L/D

Wake early today and head to one of Hanoi's oldest temples for a 1-hour Tai Chi session with Master Vuong. Proper breathing and concentration are an integral part of the practice; the Tai Chi taught is suitable for all backgrounds and capabilities.
After breakfast at the hotel, visit Hanoi's sights including the Temple of Literature, Vietnam's first university. Founded in 1076, Quoc Tu Giam was established within a temple to educate Vietnam's royalty, mandarins and members of the elite.
Continue on to the picturesque West Lake and the 6th century Tran Quoc Buddhist Pagoda. From here, transfer (or stroll along the lakeside) 700 meters to the nearby Taoist temple of Quan Thanh.
In the afternoon, visit an internationally recognized traditional Vietnamese doctor. Based in Hanoi, Dr Huong is an expert in Traditional Eastern Methods through Acupuncture, Acupressure and Catgut Implantation in Hanoi. Follow up with a visit to 'traditional medicine street', offering an array of traditional medicinal herbs and spices.
This evening, head to the southwest part of Hanoi, a region famous for being the first place bombed by a B52 during the American war. Start with a cup of Vietnamese tea followed by a traditional meal, served on a modern style dining table. After the meal, the host will play a traditional one-stringed musical instrument. At the end of the dinner, return to the hotel.
Accommodation: Hotel in Hanoi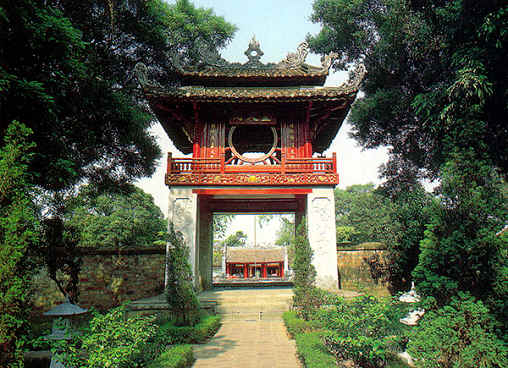 Temple of Literature - First university in Vietnam
Day 8: Hanoi - Halong Bay

MEAL: B/L/D


Hanoi to Halong Bay (160km): 4 hrs
After breakfast, depart Hanoi for the overnight boat trip on Halong Bay. The journey there carries through the rich farmlands of the Red River Delta, displaying the everyday life of Vietnamese villagers.
Arrive in Halong City late in the morning. Board the traditional wooden junk or The Emeraude, a classic replica steamship of the colonial era, for the overnight journey into the Bay. Lunch will be served en route while cruising along the iconic limestone formations. Towards the end of the day, set anchor for the night. As the sun sets over the bay, dinner is served on board with fresh seafood, salads and fruits.
Accommodation: Overnight on Halong Bay boat
Halong bay sunset
Day 9: Halong Bay - Airport Departure

MEAL: B

Halong Bay to Noi Bai Airport (150km): 3hrs
This morning enjoy a wholesome brunch as the boat weaves back to port through strange-shaped limestone rock formations. Upon disembarkation, the driver will be waiting to provide transport back to Hanoi.
*As an optional extra and depending to the departing flight, there may be time to stop for a visit to one of the oldest pagodas in Vietnam 'But Thap' on the way back to Hanoi.
Enjoy the remainder of the day free at leisure until transport (provided) to the airport for departing flight.
Accommodation: NA
Accommodation
Hotel, Overnight boat
Meals
8 Breakfasts, 4 Lunches, 2 Dinners
Transportation
Car, Cruise, Minibus, Air plane
Price Includes
Accommodation in a shared twin or shared double room
Meals as mentioned (B= Breakfast, L= Lunch, D= Dinner)
English or French speaking local guide (for other languages supplements apply)
Tours and transfers as mentioned by private air conditioned vehicle
Entrance fees for mentioned visits
Boat trips as mentioned in the itinerary
Price Excludes
Other meals than mentioned
Other services than mentioned
International and domestic Flights
Laundry, telephone calls and expenditure of a personal nature
Tips, Travel insurance
Important Notes
We strongly recommend the purchase of travel insurance (covering emergency medical evacuation) for trips to Vietnam.
Prices are valid 30 days from date of offer. Past this date price and conditions may be readjusted.
The cost of air tickets is subject to change without prior notice by the airlines.
Reservations during peak times (Christmas, New Year, Vietnamese Lunar New Year, National Holidays) may be subject to supplementary charges.
Rooms at hotels are available only from 1400 on arrival day till 1200 on departure date. A supplement will be added if early check-in or late check-out is desired.
Please note that all the above services & tours have yet to be booked, they are proposed for your information only and we will not make any reservations before we receive your confirmation to do so.
If one or some proposed service(s) is (are) not available at the moment of booking, we will try to find other possibilities/options or other similar service(s) in order to avoid changes to the program.